It could have been the 50-foot spread of potluck goodies, the music, camaraderie or just love for water that attracted hundreds of swim clubbers to the 2nd Annual CSSC Splash Bash Sunday.
_______________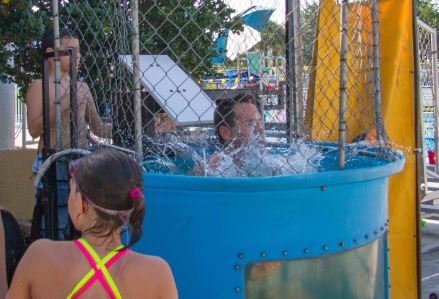 A great way to open long course season, coaches and swimmers alike took to eating, swimming, diving and drenching Coach Dave (right) in the dunk tank at the Coral Springs Aquatic Complex.
"All the coaches attended, which was nice to see since Sunday is their day off," said CSSC board member and swim mom, Danica Shimansky.
Two years running the CSSC Splash Bash has been a hit and could likely continue as an annual event, Schimansky said.
"It brings swimmers together from all age groups. Older kids picked younger ones to be on teams, which sets a positive example and boosts swim club morale."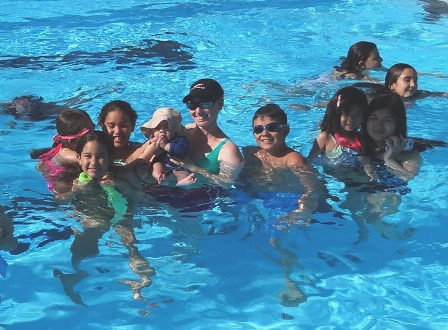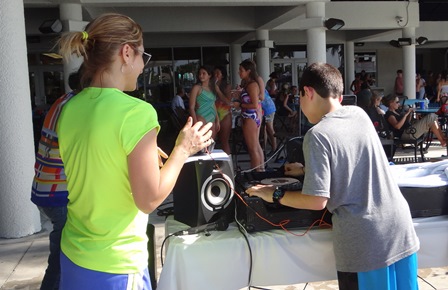 In addition to firing up CSSC athletes, Splash Bash kicked off a fundraiser with Origami Owl Jewelry. Continuing through the Lohberg Invitational in June, the jeweler will donate 20% of all sales made at CSSC meets to the Club, so keep Origami Owl top of mind for Mother's Day, Father's Day, BFF gifts and birthdays. (Above: Swimmers make requests and dance while Grant Fields mixes.)
Visit Owl Origami Representative Christina Lambard at https://www.facebook.com/SouthFloridaCharms?filter=2
2014 CSSC Splash Bash Photo Gallery
Special thanks to Dave Brewington for the photos http://aboobarley.com
You can also connect with Splash Bash on Facebook at https://www.facebook.com/CoralSpringsSwimClub