Why Do They Do It? It could be argued that there have to be many other things, families could be doing other than spending an average of 10 hours of non-paid work every weekend there is a meet at our pool. Yet, they choose to be at the pool side, helping. Besides the obvious and common reasons to volunteer, here are some of the answers we've gotten to that question from parents in our community:
"I want to put my two cents to help the meet be a success"
We know too well it can be frustrating for swimming families to attend a meet where the timeline is not respected, where the pads constantly malfunction, where there are not enough timers, where the results are not posted on time -or at all, where there are no enough heat-sheets and where it's hard to find a variety of drinks and food.
"I want to model for my children that it takes involvement and collaboration to make good things happen"
This is a key element. Not only parents step up to volunteer, but young siblings and swimmers that might not be swimming a particular session turn up in the pool on time and smiley - ready to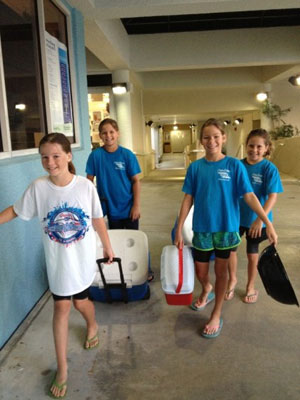 work. Encouraging the growing generations to continue on the path of community service is certainly a great way to build not only good swimmers but good citizens.
"It's fun"
It sure is. When you volunteer, you make new friends, you understand and appreciate more all that happens behind the curtains and as you can tell by the pictures, working at CSSC meets has a flare of laughter!
At CSSC we offer many benefits to our volunteer parents: VIP parking, free entry, breakfast, snacks and lunch and lunch for their children (during long sessions). We also ensure that our parent volunteers will receive the support they need to see their children's races, which is primarily the reason for them to be at the pool. For the younger crowd of volunteers we offer "Community Service Hours" and of course great food...
We host several meets each year, come out and volunteer. Look out for the sign-up notice from your coach, at our website or via facebook ... and join us.
DID YOU KNOW ... that volunteerism in America is on the rise and is a cultural phenomenon that truly distinguishes our nation? The Federal Agency for Service and Volunteering, reports something we know very well: Parents' volunteer rate is seven percentage points higher than the national average (33.7% compared to 26.8%). Parents are at the heart of that magic driving force.