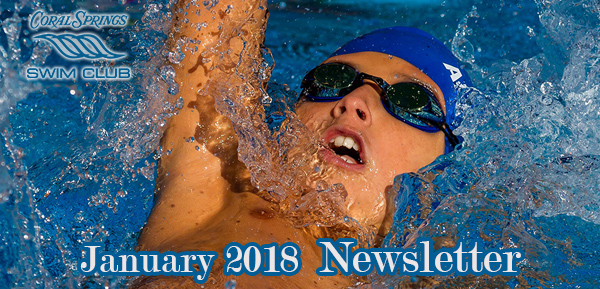 Message From the Board | National | Senior 2 | White and Blue | Silver | Mullins | Nutrition

Message from the Board
Dear CSSC Families,
We hope you and your family had a wonderful Holiday season, and we wish you a very Happy 2018!
Thanks to everyone that came to our Bowling night out, it was a great turn out and a very fun event! Please remember we have another team bonding event at the Panthers game on Saturday February 24th. It is not too late to RSVP

We will be hosting an international meet, the 2018 UANA Swimming Cup, on January 19-21. As always, CSSC offers fun perks to our volunteers! To sign up please visit: http://signup.com/go/rrTUhgA Please note that we can only use adult volunteers (16 and older) for Timers in this meet- Thank you!
Please mark your calendars: CSSC will be participating in the 2018 Women's Wellness Race on Saturday, March 24th, and our Annual Team BBQ will take place on Saturday, April 7th. More information will be posted in the coming weeks.
Thank you for your continued support!
CSSC Board of Directors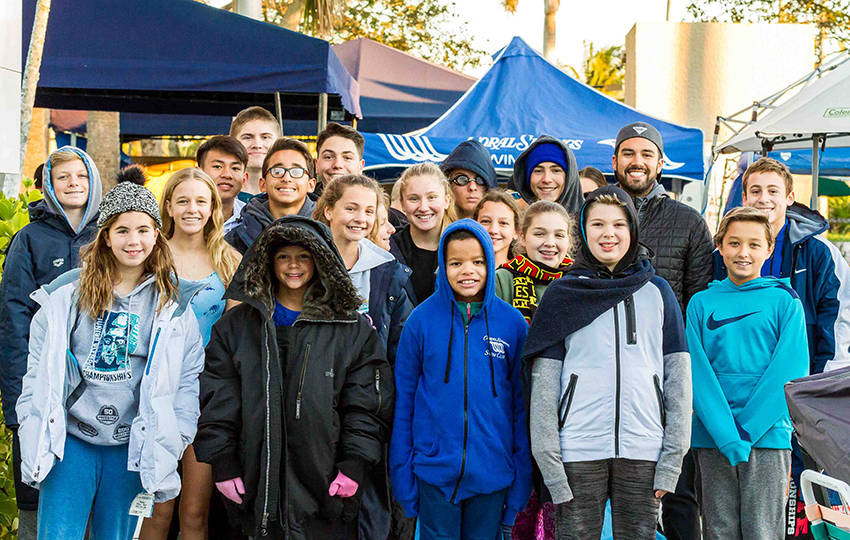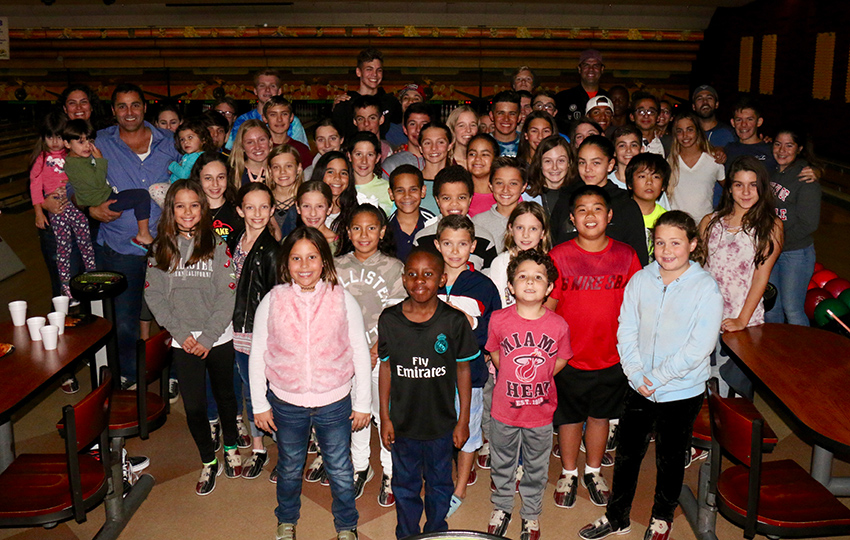 Announcements
CSSC has a wonderful new sponsor:
Xceed Preparatory Academy
Located in Coral Springs, is designed for elite athletes to reach their maximum potential in both athletics and academics. Xceed Prep's model is a blend of the best educational practices combining technology-enhanced curriculum with on-site coaches and project-based learning to provide a high-quality education for grades 6-12. Xceed Prep students create a personalized learning plan allowing them to have the flexibility to pursue their own interests and talents. Students have the opportunity to control their day and choose an academic schedule that works with their training schedule
The Xceed Prep campus is modeled after a high-tech start-up facility rather than the traditional factory-styled school. The campus will have 75 to 100 students who will work both individually and in groups in a supportive and productive environment. Students will benefit from one-on-one instruction from subject-certified academic coaches and will have access to their online courses year-round and 24 hours a day. Xceed Prep has more than 100 courses to choose from including Advanced Placement (AP) and honors courses.
Xceed Prep's model is designed to provide a well-rounded experience for students.
In addition to flexible schedules, individualized pacing, on-site academic coaches and year-round online curriculum, the school offers college counseling. The college prep and guidance go beyond helping students get into college. From day one, each student in grades 8-12 will receive an individualized college plan, one-on-one counseling and digital tools that will help prepare him or her for admission to a great college and successful collegiate life.
Xceed Preparatory Academy is now enrolling students for the 2017 school year.
For more information visit www.xceedprep.org or call 954-361-3405.

National Team
CSSC Head Coach Bruno Darzi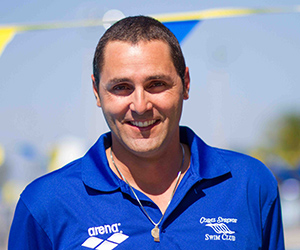 Dear CSSC swimmers and parents:
In December, we had a few cold days out of the training season, and for our last home meet, the 2017 Sprint invitational held December 9th and 10th, due to a combination of below average temperatures for that time of the year and some rain, swimmers were only able to compete on Sunday despite having 45 degree weather.
Saturday
session was canceled by the meet committee.
Our National team swimmers were able to have outstanding performances during their races in such cold temperatures. Some of the meets highlights were:
Amber Candido improved her 100-yard IM time by 3 seconds with a new personal best of 1:11.78, while training partner Bryan Gonzalez also dropped 3 seconds and improved to his new personal best of 1:02.90 in the same event. Megan Schimansky took 1st place overall for the girls 50-yard backstroke with a 28.71. Andres McKeon, Grant Aran, and Guillermo Barrios took 4th, 6th, and 8th in the boys 50-yard backstroke with the times of 28.09 , 28.42 , and 28.68 respectively. In the same event, Jason Bonasera set his personal best for 29.77. For the boys 100-yard freestyle, Connor Marks set his new personal best at 51.13 Amber Candido also had a stellar performance in her 100-yard freestyle setting her new personal record at 1:02.48. She also had a 3 second drop on her 50-yard Butterfly setting her personal best at 32.29.
It was very cold on race day, but overall the coaches really liked the determination and commitment all of you swimmers have given in the last few weeks left for the season and, for that, we thank you for your hard work. There was no better way to end the season and year.
We, coaches, hope everyone enjoyed the holidays and we wish for a prosperous New Year for 2018, let's set our new goals for the upcoming year and begin working towards them. As always, it is with great pleasure to be part of the Coral Springs Swim Club family.
See you on the pool deck!
- Bruno Darzi and National Team Coaches

Senior 2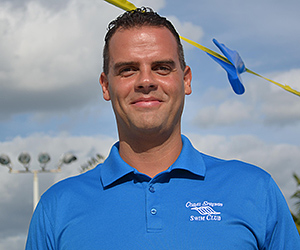 Dear CSSC Families,
Hope you and your loved ones had a great Holiday Season and are ready to a great start in 2018!
Congratulations to all swimmers that competed at the CSSC Invitational this past month. Even with the weather being off, we did an amazing job dropping times! Also, thank you to all volunteers that helped make it happen.
Swim-sincerely,
Coach Raphael Lima.

White and Blue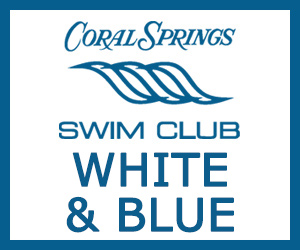 Hello White and Blue Parents
It's January already. This year went by so fast.
December was a cold month, for Florida standards and, unfortunately, our last swim meet of the year was during a weekend in which the temperatures were in the low 40's.
On Saturday, the session was cancelled due to the weather and, on Sunday the kids were given the option to scratch their events since the temperature was below 45 degrees. Many kids ended up getting sick and were unable to swim on Sunday.
The swimmers that decided to compete despite the weather conditions swam surprisingly well.
We were very happy with their performance as they stepped up their game. At the end of the day, we had 34 new best times!
For the White Group, we would like to congratulations to Brittany Bean, Mila Bond, Mariana Montes, Isabella Perez, Carolyn Powell and Beckhem Korb as they all swam best times.
For the Blue Group, the results were not very different. Congratulations to Alejandro Alvarez, Kaitlyn Bonasera, Nicole Creed, Savannah Korb, Ysabella Sapp, Rhania Suarez, Payton Ward, and Riley McCormick.
At the end of month, we also had our holiday gift exchange party, we had a lot of fun.
We would like to wish you a Happy New Year and we will see you at practice.

Silver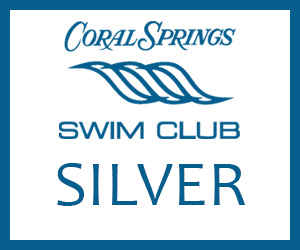 Hi Parents & Swimmers,
Happy New Year! What a great year 2017 was! Since I took over Silver group in January of 2017 I have seen this group grow so much (in numbers - from 15 swimmers to almost 40! - as well as in the maturity and dedication of the swimmers). This past year was full of best times, hard work as well as team bonding and I cannot wait to see what 2018 has in store for us! We have a great group of dedicated swimmers, supportive parents and I know this will be another amazing year for Silver group.
Parents please remember to regularly check your email as I send out practice updates, meet information or team events quite often. Also please make sure you send your swimmer to practice with a water bottle - they are working hard and need to stay hydrated so they do not cramp up!
-Coach Brittany

Mullins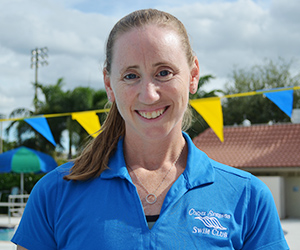 Hello parents!
We hope everyone enjoyed some time off with their families for the holiday season! We will not be participating in the Sizzler on
Saturday January 20th
. To accommodate we will be going to the meet at Saint Andrews both days! We are excited to have our swimmers get back into the swing of things and start preparing for the upcoming swim season! A huge congratulations to our swimmers of the month, who have been trying extra hard in practice. Keep up the hard work and next month it may be you!
Wishing everyone a happy New Year!
-See you at the pool
-Coach Jessica
-Coach Bar

Nutrition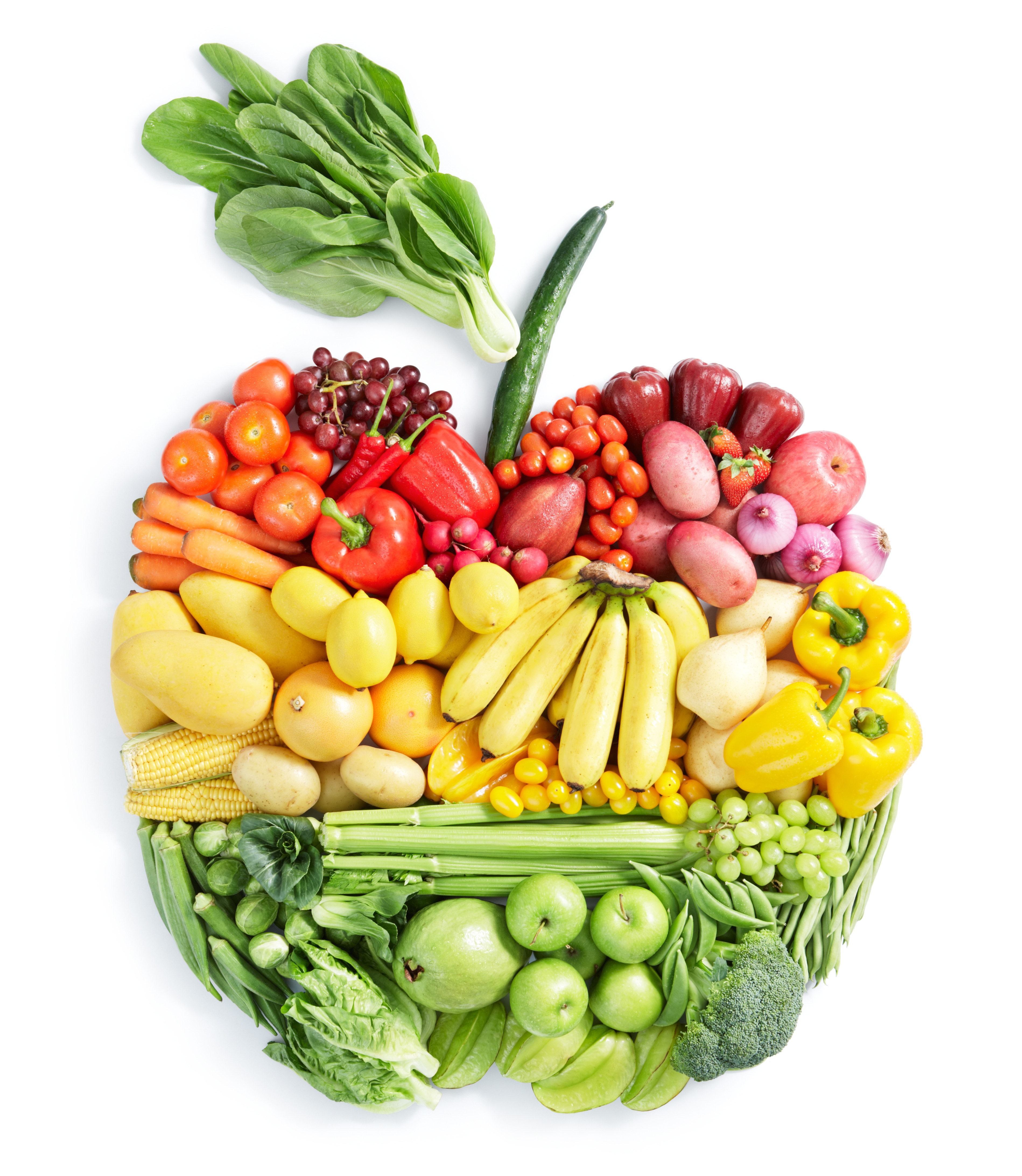 8 tIPS FOR CHOOSING PLANT-BASED PROTEIN FOODS
By Chris Rosembloom, PhD, RDN
Many athletes are choosing a plant-based diet and still want to get quality protein to build and repair muscle after hard workouts. While there is no doubt that whey and casein are the "best" proteins for muscle protein synthesis, there are many other "good" plant-based protein foods. Whey and casein are the proteins found in milk, yogurt and cottage cheese, and I encourage athletes to eat those foods because they also provide need nutrients like calcium, potassium and B-vitamins. But, there are many plant-based proteins that are good choices for those who choose not to eat animal products.
Two plant proteins that contain all the essential amino acids and are thus considered "complete" proteins are soy and quinoa. Soy comes in many forms: soy milk, tofu, edamame, and many meat substitutes found in the frozen food aisle. Some of these products have the taste and texture of meat, like burgers, chicken patties, and sausage and are good choices to get quality protein. In my house, although we do eat meat, Morningstar Farms* Chick'n patties are real favorites. Don't fear soy. There are many who think soy is feminizing for boys or increases breast cancer risk for girls, but not so.
Quinoa is also becoming more mainstream; this Peruvian grain is great in soups and as a grain main dish or side.
You probably know that beans, peas and lentils (collectively known as pulses) are higher in protein than other veggies. Add chick peas to salads, use hummus as a sandwich spread with veggies, and add lentils to marinara sauce to boost protein in a spaghetti dinner. And, to add protein to that spaghetti dinner, try ProteinPlus pasta by Barilla* (look for it in the yellow box). A serving of protein-enriched pasta has 10 grams of protein, plus added fiber and healthy fats.
There are some newer meat alternatives showing up, too. Products like "Beyond Meat" or "Impossible Burgers" are being featured in some restaurants, as well as the meat counter. These products are usually made with pea protein, but beware, some add coconut oil, making them less healthful.
Lastly, don't forget nuts. Peanuts, while technically not a nut but a legume, get grouped with nuts because of their similar nutrient content. Peanuts have the most protein per serving of any nut with 7 grams. And, here's a good trivia question for you. How many peanuts are in a 12-ounce jar of peanut butter? The answer is 540, so peanut butter also packs a good protein-punch.
For some good ideas and recipes on plant-based eating, see the website of registered dietitian, Sharon Palmer, the Plant-Powered Dietitian.
*I have no affiliation with either Morningstar Farms or Barilla pasta, but I do like their products.
Chris Rosenbloom is a registered dietitian nutritionist and professor emerita of nutrition at Georgia State University. She welcomes questions from swimmers, parents and coaches. Email her atThis email address is being protected from spambots. You need JavaScript enabled to view it.; follow her on Twitter @chrisrosenbloom or visit her website athttps://chrisrosenbloom.com/