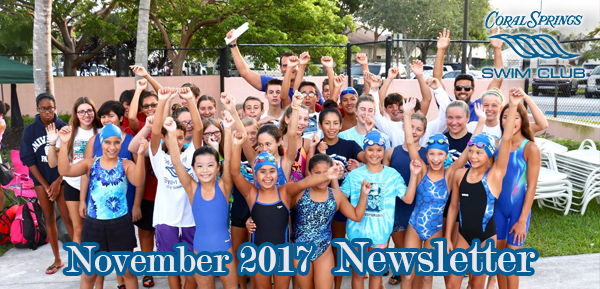 Message From the Board | National | Senior 2 | White and Blue | Silver | Mullins | Nutrition

Message from the Board
Dear CSSC Families,
Thank you to everyone that came to our Annual Halloween Party. It was a great turn out, with tons of great food, dancing, and spooky scares!
Parents and Guardians of all CSSC swimmers are cordially invited to the 2017 CSSC Annual General Meeting on December 1st at 5:30pm. Meeting will be at the Coral Springs Aquatic Complex in the wood room. Meet the coaches and learn more about our club. Hope to see everyone there.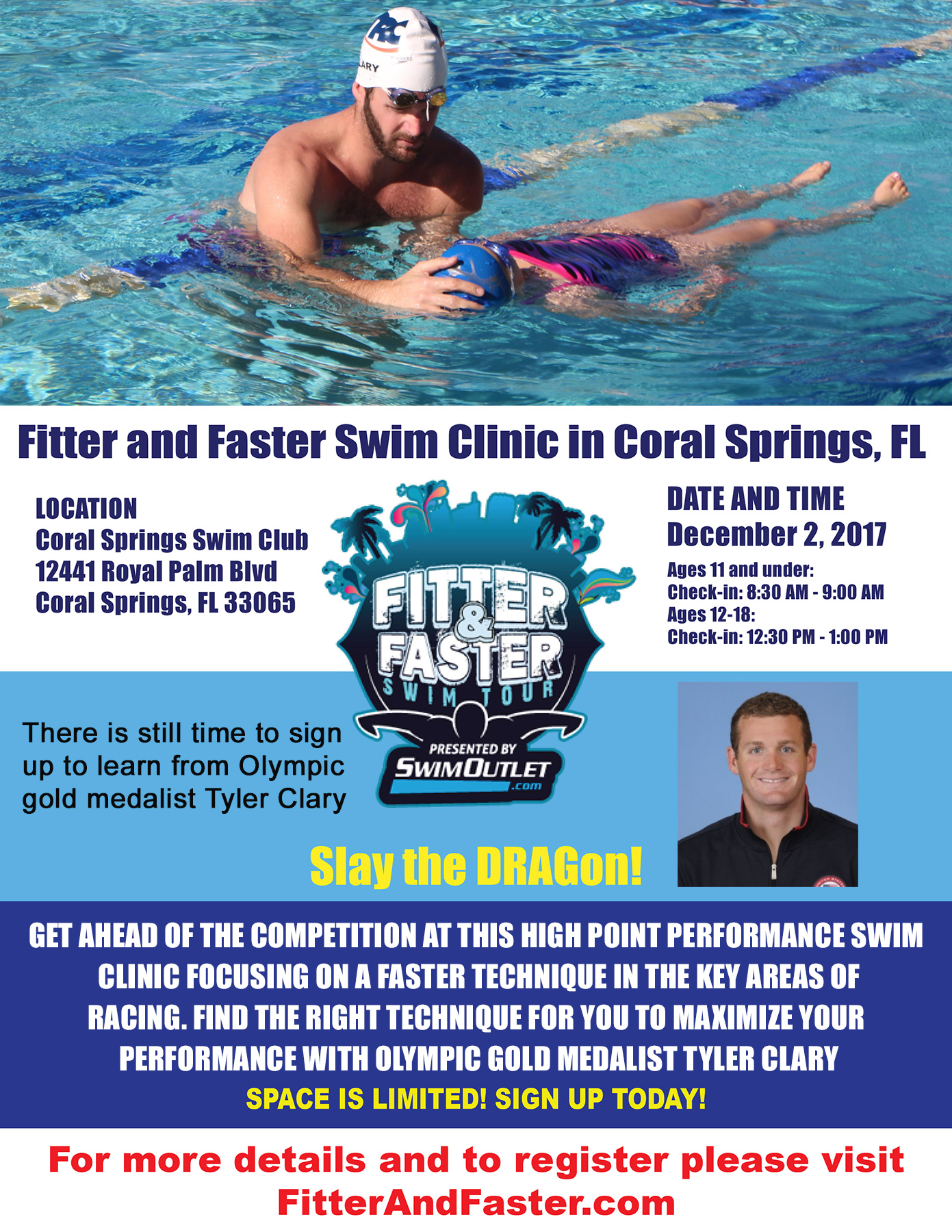 The Fitter and Faster Swim Clinic Slay the DRAGon has been rescheduled for Saturday, December 2nd. Register today and don't miss this incredible opportunity!
Learn how to reduce your drag and conquer the DRAGon in your swimming with Olympic gold medalist Tyler Clary! Tyler will be leading two sessions designed for swimmers of all ages and abilities. Space is very limited!
Our next home meet will be the 2017 Coral Springs Sprint Invitational (SCY) which will take place on December 9-10.
Thank you for your continued support!
CSSC Board of Directors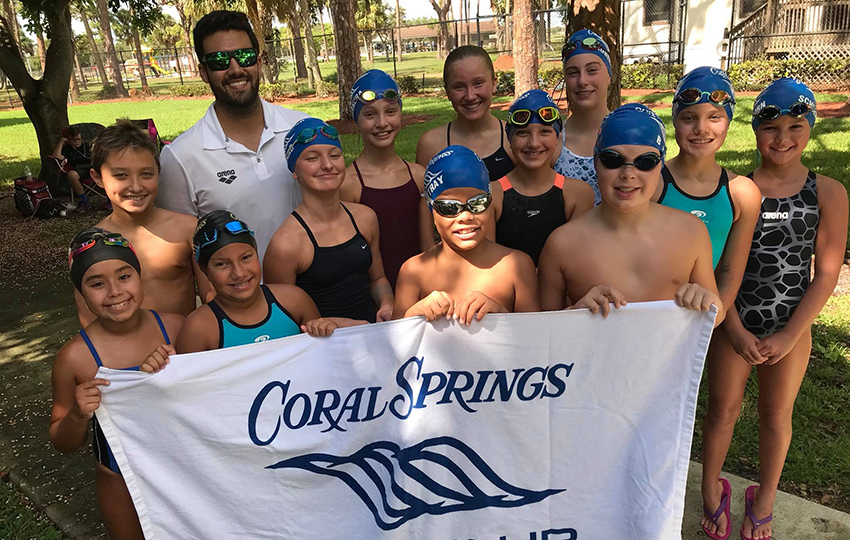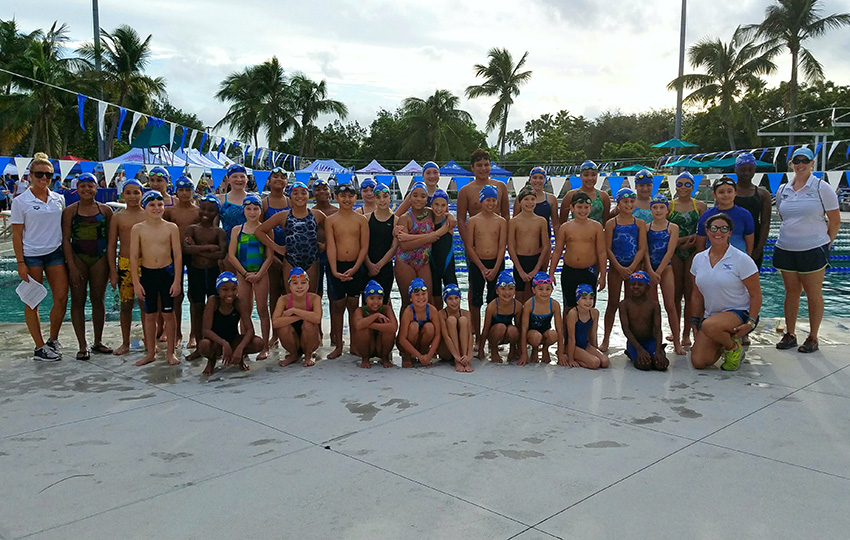 Announcements
CSSC has a wonderful new sponsor:
Xceed Preparatory Academy
Located in Coral Springs, is designed for elite athletes to reach their maximum potential in both athletics and academics. Xceed Prep's model is a blend of the best educational practices combining technology-enhanced curriculum with on-site coaches and project-based learning to provide a high-quality education for grades 6-12. Xceed Prep students create a personalized learning plan allowing them to have the flexibility to pursue their own interests and talents. Students have the opportunity to control their day and choose an academic schedule that works with their training schedule
The Xceed Prep campus is modeled after a high-tech start-up facility rather than the traditional factory-styled school. The campus will have 75 to 100 students who will work both individually and in groups in a supportive and productive environment. Students will benefit from one-on-one instruction from subject-certified academic coaches and will have access to their online courses year-round and 24 hours a day. Xceed Prep has more than 100 courses to choose from including Advanced Placement (AP) and honors courses.
Xceed Prep's model is designed to provide a well-rounded experience for students.
In addition to flexible schedules, individualized pacing, on-site academic coaches and year-round online curriculum, the school offers college counseling. The college prep and guidance go beyond helping students get into college. From day one, each student in grades 8-12 will receive an individualized college plan, one-on-one counseling and digital tools that will help prepare him or her for admission to a great college and successful collegiate life.
Xceed Preparatory Academy is now enrolling students for the 2017 school year.
For more information visit www.xceedprep.org or call 954-361-3405.

National Team
CSSC Head Coach Bruno Darzi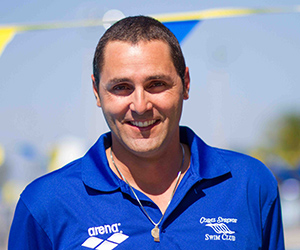 Dear National Team Swimmers and Parents;

We would like to recognize a few swimmers with outstanding performances in the last meet that we participated in at the June Woolger IMX Challenge held at Sunrise:

Our girls took over the podium ranking 1st, 3rd, and 4th respectively in the girls 200-yars backstroke Faith Fowler with a 2:19.27; Giulianna Garcia swam a personal best of 2:21.16, and Micaela Sierra swam a 2:25.05. Congratulations girls! In the girls 200-yard breaststroke, Micaela took 1st place overall with a 2:32.91, followed closely by Giulianna Garcia who took 2nd place with the time of 2:36.05. In the boys 200-yard breaststroke, Darion Louis-Jeune took 1st place overall with a personal best of 2:37.10, improving 12 seconds from his previous best. In the girls 200-yard butterfly, Giulianna Garcia finished 1st with the time of 2:19.26.
In the boys 200-yard butterfly, Darion Louis-Jeune finished 1st with a personal best of 2:28.98. In the girls 200-yard individual medley, Giulianna Garcia earned 1st place with a 2:19.45, and Micaela Sierra placed 4th place with the time of 2:22.79. In the boys' 200-yard individual medley, Gregory Trimble placed 2nd with 2:09.50, while Guillermo Barrios touched 4th place with 2:14.12. In the boys' 400-yard individual medley, Gregory Trimble earned the gold with the time of 4:38.67. Congratulations to all the swimmers who participated in the meet.

High School season is finally coming to an end, and we look forward having some great performances from our high school and age group swimmers through the rest of season. So far, we had several swimmers have achieving personal best times in their respective meets and events.

As November rolls around, the countdown begins for our season goal, the 2017 Winter Championships. Swimmers stay SHARP and FOCUSED as we have our work cut out for us in the following weeks to come.

Best of luck to those who qualified for the High School Regionals and States Championships.

See you at the pool.
- Bruno Darzi and National Team Coaches

Senior 2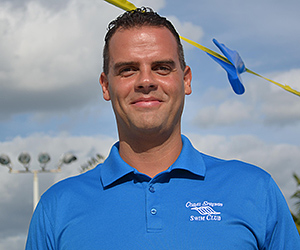 Dear CSSC Families,
I am very happy to share with all of you that swimmers from Senior 2 have been working very hard and I can already see a big improvement that will result in faster times.
Congratulations to all High School swimmers that have competed and dropped their times throughout the high school season, especially to those that have made it all the way to Regionals.
I also would like to recognize all senior 2 swimmers that competed this past month at Sunrise and Lake Lytal Park. Both great meets full of fast times.
"The water is your friend. You don't have to fight with water, just share the same spirit as the water, and it will help you move." Alexander Popov
Congratulations to all CSSC swimmers for another great month!
Swim-sincerely,
Coach Raphael Lima.

White and Blue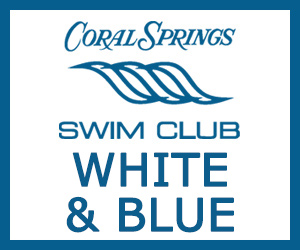 Hello White and Blue Swimmers and Parents,
October was a month of very hard training and many impressive results.
We participated in two swim meets. The first one was the June Woolger Memorial-IMX Challenge at Sunrise and then, we swam the Mike Horgan Invitational at Lake Lytal pool.
The kids had fantastic swims at the June Woolger - IMX Challenge.
White Group had a total of 23 best times for and 10 Junior Olympic cuts.
Here are the swimmers that achieved their Junior Olympic cuts: Carolyn Powell, Samantha Schoenborn and Mariana Montes. Isabella Perez who got her first JO cut on 100-yard breaststroke after she dropped 14 seconds.
Blue Group also was very successful at this meet with 32 new best times.
Kaitlyn Bonasera, Nicole Creed, Riley McCormick, Elizabeth Olson and Payton Ward obtained their Junior Olympic cuts in some of the events.
Reese Balkcom, Savannah Korb, Madison Hockman, Alejandro Alvarez, Meghan Swack and Selina Guan dropped over 10 seconds in some of their individual races.
At the Mike Horgan Invitational, the results were not very different from the June Woolger. We had fewer swimmers attending the meet but the results were just as successful.
White group had a total of 18 new best times and Blue Group had 19.
Some of the highlights performers were Mila Bond, Kenneth Rattray, Alejandro Alvarez, Savannah Korb and Payton Ward. Each one of them dropped their times considerably.
Congratulations to all of you. We look forward seeing you at practice!!!

Silver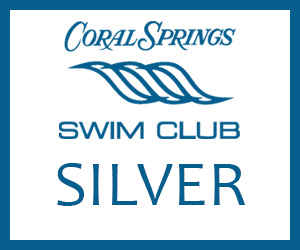 Hi Parents,
Welcome to new swimmers & parents!!
As silver group continues to grow and the weather starts to get cooler here are some important things to remember this month:
Please be on time, make sure your swimmer is ready for practice at 7 pm with equipment & water bottle.
We will always swim - no matter what the temperature outside is, the pool is heated. The only occasion that we do not swim is if it is storming and when that is the case we still do dryland.
During practices we have been focusing on technique and we will start to add in endurance starting this month.
I am very excited for our upcoming home meet in December - we are expecting some very fast swims!
-Coach Brittany

Mullins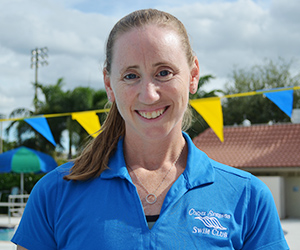 Hello Parents & Swimmers,
Happy Fall!
We are looking forward to more temperate weather here soon! Please keep in mind that the pool is HEATED!!!!! The only thing is when the swimmers get in and out of the pool they should have, extra towels, swim parka or bathrobe to keep them warm and dry! Please keep in mind that if the temperatures are unsafe to be swimming then of course we will let you know, but otherwise it is perfectly safe for your swimmers to be attending practice regularly during our Florida winter months. Consistency is the key with your child's swimming! Thank you!
A Huge congratulations to our swimmers of the month for September/October: Aveline Harding, Katelyn Lay, Joslyn Brown, Addison Palumbo, Anhtony Palumbo, Ethan Persten, Max Cisternas, Delainey George-Crompton, Steve Quispe, Alejandra Silva. So proud of you guys and keep up the great work!!!
The holiday season is fast approaching and please keep in mind that we will NOT be holding regular practices on the following days, please mark your calendars:
Thursday November 23rd

-Thanksgiving Day
December 22nd-January 1st 2018

-Holiday Break
-See you at the pool
-Coach Jessica
-Coach Bar

Nutrition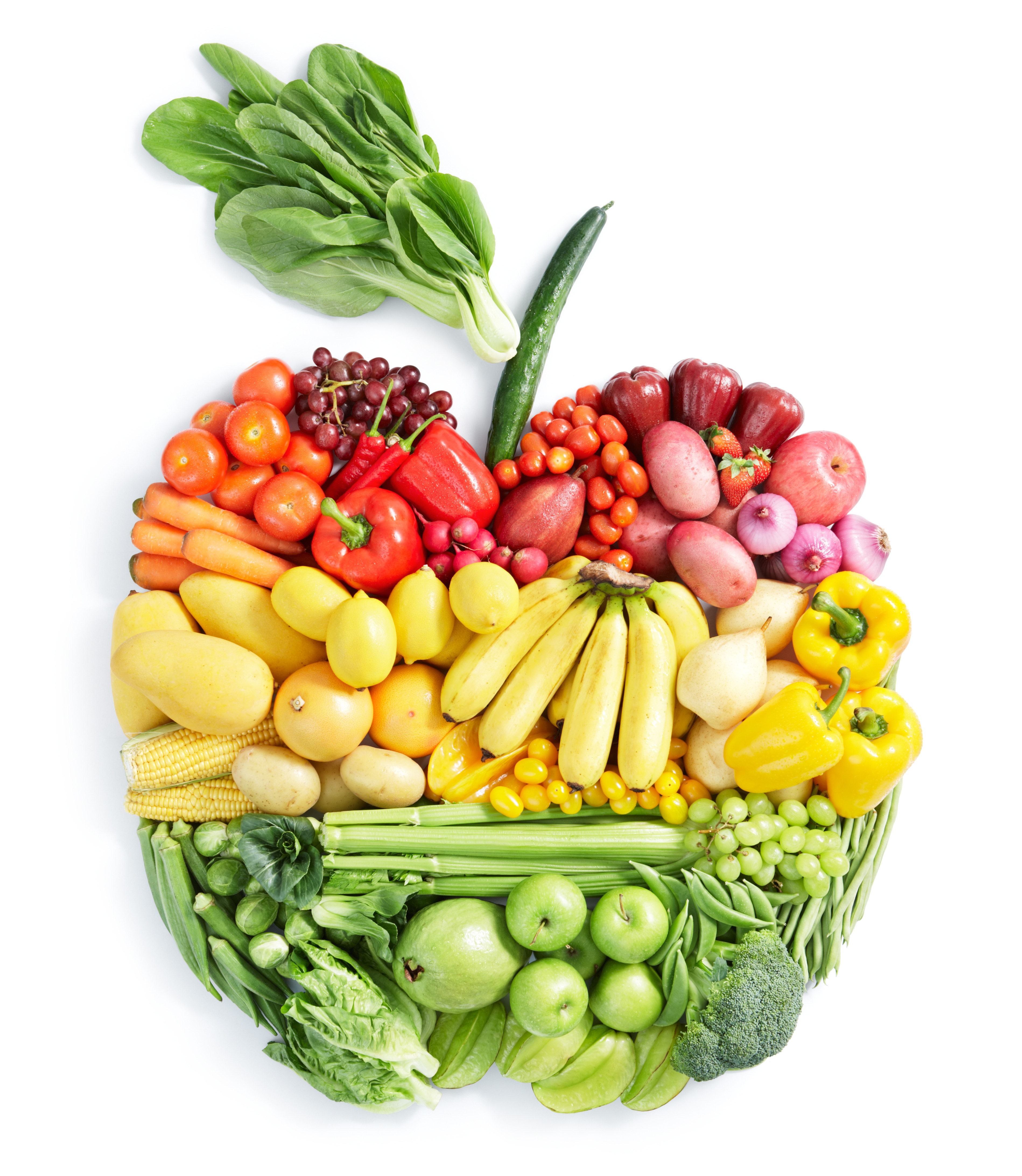 8 things you didn't know about iron
By Jill Castle, MS, RDN
Iron is an important nutrient for any individual, no matter the age. For the growing young athlete, it's a critical nutrient to pay close attention, especially during the teen years.
Here are 8 things you may be interested to know about iron and its role in the young athlete's performance:
1. Two types of iron exist in food.
Not all foods are equal when it comes to iron. Foods that come from animals and fish have the heme form of iron, which is easily absorbed and used in the body after eaten. Non-heme iron comes from plant foods like spinach. Non-heme iron is not as readily absorbed by the body and needs a vitamin C "helper," such as red pepper or citrus fruit.
2. Iron transports oxygen in the body.
Muscles need oxygen to function properly. Iron carries oxygen to the cells. Without adequate iron in the body, the muscles don't get enough oxygen, which can lead to fatigue, a lowered aerobic capacity, and reduced performance.
3. Iron requirements are high during the teen years.
Between the ages of 14 and 18 years, iron needs increase to accommodate the rapid growth spurt and the expanding blood supply. Females almost double their iron requirement to reflect the iron losses that occur with menstruation.
4. Iron deficiency and anemia are two different things.
Iron deficiency means that the diet is low in iron. Animal sources such as meats, poultry, fish and non-heme iron sources like beans, tofu, and dark leafy vegetables are not eaten frequently or in adequate amounts on a regular basis. Prolonged iron deficiency in the diet leads to iron deficiency anemia.
5. Iron deficiency anemia is more than being tired.
Fatigue is a common symptom of iron deficiency. In the growing athlete, fatigue from anemia versus hard training may be difficult to differentiate. Other symptoms of anemia include pallor (pale skin), low body temperature and feeling cold, lightheadedness, shortness of breath, restless leg syndrome (an urge to move legs due to discomfort, often occurring at night) and chronic infections and colds.
6. Growing swimmers are at risk for iron deficiency anemia.
During exercise, blood cells break down. One study measured hemoglobin (an indicator of iron stores in the blood) before and after racing in a small group of swimmers. They showed that 10% of these collegiate swimmers experienced lower levels of hemoglobin after racing. The researchers called this "swimmers anemia" and found it correlated with the duration of swimming. Other studies in adults have suggested a reduction in maximal athletic performance when poor iron status (but not anemia) exists.
Generally, the swimmer in a growth spurt, who is a picky eater, a vegetarian, who diets or skips meals, or who has an unhealthy diet will be at greater risk for iron deficiency. Teen female swimmers are particularly sensitive to risk of anemia due to growth and menstruation.
7. If you have anemia, you're unlikely to fix it with food.
It has been estimated that up to 9% of female teens have iron deficiency anemia, despite screening and prevention efforts. The rates among children are thought to be between 3 and 7 percent.
Swimmers who have developed anemia due to inadequate iron in the diet over a prolonged period will need an iron supplement to replenish their iron stores. Additionally, work to improve iron in the diet will be essential to ensure adequate iron status after supplementation has discontinued.
8. Multivitamins with iron are probably not sufficient to treat a deficiency.
While multivitamins are an option for the child and teen who is generally healthy, they don't have the proper iron content to correct iron deficiency anemia.
Typically, a child or teen with iron deficiency anemia will need an iron repletion regimen and this should be done with a health provider. Some cases will require extended treatment to ensure iron stores are optimal and the symptoms of deficiency are resolved. Always work with a healthcare professional to guide iron therapy for anemia.

Jill Castle, MS, RDN is a registered dietitian, childhood nutritionist, and youth sports nutrition expert. She is the author of Eat Like a Champion: Performance Nutrition for Your Young Athlete. Learn more about Jill at www.jillcastle.com, her resources for athletes, and check out her free list of 70 Awesome Pre-Workout Snacks for Kids here. Coming soon! Eat Like a Champion class for young athletes and their parents.