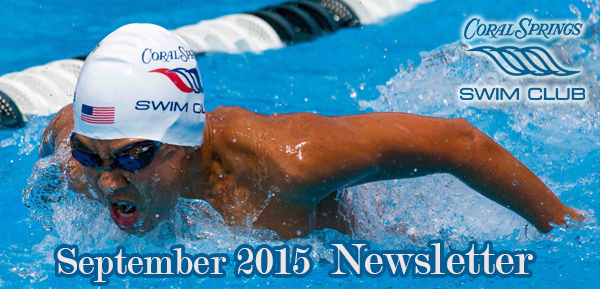 Message From the Board | National | Senior 1 | Senior 2A | Senior 2B | White and Blue | Mullins | Nutrition

Message from the Board
CSSC Families,
We would like to thank everyone who participated and volunteered at the Fitter and Faster Clinics. The swimmers had a great time and the clinicians were amazed by all the support our club gave them. Fitter and Faster donated the TV they purchased to CSSC as a token of their appreciation.

The CSSC General Annual Meeting will be held on September 18th, 5:30pm-7pm at the Aquatic Complex in the wood room. Join us to learn more about the club, meet the coaches and presentation of the 2016 Calendar.

2016 USA Swimming and CSSC Annual Registration
It's that time of the year again. We are starting our early registration process. In the next few days, you will be receiving the 2016 Registration package which will include the following forms: the 2016 US Swimming Registration, Parents Code of Ethics, Swimmers' Code of Conduct, Photo/Audio/Video Release Form, Swimmers' Harassment/Bullying and Hazing Policy. All the forms must be completely filled out and signed by the respective individuals.
Early registrations will allow each swimmer to save $10. The discount only applies to current CSSC members.
The discount will only be applied to registrations received between NOW and November 30,2015. If you turn in all the paperwork with the attached check , you will receive a $10 discount = $160 per swimmer.
All registrations received after November 30 must include the check for the full amount of the registration = $170 per swimmer
All registrations must be received by December 31, 2015. No exceptions!!! If you wait until January, your swimmer will not be able to swim until the applications have been processed due to liability and insurance reasons.
All checks must me made out to CSSC.
For more information about the registration process, please call us at 954-340-5032.
Thank you,
CSSC Board of Directors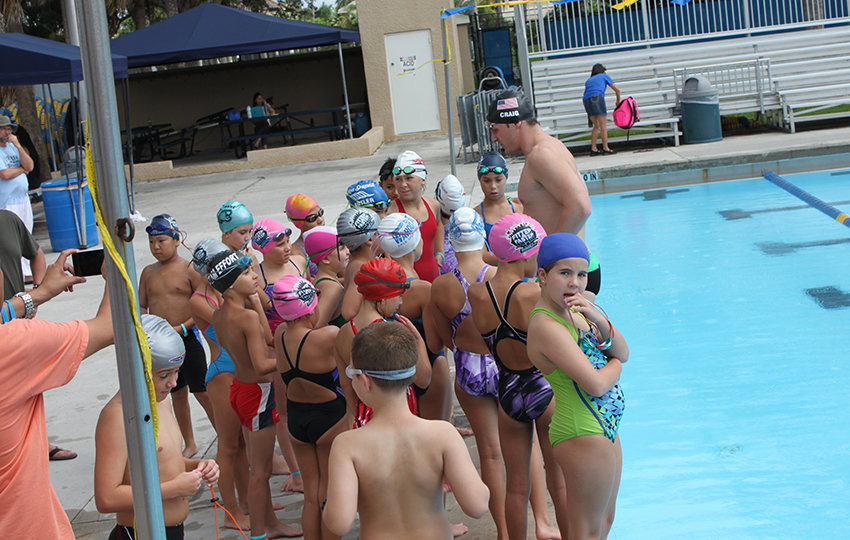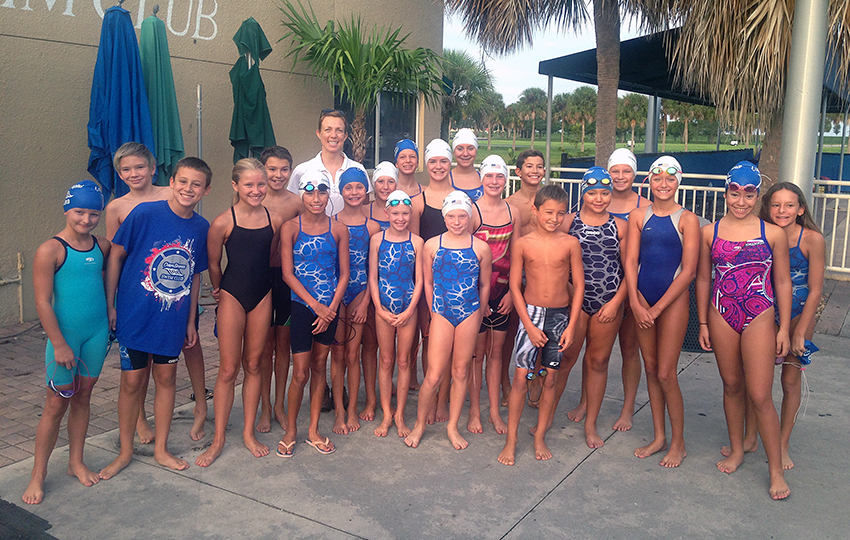 National Team
CSSC Head Coach Bruno Darzi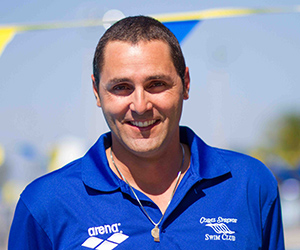 The National Team group had a very uneventful month in August. Most swimmers took one week off, if not more, allowing them to recover from the demanding summer season. As we slowly prepare for another short course season, our swimmers have their eyes set on the high school championships, while some of our young athletes focus on performing well at the Winter Championships. We have made some changes to our dryland program in order to challenge our swimmers to swim faster.
A few weeks ago, we said goodbye to some of our most dedicated athletes, who have made their way into their new college team. Stephanie Campo, Bryce Pierce and Rebecca Wilkerson have been with our program for over a decade. I am extremely proud of their accomplishments as student athletes, and what they have done for the program. Their loyalty to the Coral Springs Swim Club didn't go unnoticed. We look forward seeing you during the upcoming winter break. Best of luck.
See you at the pool!
- Bruno Darzi

Senior 1
The long course season wrapped up in August and, after working hard all summer, the kids enjoyed a well-deserved break. The Senior 1 Group was able to relax and prepare for the upcoming short course season. We are starting back stronger than ever and getting ready to pursue new goals. I would like to congratulate Andres McKeon and Giancarlo Payamps for moving up to the National Team. We will surely miss you in our group. We would like to welcome two new swimmers to the senior 1 group this month. Cody Chin and Nicholas Dworet have joined us, and have been doing a good job adjusting to our training routine. Best of luck to Nicole Gautieri, who is heading off to college , and will continue her swimming career while attending nursing school. In September, we hosted another swim meet and it was the first of another exciting season. Our swimmers are preparing to achieve new goals, and to push themselves to their limit while working hard in and out of the water.
-Coach Junior

Senior 2A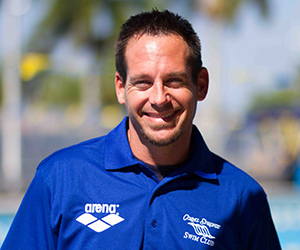 The mighty Senior 2A program had a wonderful training month of August. Coach Dave was very pleased with the amount of yardage and effort in the water this month. Without having a swim meet to compete in, it was nice to solely focus on training. With High-School season around the corner, it is imperative that swimmers have good attendance to maintain all of the aerobic base that we have built up in the month of August. We followed up a great training month with a great meet performance at our home meet Labor Day weekend. Now that students are back to school, let's make sure we stay healthy and are eating the right foods. A good diet will keep you happy, healthy, and building muscle through out the year, and believe it or not plays a large role in your performance in the pool. See you on the deck!
- Coach Dave

Senior IIB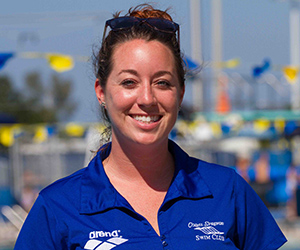 Hi everyone! I'm glad everyone is back from vacation and we're getting into the swing of things. We've had a lot of swimmers try out for their high school swim team so I wanted to wish the best of luck to Anna Gally, Ian Lee, Danilela Ortiz, Kendall Roush, Jenna Weissman and Koral Witz as they swim high school for the first time! You all will do great!
Remember practice is back to the normal 5:30-7:15 Monday through Thursdays. Please bring a water or Gatorade every day! It's important to stay hydrated. Welcome back everyone and I will see you at the pool!
-Coach Kayla

White and Blue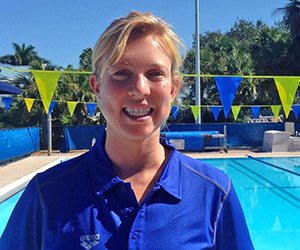 Hello Swimmers and Families,
The month of August was a quiet one White and Blue. Swimmers had a chance to rest for a week and go on a well deserved vacation. Now that summer is over and school is back in session, we are working our way back into full training mode. Swimmers attended the Fitter and Faster swim clinic at the end of August and they were excited to learn from elite level athletes and ask questions!
White and Blue swimmers will have the opportunity to make a trip to the International Swimming Hall of Fame museum on Saturday, September 12th. They will participate in a guided tour and learn the history behind competitive swimming. With so many activities planned ahead we are ready to rock and roll this month!
See you at the pool,
-Irina

Mullins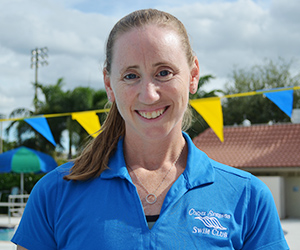 Hello Mullins parents & swimmers!
Welcome back from summer vacations and we are excited to get back to our regular practice schedule with all of our swimmers!
Please don't forget we have the Sizzler meet for our 8 & under swimmers on September 11th. Please be sure to wear your CSSC t-shirt, and swim cap with great pride to the meet!
We completely understand that everyone is adjusting back to the school schedules etc. Please make sure that you add swim practice into your child's regular routine! It will only help your child physically and mentally during this adjustment period. It will give your child and outlet and a familiar comfort zone where they will can improve their skills and endurance. Believe it or not but consistency is the key to getting your child "hooked" on their swimming! Thank you for your support!
- Coach Jessica

Nutrition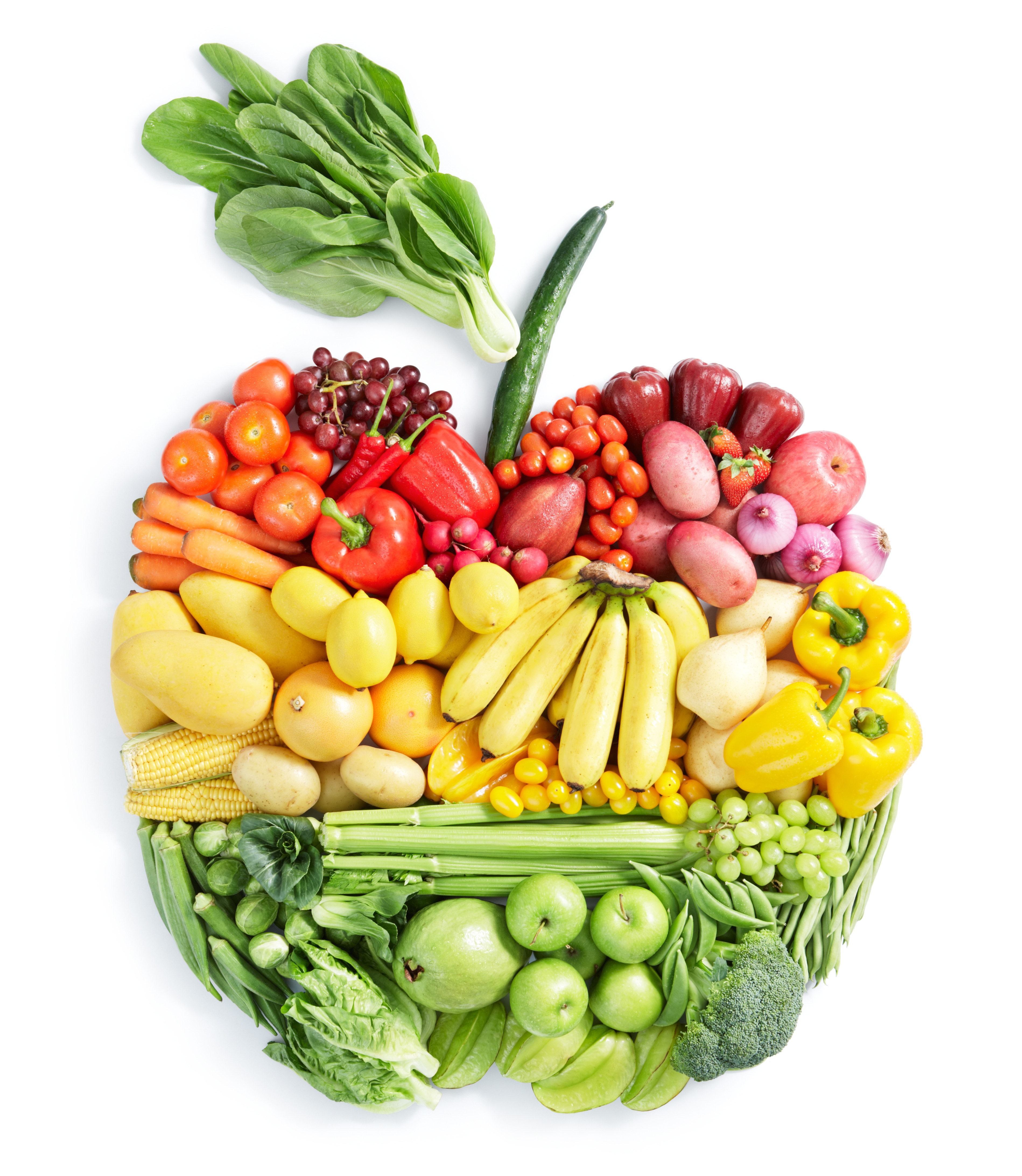 6 Healthy Foods that Fool Young Swimmers
By Jill Castle, MS, RDN
Jake was drinking a sports drink at lunch. Shelley ate 5 or 6 handfuls of nuts for her after-school snack. Graham guzzled OJ in the morning.
What do these young swimmers have in common? They all thought they were healthy eaters.

Being a healthy eater means knowing which foods promote health and how much to eat. Some foods have the appearance of being healthy, but when you look at the ingredients and analyze their nutrition, they fall into the unhealthy zone. Other foods may be truly healthy items, but eating large amounts pushes them to the unhealthy side.

Many consumers are fooled by the food they eat. These 6 foods may be fooling your young swimmer, and here's why:


Yogurt. Yogurt certainly has a variety of health benefits, but being the vehicle for added sugar is not one of them. Yogurt with candy stir-ins (located on the top or side of the package) isn't the best bet when it comes to choosing a health-enhancing food. Those types of yogurt are the highest in sugar content. Instead, look for yogurt, either regular or Greek, that is plain or flavored, as these will have less added sugar. Yogurt with fruit on the bottom or blended into the yogurt is your next best bet.



Granola Bars. The lure of oats, honey, nuts and seeds is tempting because the promise of health seems to radiate from them. When they're in isolation, yes, these ingredients are healthy, but packaged together and dipped in chocolate (or vanilla, peanut or other creamy, sugary coating), they aren't. If you take a moment to scan the nutrition facts panel, you'll find the percentage of fat and sugar can be off the charts! Be careful with these products— some granola bars resemble candy when their nutritional parameters are analyzed. If you can't resist granola bars, you can always make your own or keep a cap on the fat, sugar and calories by limiting them to less than 5 grams per serving, less than 10 grams per serving and less than 180 calories per serving, respectively, in the packaged versions.


Cereal. Swimmers can go either way with cereal, which is another category of food that ranges from the uber healthy (high fiber, low sugar and low fat) to the surprisingly unhealthy (sugar-, fat-, and artificial color-filled). The good news about cereal is that it is often fortified with nutrients the young athlete can use more of, such as calcium, vitamin D, vitamin C, folate and fiber. The bad news: if cereal is loaded with unhealthy ingredients, its benefit to athletic performance and health is questionable. Use these guidelines when purchasing cereal: keep sugar content less than 10 grams per serving (under 5 grams is even better), fiber content more than 3 gram per serving, and avoid artificial flavors, colors, and preservatives.


Sports Drinks. A sports drink can be a lifesaver for the swimmer, especially during those long, intensive workouts. Not only do they help prevent dehydration, they can be a source of energy for the swimmer. But, when misused, such as a routine drink with meals or consumed when not exercising, sports drinks can pose a threat to the young swimmers health. One 2014 study published in Obesity found that a serving of sports drink a day was more detrimental to kids' weight than the same amount of soda daily.



100% Fruit Juice. Yes, it's a natural food. Yes, it counts as a fruit. And, yes it's full of vitamin C. But, when consumed in large volumes (more than 8-12 ounces per day), 100% fruit juice may contribute too much sugar to an athlete's diet.



Nuts. Full of fiber, fat and protein, as well as nutrients, such as omega-3 fatty acids and vitamin E that help the brain and heart, nuts have long been touted as a health food. And they are healthy! However, because they provide a concentrated source of fat, nuts can level a powerful calorie punch. An ounce of nuts (roughly 23 almonds; 18 cashews; 35 peanuts; or 14 walnut halves) offers between 160-200 calories. If the young swimmer is tossing handfuls into his mouth, he may be getting too many calories.

Don't be fooled by food—knowing what and how much the young swimmer should be eating will keep food as a friend, not a foe.

Jill Castle, MS, RDN is a childhood nutrition expert and author of Eat Like a Champion: Performance Nutrition for Your Young Athlete. She lives with her husband and four children in New Canaan, CT. For more about Jill, go to www.JillCastle.com.