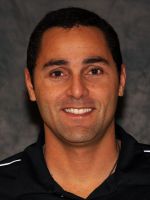 The month of December was an exciting one. Several swimmers from the National team won their individual races at the 2013 Winter Championships. Here are our Winter Champs winners: Catharine Cooper (50 Free/ 100 Free), Allison Kopas (200 IM/ 200 Fly), Emily Kopas (100 Breast/ 50 Breast), Isabella Pittinger (50 Fly) and Megan Schimansky (200 Backstroke). Combined, National Team swimmers swam a total of 40 personal best times.
We had 2 new FHSAA State Champions. Alex Evdokimov and Emily Kopas won the 100 Breaststroke narrowly missing the FHSAA State Records.
CSSC had 3 swimmers participating at the 2013 AT&T Winter Nationals in Knoxville, Tennessee. Veteran's Arlene Semeco and Emily Kopas, were joined by first-timer Alex Evdokimov.
All 3 swimmers qualified for finals in their individual events. Alex Evdokimov, won his first-ever 18-and-under national age group title in the 200 Breaststroke. Alex swam lifetime bests in the 100 Breaststroke 200 Breaststroke, and broke 2 FGC 17-18 year-old records. The 100-yard Breaststroke record used to belong to three-time Olympic swimmer Bradley Ally. The 200-yard Breaststroke record used to belong to our very own three-time Olympian Vlad Polyakov. Michigan bound Emily Kopas finish 20th overall in the 100 Breaststroke. Three-time Olympic swimmer, Arlene Semeco, finished 14th in the 50 Freestyle, after swimming a life-time best in the preliminaries.
Alex Evdokimov's times are ranked among the top 100 times in US history. Alex currently ranks 30thin the 100-yard Breaststroke and 63rd in the 200-yard Breaststroke.
To wrap up the year, some swimmers competed at the 2013 Sprint Invitational in Coral Springs, while some swimmers decided to time and work as volunteers.
We are slowly getting back in shape, preparing for all the upcoming meets. Our first competition will be in Saint Andrews at the end of January, followed by our 1st home meet of 2014 in February.