Message From the Board | National | Senior 1 | Senior 2A | Senior 2B | White and Blue | Mullins | Nutrition Corner
The Board would like to thank all the swimmers and families that came to the banquet. It was great to see everyone dressed up and having fun.

June is swimmer appreciation month and all swimmers can get a free sports physical at the Broward Health Urgent Care in Magnolia Shoppes, 9663 Westview Drive, Coral Springs Ph: 954-320-3323 Monday-Friday 8am-9pm, Saturday-Sunday 9am-8pm. All you need to do is print and bring this CSSC form any day during the month of June.
We are selling new CSSC Apparel- tank tops and shorts. You can even place your order online and pick them up at the Office. For more information, please click here
June 19th-22nd will be our next home meet. This is the Michael Lohberg Invitational and it has prelims and finals so we will be looking for many volunteers. Click here for the Volunteer Sign-Up. Please come out and help us run another great meet. Two tents have been ordered with the CSSC logo on them for the swimmers. They will be brought to every swim meet.
The Origami Owl Jewelry Fundraiser will continue during the meet, click here for more information. Christine will have her table set up by the Aquatic front office.
Thank you for all your support.
CSSC Head Coach Bruno Darzi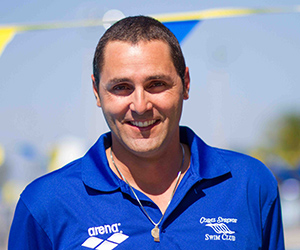 The month of May was full of challenges for our senior group swimmers. Our athletes had to juggle between their school obligations, while preparing for all the tests they had to take before the end of school year, the high school seniors had to get ready for graduation, while practicing hard for the long course season. I can't believe that summer is already here.
Our Annual CSSC Banquet was a complete success. The CSSC Board Members as well as many other volunteers did an amazing job getting the event organized. We had the largest number of attendees ever!!! It was great to see the kids dancing and playing. The parents got a break from working all the swim meets and were able to display some of their dance moves. I didn't know they could dance country music, did you? It's amazing that we have a strong group of parents that have fun doing what they do for our swim club.
We had several graduating seniors that are about to embark on new adventure. Sometimes we underestimate what they do every day. Sure, it's frustrating when they don't come to practice but being able to see some of their accomplishments in and out of the water is a priceless experience.
Our May meet ran smoothly as usual. We, again, received several compliments from teams attending our meet. Compliments from parents, coaches and officials. They really love coming to our home meets.
We had some really impressive results considering we are at the beginning of the long course season.
Stephanie Campo placed 3rd in the 200 backstroke. Logan Confer swam 4 personal best times. Cathy Cooper won the 50 freestyle and finished 3rd in the 100 freestyle. Brandon Goldman, returning home from LSU, won the 100 backstroke and placed 3rd in the 200IM. Acacia Jones swam 4 personal best times and earned the bronze in the 400IM. Emma Lincoln finished 2nd in the 100 butterfly. Audrey Mason placed 10th in the 100 breaststroke. Bryce Pierce finished 15th in the 200 IM and 200 Free. Isabella Pittinger placed 5th in the 200 backstroke and 100 butterfly. Sam Roth finished 8th in the 100 butterfly and 100 breaststroke. Megan Schimansky won both 100 and 200 backstroke. Sebastian Vargas finished 9th in the 400 freestyle, dropping over 7 seconds. Hannah Virgin won both 100 and 200 breaststroke, and swam 4 personal best times. Rebecca Wilkerson shaved off over 2 seconds in the 100 backstroke, placing 8th. Finally, Henrique Yamamoto swam 2 personal best times in the 200 IM and 100 freestyle.
On June, 21 swimmers from the Senior 1 and National teams will be heading off to the Northern Arizona University in Flagstaff, AZ. The goal is to prepare our swimmers to the championship meets at the end of the summer. They will be challenged by the intense training routine and high altitude (7,000 feet). I am excited to see how well they perform.
At last, don't forget that June is the CSSC Swimmer Appreciation Month. We partnered up with the Broward Health Center. You can get your school physical done at the urgent care clinic located near the Magnolia Movie Theater. It's free, but hurry because it's only good until June 30th. For more information, visit our website.
See you on the pool deck.
- Coach Bruno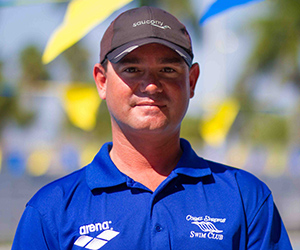 May has been another good month for Senior 1. The training has become more difficult and the intensity has increased over the month as summer approaches. Our plyometric routine, weights and cords are now in full effect. My swimmers are looking very strong and seem determined to have a great season! We will continue to work hard as we are about to start double sessions next week.

Our team had its annual banquet this month. It was nice to see everyone dressed up and having a great time. It was very impressive to see how well our kids do academically while still being able to stay committed to swimming. Senior 1 coaches' awards went to Bryce Pierce and Rebecca Wilkerson. These two trained very hard with me over the past 4 years. They've both become very talented swimmers who have accomplished many things in their time with Senior 1. Bryce and Rebecca now train with Coach Bruno on the National Team.

Senior 1 competed in the 2014 Coral Springs Open Invitational on May 17th and 18th this month. We had 9 swimmers racing in this meet. From those 9 swimmers 27 best times were produced! Pretty good for our first meet of the long course season!! Notable performances were swam by: Guy Bogoslavsky dropped 6 seconds in the 200 IM- Gui Hada dropped 23 in the 200 IM- Andres McKeon dropped 8 in the 200 IM, 4 in the 100 free, 4 in the 100 back, 5 in the 200 free and 15 in the 100 fly- Alexio Musleh dropped 8 in the 200 IM- Gian Savino dropped 4 in the 100 free, 7 in the 100 back, 16 in the 200 breast and 7 in the 200 free. This was another very solid meet for Senior 1.

My swimmers and I are looking forward to a month of hard training in June!

See you at the pool,

Chris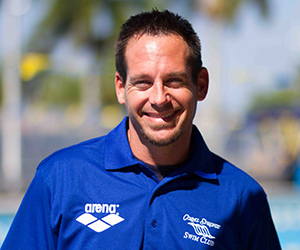 Wow, what a month it was for Senior 2A. In the pool, ever swimmer who competed this month set multiple best times. Even Lauren Noyola who was out of the water and only kicking for a month had significant drops. Coach Dave is thinking about maybe making Lauren kick practice for the rest of her life! This is a great sign as the month of June approaches in preparation for our championship meets in March. Special recognition should be made for our two award winners at this years banquet. Alex Meyer and Megan Applebaum are very deserving winners for the coaches awards. It was a tough decision and very hard to just pick one boy and one girl because so many of you are unique and amazing in your own way! Thank you for a great month of may, now lets get ready for the swim camps and summer schedule starting up in just a few short weeks. Summer here we come!!
-Coach Dave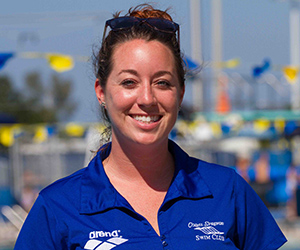 I'd like to start out by saying what an improvement Senior IIB has made over the last couple months as a whole team. We had a few swimmers compete in their first long course meet ever at the Coral Springs Invitational. Tyler Oviedo swam the 50 butterfly at his first meet ever and did great! Gael-Lynn Laguerre and Sophia Viner had some great swims as well! Brandon Schutz, Ian Lee, Zachary Huang, Daniel Perkowski, Danielle Chiarella, and Anna Perdomo all had great swims at this long course meet. Nicholas Montes shaved 23 seconds off his 200 IM! Way to go Nick! Keep up the hard work everyone!
Summer practice will start on June 9th, and it will be Monday thru Thursday from 5:00pm – 6:30pm. See everyone at the pool.


–Coach Kayla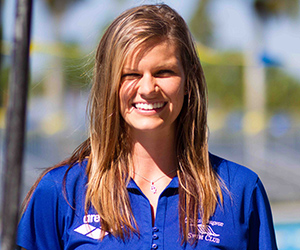 In the month of May, White and Blue groups competed in our home meet. Our team crushed their best times! Riley Botting, Brianna Dattile, Giulianna Garcia, Riley McCormick and Rebecca Poznanski represented white group with 100% best times. Faith Fowler, Molly Mason and Nicole Palacios were very close to the same and only missed the same mark by one event! Rebecca Poznanski also won the girls 200 breaststroke! And Brianna Dattile achieved her first ever JO cut! Swimmers with time drops totaling 15 seconds or more include Riley Botting (28+), Brianna Dattile (38+), Faith Fowler (17+), Giulianna Garcia (50+), Molly Mason (28+), Riley McCormick (32+), Meredith McDade (16+), and Rebecca Poznanski (62+). Rachel Botting, Treasure D'Souza, Emma Gomez, Brian Gonzalez, Sam McCormick, Andrew McDade, Grace Nemanic, Summer Reese and Greg Trimble were those who represented Blue group with 100% best times. Those only one event shy of all bests are Jason Allen, Gabby Beltrano, Olivia Mason and Lydia Szakacs. Jason Allen achieved his first time JO cut! Gabby Beltrano won all three of her backstroke events. Delaney Biro won the ladies 50 fly. Swimmers with time drops totaling 15 seconds or more include Jason Allen (52+), Delaney Biro (19+), Rachel Botting (45+), Brooke Cordoba (17+), Treasure D'Souza (102+), Emma Gomez (74+), Brian Gonzalez (19+), Olivia Mason (25+), Sam McCormick (17+), Andrew McDade (36+), Lydia Szakacs (33+) and Greg Trimble (45+). It was an amazing meet! We are looking forward to swimming even faster at the Michael Lohberg meet in June!
Towards the end of May, Delaney Biro, Andres McKeon, Rebecca Poznanski and Brian Gonzalez were honored as White and Blue groups swimmers of the year! Congratulations to this years winners! I hope all swimmers are working hard towards the goal of being swimmer of the year this upcoming year! You definitely all have the potential!
This month, we have also welcomed a new swimmer to blue group! Welcome Olivia Reposa! We are so excited to have you on the team!
The summer schedule has been sent out. And as changes are made, updates will be forwarded immediately.
Don't forget to sign up for summer camp! It is filling up fast, don't miss out!
Have a wonderful day!
- Coach Erin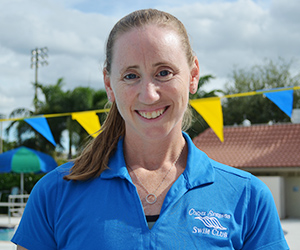 Hello parents & swimmers!
June is going to be such a busy month for our Mullins swimmers!
***Please be sure to book your hotel and glass bottom boat tour tickets for our team trip to Key West! If you plan on attending this meet. Please see coach Jessica's informational email!
Coach Danila and Coach Jessica have been so pleased with the performances from our swimmers so far in this long course season meets! We look forward to great swims at Key West meet and the Michael Lohberg invitational! We would like to congratulate all of our swimmers who have achieved their B and BB times so far- there have been so many amazing time drops! We would congratulate William Olson for achieving his JO times!
****FYI: we will be having a kick off to summer ice cream party soon! Please see your email for more information coming soon!
Happy Summer everyone!!!!! Yay!!!
- Coach Jessica
Timing and Basic Supplements Use
Many people ask me what supplements to take during hard training. It seems like that is the only time we actually think we need supplements. Whereas, it is true that that it is an important time to supplement your diet with extra vitamins and nutrients, it is certainly not the only time you need to be taking them. I understand there are athletes that are just not into supplements. And to be completely honest with you, neither was I when I did not know how important they are for you at any sport.
As we all know, swimming does not have a season. It simply is an all-year-long kind of sport and our training routine only gets harder as we get closer to a meet. And as we also know, this can happen at any time of the year. With school we also have another challenge to face. It seems that kids do not get a break all year long. When school is over, summer starts and swimming gets harder. I tell you, swimmers are most definitely a different kind of athlete breed! But, we make it happen. We make it possible and most importantly, we make it work.
Just as you have heard me say that a balanced diet is important to keep all year long, you probably have heard me talk about supplements and how essential it is to keep a routine of supplement use all year long. Specifically for our kids in the club, I believe there are a couple of 'must-have' supplements. I know I have talked about them with our swimmers in numerous group and individual counseling seasons, but here it is again. Our kids (and I dare to include parents as well) should be taking a multivitamin, probiotics and fish oils. There are countless studies proving the benefits of these products in the body. Also, another important detail to be aware of is when you take all of these supplements. It is recommended to take all of these supplements with the biggest meal of the day. Why? All of these supplements are greater absorbed with food. The biggest meal, like dinner, is most likely to be the complete balanced meal of the day including protein, carbohydrates and fats that stimulate ideal acid and enzymes secretion in the gut promoting a better absorption of water and fat soluble vitamins, oils, fatty acids and probiotics.
Now, let's start trying this trick starting tomorrow. Let's take precaution to avoid getting sick or compromising your immune system. And more importantly, let's be consistent. Summer promises to be a hard season for us, tons of training, camps and outside activities. Preparation and prevention is necessary to avoid getting sick and be able to come back faster and stronger for practice the next day!
For more info and questions, please contact me at This email address is being protected from spambots. You need JavaScript enabled to view it. or (954) 695-3880.
-Arlene I. Semeco, MS, RD, CISSN