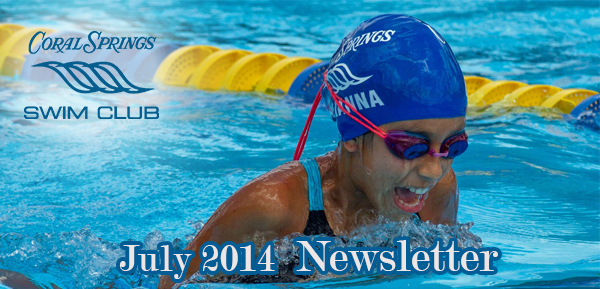 Message From the Board | National | Senior 1 | Senior 2A | Senior 2B | White and Blue | Mullins |
The month of July brings exciting competition to swimmers of all ages. The national team kicks it off traveling to Orlando to swim at the 2014 Southern Zone Speedo Summer Sectional Series from July 10-13. The weekend of July 12-13 some of our 14-&-under swimmers will attend the 2014 LCM Area 2 Championship in Sunrise and the week after that (July 18-20) the fastest age group swimmers will compete at the 2014 LCM Junior Olympics in Plantation. To close the month, our fast 15-&-over swimmers will swim at the 2014 LCM Senior Championship (July 25-27) which will be held at our home pool.
The board would like to thank all the swimmers and family members who volunteered at the Lohberg Invitational. The meet was fully staffed for all 7 sessions and 231 positions were easily filled during the 4-day event. We ran another successful meet due to all your help. We invite you to join us again for the Senior Championship meet. This will be a 6-sessions (prelims and finals) meet so we will need lots of help. Please sign up to volunteer. This will be a great opportunity for younger swimmers to come and watch the older kids race.
The Summer Championship Breakfast will be on Wednesday, July 16 from 9:30 am to 11:45 am at the Aquatic Complex. All swimmers are invited!
CSSC apparel is available on our website. You can conveniently place your order online and pick up your items at the Aquatic Complex office. You will receive an email when your items are ready for pickup. To place your order, please click here
Our Origami Owl fundraiser was a great success and we thank you for your participation.
Finally, our Annual Members General Meeting will be in September (date and time, to be announced) and the board wants to announce that all parents are invited to attend and to inquire after open board positions and volunteer opportunities for the Fall.
Have a wonderful rest of the summer,
CSSC Board of Directors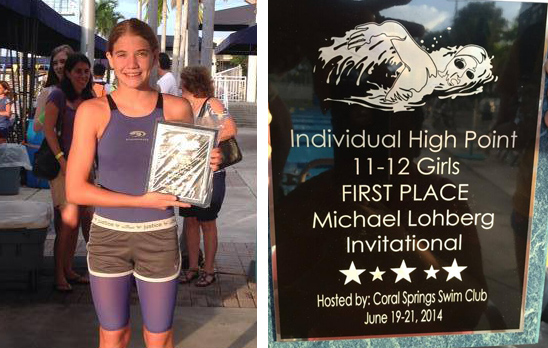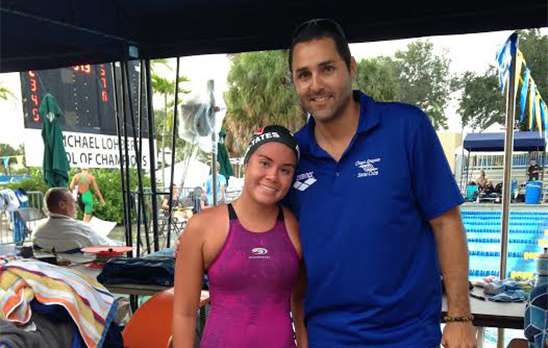 CSSC Head Coach Bruno Darzi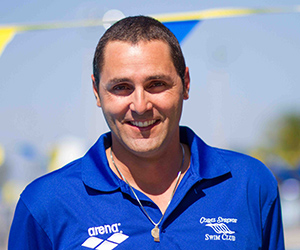 The month of June was filled with excitement. The National Team swimmers traveled to Flagstaff, Arizona for our yearly training camp. Training at 7,000 feet proved to be very challenging but the swimmers stayed hydrated during the whole trip making their adaptation a little easier. The training camp went well with exceptions of minor issues. Upon returning to Coral Springs, CSSC swimmers competed at the annual Michael Lohberg Invitational. Over 550 athletes participated at our 4-day prelims and finals meet. Combined, National Team swimmers, achieved 27 new personal best times.
Stephanie Campo broken her own 15-16 800 Free club record. Last year, Stephanie had broken Erika Butler's 19-year old record.
Also in June,Hannah Virgin participated at her very first international. She earned a bronze medal in the 200IM with a personal best time of 2:31.15. Virgin finished 4th in both 100 and 200 breaststroke races. Hannah will be representing the Swedish National Team at the 2014 Nordic Junior Championships on July 12-13.
The July Championship madness is about to start. Swimmers from all ages will participate at Sectionals, Area 2 Champs, Junior Olympics, Senior Champs and US Senior Nationals.
CSSC sent 8 swimmers to participate at the 2014 Summer Southern Sectionals. Stephanie Campo, Cathy Cooper, Emma Lincoln and Megan Schimansky are representing the girls, while Brian Arnaud, Kyle Desrosiers, Alex Evdokimov and Brandon Goldman will represent the boys. Our swimmers will be competing after only 2-3 days of rest while trying to prepare for the rest of the championship season.
The Sectional meet will start on Thursday, July 10 in Orlando and will resume on Sunday, July 13.
We are looking forward another successful season.
- Coach Bruno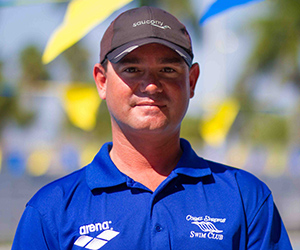 June has been a great month for Senior 1. We have been training double sessions since school got out. This is a major workload for my kids and they are handling it extremely well. We have been averaging more than 11000 meters per day 3 days a week! We have continued to increase the intensity in practice over the month as we prepare to swim fast in July.
Ten swimmers from Senior 1 had the opportunity to attend a training camp in Flagstaff Arizona. This was a great chance for my swimmers to experience altitude training and see a beautiful part of the country. It took a few days for them to adjust to practicing at 7000 feet above sea level, but by the end of the trip they were firing on all cylinders. They also got to take in some breath taking views such as The Grand Canyon and Sedona. It was a great time had by all and we look forward to another training camp next summer.
Senior 1 had an exciting competition this month. Our club hosted The Michael Lohberg Invitational held at The Coral Springs Aquatic Complex. This was an exceptional meet for Senior 1. Between prelims and finals my 16 swimmers achieved a total of 73 best times!! This was awesome considering I only gave them 2 days of rest leading up to the meet! We were certainly on a roll all weekend long!! Notable performances were produced by: Guy Bogoslavsky dropped 14 seconds in the 200 breast, 5 in the 200 im, 6 in the 100 breast and 4 in the 100 free- Nick Dworet dropped 15 in the 200 im, 8 in the 200 free, 26 in the 400 free and 4 in the 100 free- Nicole Gautieri dropped 4 in the 200 free-Daniela Gomez dropped 5 in the 200 im and 7 in the 200 free-Gui Hada dropped 5 in the 200 im, 9 in the 200 free and 3 in the 100 free- Andres McKeon dropped 6 in the 200 free, 4 in the 100 fly and 25 in the 400 free-Alexio Musleh dropped 6 in the 200 breast-Kristen Sauer dropped 5 in the 200 im- Luisa Sazuki dropped 4 in the 200 free and 6 in the 400 free. What an unbelievable meet!! I can't wait for the championship competitions in July!!!

See you at the pool,

Chris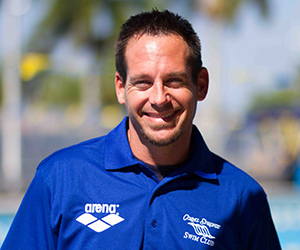 The month of June was a GREAT training month for the Senior 2A program. Our swimmers put in excellent performances at the Michael Lohberg Invitational, which is a good indicator of things to come in July. The yardage at practice has increased significantly and the morning practices are running well. Swimmers seem to be more focused and determined during morning practice time, and I know they are ALWAYS excited to start their day with me in the pool. :)

Aside from the hard work put into training at morning practice some of our swimmers attended the CSSC swim camp. I have really enjoyed working with swimmers from 5 different groups, including a handful of my own. I really think the camp gives a good "EDUCATIONAL" look into swimming, and reinforces a lot of technical aspects that may be the difference in winning or losing the race. In addition the camp will provide a small amount of video and feedback to take a look at some of the details of the stroke. I really get excited about the details and physics behind swimming.

Yes the month of June has been extremely busy, and let's hope all of the hard work has paid off as we enter July. The first of the championship meets will be the Area 2 developmental meet in Sunrise July 11-13. LETS KICK SOME BUTT!!
-Coach Dave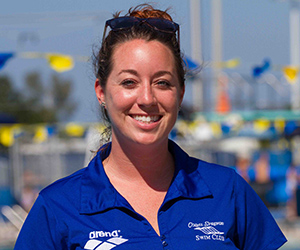 Hello Everyone,
June has been a nice and relaxing month for Senior IIB. With the earlier summer hours we have been enjoying being done with practice at 6:30. Even though we're on a summer mindset, our swimmers have still been practicing full force.
We've been working on speed sets and drill sets for the past few weeks. We've also been taking the opportunity of extra lanes by using the blocks to perfect our starts. We are getting ready for the Area 2 championships on July 12th.
Practice will continue to be from 5:00pm to 6:30pm until school starts in August.
See everyone at the pool!
–Coach Kayla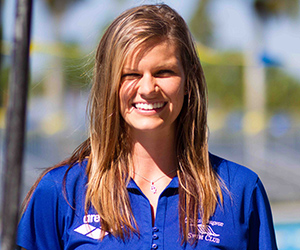 This month, at the Michael Lohberg Meet, White and Blue swimmers put on stellar performances! Riley Botting took 2nd place in the 10 & under 100m breaststroke, and dropped a total of almost 42 seconds over the course of the weekend. Amber Candido dropped 6.7 seconds in her 200 freestyle and saved the day when one of our relay members went missing! She may have set a record for how fast someone can change into a swim suit! Brianna Dattile dropped close to 17 seconds in all her events and swam all best times! Faith Fowler had many great swims, including a 14 second best time in the 200 IM which resulted in Coach Erin having to cannon ball into the pool following the morning prelims. There is video proof! Giulliana Garcia had an incredible meet which is no surprise as she was a model student during summer camp and put all of that info into her races (16/17 races were best times!). Riley McCormick and Cara Virgin both posted great races! Meredith McDade also had an incredible meet, qualifying for finals in the 100 butterfly and dropping over 29 seconds!
In blue group, Jason Allen kicked us off with a 35 second best time in the 200IM qualifying him for the JO meet in a few weeks! Gabby Beltrano posted two 2nd place finishes (50 & 100 backstroke) and dropped 18 seconds in the 400 freestyle. Delaney Biro not only won two individual events, posted a 5 second best time in the 200 IM, but she won the 11-12 girls high point award! Rachel Botting swam best times across the board and had 4 top finishes! Brooke Cordoba had an outstanding meet with several massive time drops, a 4th place finish in the 50 breaststroke and 8 out of 9 best times. Emma Gomez had 11 swims over the weekend and posted 10 best times and a 2nd place finish in the 100 butterfly! Brian Gonzalez enjoyed his last meet as a 10 year old with 5 top finishes. Sam McCormick is yet another swimmer with an outstanding meet. He posted eight best times including an 11 second best time in the 100 breaststroke. Andrew McDade and Summer Reese rocked it in the 200 freestyle and backstroke events! Lydia Szakacs had a great meet with best times including a 7 second best in the 200IM, a 6 second best in the 200 freestyle and a 4 second drop in the 100 breaststroke. Greg Trimble finished off the weekend for blue group with best times in the 200 IM, 50 freestyle, 200 freestyle and 400 freestyle events!
Great job to all those who participated! And thank you to all the swimmers and families that volunteered to make the weekend such a HUGE success!
Our diligence award winner this month is Grace Nemanic. Grace comes to practice with a smile on her face every day and never backs down from a challenge! She has been diligently working towards joining the senior team and every day asks how her practice was and also asks if there was anything she can improve. Grace attended the summer camp this month and was another one of our model students! The greatest thing is that Grace was actually nominated as swimmer of the month by her teammates who said that she is the most deserving of the diligence award! Congratulations Grace! It's an awesome thing when your teammates see the level of commitment you bring with you every day and want to commend you for it!
White and Blue groups have begun the speed training and technical work necessary to prepare the team for our championship meets that are coming up in July!
See you at the pool!
- Coach Erin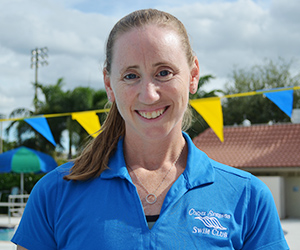 Hello Parents & Swimmers,

Congratulations to all of our swimmers on a great start to the long course season! Our Mullins Groups have been working very hard in the pool and in our dryland training sessions to prepare for our summer season. We have been increasing our intensity in our training intervals and improving our technique ready to have our best meets.
FYI to Parents: We will be attending the North Palm Beach Invitational on August 23rd-24th. Please look out for more information to come! Please add this meet to your calendar.
- Coach Jessica