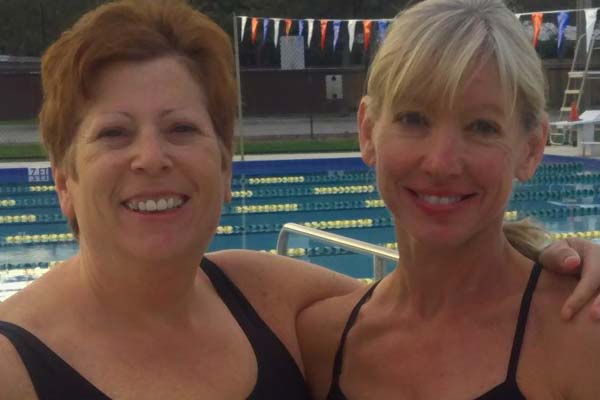 A Whale of a Good Workout!
By Melissa Hinton
I was never a swimmer. Never really liked to get my hair wet, water in my eyes… and it was always so ….exhausting!
But after numerous running injuries, I was in desperate need of something else I could do to excess. Cycling really didn't appeal to me, and even less so after a rider slammed into me running an early AM run. Swimming, although it looked hard, appeared my safest option.
I started in my own tiny backyard pool, so that when I was finally brave enough to dive in at the Aquatic Center with REAL swimmers, I would not totally humiliate myself. I them progressed to the LA Fitness indoor 20 yd pool and swam there for a while. Eventually I got up the nerve to show up at a masters practice! That first day, Chris asked me what my goals where, and I replied in an uncertain voice "Uh…swim in some meets..?" 'Ok then!" said Coach. "Let's see where you are: 100 for time!" GULP….! And that, ladies and gentleman, was the start of my love affair with swimmingJ
From that day forward, Coach Chris has taught me so much and been incredibly supportive. A few more memorable moments: he once suggested to a group of us women that we try to move more like whales… WHALES… really??? What woman wants to be compared to a WHALE????). And then the time he asked me in the middle of a set if I could dance. When I answered "not particularly well", he said, "Figures… you swim like a robot. " Lesson #2: Don't be too sensitiveJ. The truth is, Chris and the entire morning Masters team have changed my life and become good friends in the process! From the very beginning, everyone has been amazingly generous and helpful, taking time to show me drills, watch my fledgling butterfly and breast stroke, giving me tips, encouragement and making me laugh, sometimes all at the same time!
Coming into swimming as a competitive runner, I found it to be a humbling experience as well. All of my strength and speed in running didn't translate to speed in the pool. Technique, technique, technique… hard work and consistency! Little by little, I have improved and managed to learn something new every time I get in the water. Masters swim meets were particularly interesting in that unlike running races where 10% of the participants are actually racing, EVERYONE who shows up is there to compete! AND they can friggin' swim! Turns out the round of applause that I heard as I touched the wall to finish my first-ever meet event, the 400 free, was less about my lightening fast time (I was last) and more about getting me out of the lane so they could start the next heatJ. Yep, humbling, inspiring and motivating!
In the year and a half since I started swimming with the CS Masters, I have participated in three meets, the hour postal swim, and an open water 1 mile race. And I look forward to a long swimming career with new challenges! If you had told me 5 years ago that this is what I would be doing, I would never have believed it. But just last week after a great workout (400 mod, 2 x 200, 4 x 100 build) x 3 rounds, I got out of the pool and said out loud to no one in particular, "You know, I enjoyed EVERY stroke of that workout!" Ok, ok….… that doesn't happen EVERY workout, but it was a good dayJ
Swimming has made me a better athlete, helps me cross train and recover after hard running workouts, keeps me sane and focused when I am injured, and I believe is helping me avoid injuries in the first place. As a running coach, and the VP of the NW Broward Road Runners, I have become a huge advocate of swimming for runners for all of the tremendous benefits it provides.
And… I just flat out LOVE it.
Now, if I can just get more runners in the pool