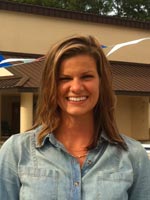 This month, the theme of White & Blue has been 'training with diligence always.' We've talked at length about what it means to train with diligence and how training with intentional and persistent effort effects race day results. When I walked onto the pool deck today, I pointed out to the group that I saw a few swimmers working very diligently to get stretched and ready for practice. One swimmer whispered, 'I don't even know what that means!'. My heart sunk for just a moment when I heard this swimmer sound completely baffled by the word we had been focusing on for weeks! But my spirits were immediately lifted in the next moment when her friend leaned over and said, "Yes you do! It means you work really hard at whatever you're doing, even if no one reminds you to because you want to get better." I love those moments!
I'd like to shine the light on two swimmers this month who have shown the consistent diligence that we've been discussing as a team. Meredith McDade (White) and Gabriella Beltrano (Blue) have both had near perfect attendance at practice and each and every day they both come on time and ready to do whatever is necessary to improve their race times. Both ladies can be caught at any given moment in practice focusing on technique and skills that have been presented in practice that day or any day prior. Even if no reminder has been given, these ladies will find something to work on and improve. Their minds are always engaged in what they are swimming and both have made significant stroke improvements as a result of their focused efforts! Congratulations ladies! I am so proud of you!
In our most recent home meet, White & Blue swimmers shined with a whopping 85% best times! Some standout swims include Logan Confer who won four of the 11-12 boys events and Joshua Hanks who won two of the 9-10 boys events. After getting called out of the water on Saturday, more than halfway through the 11-12 girls 500 Freestyle due to lightening in the area, Acacia Jones came back to swim the event Sunday morning and posted a lifetime best of 6:19.33 qualifying her for JOs!Samuel McCormick dropped over 63 seconds between all of his lifetime best swims that weekend as well! Gabby Beltrano won the ladies 200 Backstroke with a best time of 2:23.48. And Julie Mason won the ladies 11-12 400 IM with a 29.87 seconds best time of 5:31.88! And lastly, I cannot say thank you enough to all of our parent volunteers who made the meet possible and helped it to run so smoothly! You are all so amazing!
White & Blue plan to continue the season with more fast swimming on October 4th when we have a mini inter-squad meet. Each swimmer will be racing a 500 Freestyle and shooting for a best time! That weekend we will race at Sunrise in the Development Meet, October 5th and 6th. Later in the month we will travel to Lake Lytal for the Mike Horgan Invite on October 19th and 20th.