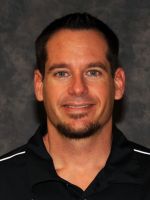 Wow, it is hard to believe that October is over, and high school season is wrapping up. Soon the aquatic complex will be back to normal and our Senior 2A group will be back moving over to the 25 meter pool Monday December 2nd with a new time of 4pm-6pm Mon-Thurs, and Saturday 8-10am.
In the pool; Senior 2A swimmers have been training hard. New-comer Daria Chiarella has been training extremely hard for High School districts along with Mr. "Consistant" Dennis Hopkins. During the month of October Alex Meyer smashed his personal best times in several races and now faces the tough task of competing in the new 11-12 age bracket.
Ashley Tan, Emily Puia, Kyle Oliver, and Charles Schwab have been putting in good practices especially working on their hypoxic capacity. Charles "No Fins" Santamaria has been working extremely hard as well in preparation for districts, and is ready to post some personal bests!
Winter Championships preparation is in full swing for the month of November. That big meet is Nov. 21st-24th in Plantation and requires tough time standards to enter. Congratulations to all of you who made those cuts! Our next available meet is a home meet December 7th-8th. See you all on the deck!
-Coach Dave