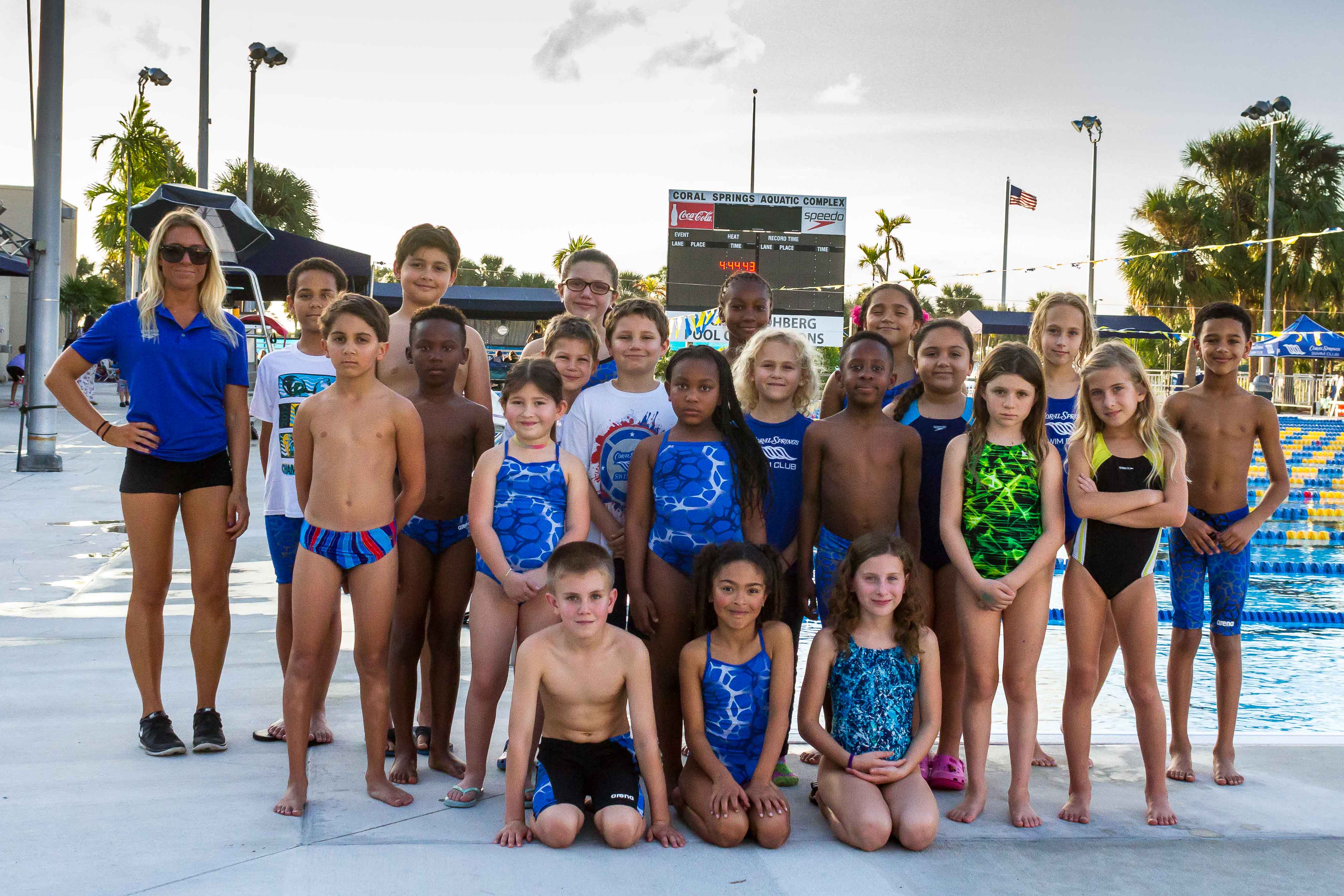 The first two meets of the new year prove that 2018 is going to be an exciting time for Coral Springs Swim Club.
January 26th-28th, CSSC braved the atypically windy, rainy, and cold weather to compete in the 12th Annual Scotty Invitational. The event was hosted by Saint Andrews Aquatics at Saint Andrews School in Boca Raton.
Coach Brittany Bellomo was impressed by her swimmers, "Silver Group came with positive attitudes and they swam amazing, every swimmer who swam this weekend got a best time in at least 2 of their races and for those who had no previous time posted a great first time for that event".
Highlights from SIlver Group include first-timers Nikki Harrypersad and Victoria Lopez, both earned outstanding times in their 50 Frees (39.25 and 54.00 respectively). Mateo Camacho also broke the one minute mark in his 50 Back at 59.31. Chelsea Reichler completed her first 100 Back at 2:23.59 as did Ally Lake at 1:43.43.
Coach Brittany is also proud of Marley James, who despite an injured foot sustained on the 2nd day, dropped 9 seconds from her 100 Free (1:26.37). Madison Laski dropped 7 seconds from her 50 Free, finishing at 46.86, while Kayla Jorge and Matteo Baldanza each dropped 2 seconds in theirs finishing at 1:12.06 and 44.96 respectively, while Grace Zhu had a time of 1:01.20 in the same event.
More time drops from Silver include Contessa Gilley, who dropped 13 seconds in her 50 Breast (55.27), Logan Jeffery, who dropped 12 seconds in his 100 Free (1:36.06), Avery Robbins, who dropped 5 seconds from her 50 Free (44.49), Mikhel Martin, who dropped 5 seconds in her 50 Breast (54.45), and Gianna Martin and Riley Vigilance who both dropped 9 seconds from their 50 Frees (43.62 and 1:01.37 respectively).
Sariah Jeffery continued the trend by dropping 2 seconds from her 50 Back at 49.46, while Eric Griffin dropped 8 seconds from his (52.59). Riley Walsh dropped 8 seconds in his 50 Free (39.66), Adelia Cira dropped 5 seconds from her 50 Breast (1:00.49), Amanda Robins dropped 9 seconds from her 100 Free(1:33.44).
Emily Chin enjoyed what Coach Brittany referred to as a "crazy" 21 second drop in her 100 Free, finishing at 1:37.42,while Andrea Peterson had an "outstanding" 24 second drop in her 100 IM posting at 1:48.56.
Coach Brittany would also like to give a special shout out to Skylar Croasdale and Alex Taus-Nita who dropped time in all 6 of their events. As well as another special shout out to Sophia El Chantiry who posted a best time of 37.78 in her 50 Fly - less than 1 second away from her first FGJO cut. She concluded with"Great job to silver group this weekend! You all ROCKED IT! I am so proud of you all!"
Coach Bar Bogoslavsky was also quite impressed with the way that CSSC swimmers battled the frigid weather at the Scotty Invitational "everyone was prepared to race and brought their A game. We had some personal bests from a lot of kids and also some first timers. This was a great way to kick off 2018 and we look forward to more great swims to come from our swimmers! Mullins groups will participate in our home meet February 10th and 11th, we look forward to seeing a lot of our kids entered in that meet."
February 2nd- 4th, our older swimmers competed in the South Florida Open Invitational which was hosted by South Florida Aquatics Club.
10-year-old Ryan Miller not only dropped time in each of the 4 events in which he competed, he also crushed his competition by finishing 1st in his 200 Breast (3:06.88), 50 Breast (41.27), and 50 Free (30.63) and 2nd in his 100 Back (1:17.08). Miller earned 42 points for CSSC at the event.
CSSC swimmers who also achieved first place finishes at the Invitational include 11-year-old Nicole Creed in her 100 Back (1:07.3), 14-year-old Olivia Mason in her 50 Free (26.05), and Harvey Beckwith in his 50 and 100 Breast with respective times of 27.48 and 59.84.
14-year-old Grant Aran finished in 2nd in 3 different events, including his 100 Back (1:01.77), 50 Free (24.79),and 200 IM (2:14.89). 13-year-old Amber Candido improved her previous personal record in her 200 Breast by almost 4 seconds, finishing in 2nd place at 2:46.91 while 14-year-old Darion Louis-Jeune improved his 50 Breast by over 2 seconds at 32.34, 12-year-old Kaitlyn Bonasera and 10-year-old Mariana Montes each improved their 100 Flys by nearly 1 second at 1:10.15 and 1:13.93 respectively, resulting in 2nd place finishes for all three. 10-year-olds Carolyn Powell and Isabella Perez also enjoyed 2nd place finishes. The 50 Free for Powell (29.63) and the 50 Breast for Perez (39.60).
More impressive time drops include Cole Narbonne's 23 second drop in his 500 Free (6:08.68), Beckhem Korb's 14 second drop in his 100 Back (1:36.50), Savannah Korb's 13 second drop in her 50 Breast (52.90), Courtney Hartung's 11 second drop in her 200 Breast (3:34.35), Patrick Franzino's 10 second drop in his 200 Breast (2:38.81), Valerie Block's nearly 7 second drop in her 50 Free (36.77), Riley McCormick's 5.67 second drop in her 100 Back (1:07.29), Alejandro Alvarez's nearly 3 second drop in his 100 Fly (1:13.54), and Brian Gonzalez's 2.5 second drop in his 100 Back (1:02.62).
CSSC is hosting an Invitational this upcoming weekend and we are anticipating to see many more great performances from our swimmers and help from our volunteers. Here's to a great start to 2018!