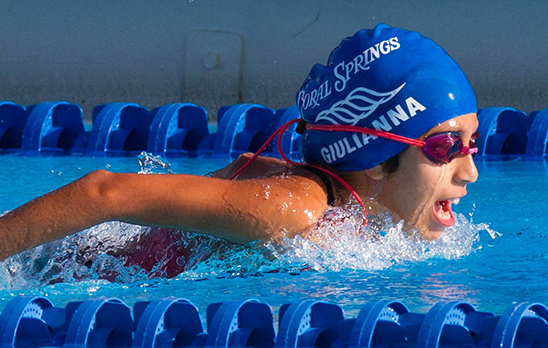 The third day of the 27th Annual Speedo Winter Championships were sunny and bright with outstanding swims and thrilling heats.
After the third day of competition, CSSC has secured their 13th place position with 180 points and 3 points ahead of Warwick Academy in 15th place, The top 3 ranked teams are Pine Crest in 1st place with 871. 50 points, followed by Azura in 2nd with 827 points and Saint Andrew's in 3rd with 630.5 points.
Our Womens team is currently ranked 10th with 118 points while our Mens team stands at 17th with 62 points.
Saturday's stand out events include 10-year-old Carolyn Powell's 2nd place victory in her 50 Back with an impressive time of 33.78 and 13-year-old Giulianna Garcia's 3rd place finish in her 100 Fly at 59.81. Powell also placed 9th in her 100 Free at 1:07.65 while Garcia placed 7th in her grueling 400 IM, finishing in 4:46.71.
Gregory Trimble (16) Brain Gonzalez (14), Jason Bonasera (17) also swam the 400 IM. Trimble placed 8th at 4:35.06, Gonzalez finished in 10th place at 4:37.89, and Bonasera came in 17th at 4:47.17.
Saturday's events included more thrilling relays. Our Womens 13-14 team swam their 400 Medley in 4:13.71 and came in 4th place while our Mens 13-14 finished at 4:00.64 and in 8th place. Our Mens team also finished in 8th at 3:49.64.
11-year-old Nicole Creed swam her 100 Back in an impressive 1:08.81 placing her in 8th while ten-year-old Connor Marks completed his at 57.38 placing him in 10th. Megan Schimansky (18) finished 8th in her 100 Back at 1:03.62.
Sunday's weather remains sunny and is an ideal setting for the final day of the Speedo Championships. We are excited to see CSSC swimmers and families coming out to both compete and support our swimmers at the event. The hard work and dedication from both our Coaches and swimmers is coming to fruition this weekend.