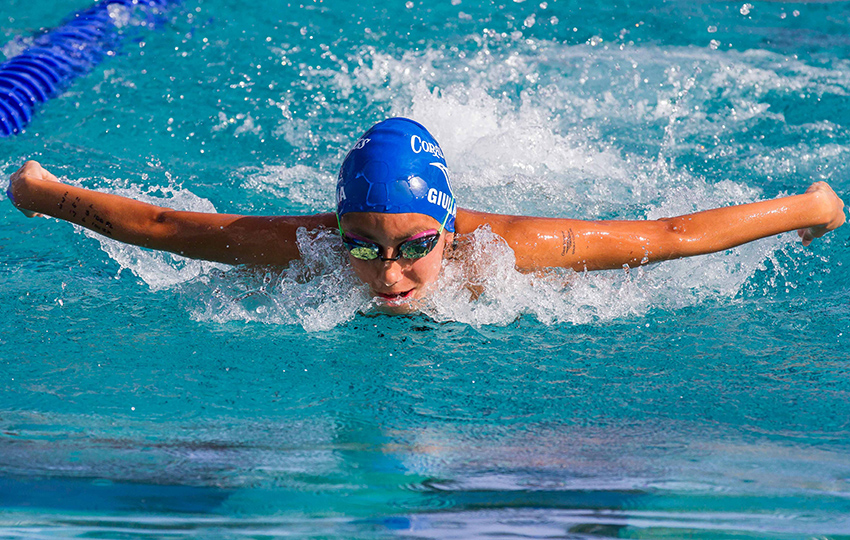 The second day of the 27th Annual Speedo Winter Championships brought both beautiful weather and stand-out swims from Coral Springs Swim Club.
After the second day of competition, CSSC moved up in the rankings and is now tied in 13th place with YMCA of South Florida at 109 points each. The top 3 ranked teams are still Azura Florida Aquatics, Pine Crest Swim Team, and Saint Andrew's Aquatics with Pine Crest overtaking Azura Florida Aquatics. Pine Crest is currently in 1st place with 508. 5 points, followed by Azura in 2nd with 497 points and Saint Andrew's in 3rd with 368. 5 points.
Our Womens and Mens teams both held their respective 9th and 12th place positions. The Womens team has accumulated 68 points while our Mens team accumulated 41 points.
Friday's stand out events include Giulianna Garcia's 200 Fly. Garcia overtook her competition and came in 2nd at 2:13.73. Garcia also swam an excellent 200 Breast and placed 7th with a time of 2:34.26.
Faith Fowler placed 5th in her 200 Back with an impressive time of 2:13.07 while Megan Schimansky placed 6th in her 200 Back at 2:17.50.
Our Womens team took 4th in the Womens 13-14 400 Free relay with a combined time of 3:46.04 which was less than a second behind the Wahoos of Wellington team who came in 3rd. Our Mens team places 7th in the same event at 3:31.69 as well as 7th in the 400 Free Relay at 3:22.03.
We are also impressed with the following 200 Back events. Kaitlyn Bonasera placed 9th at 2:31.89, and Connor Marks and Grant Aran's 10th place finishes in their heats with respective times of 2:03.59 and 2:08.03.
Andres McKeon placed 9th in his 100 Free at 49.35 as did Jason Bonasera in his 200 Breast at 2:30.71 and Brian Gonzalez in his 200 Fly 2:08.52.
Saturday's sun is shining bright and we are expecting to see our swimmers continue to impress throughout this gorgeous day in South Florida.