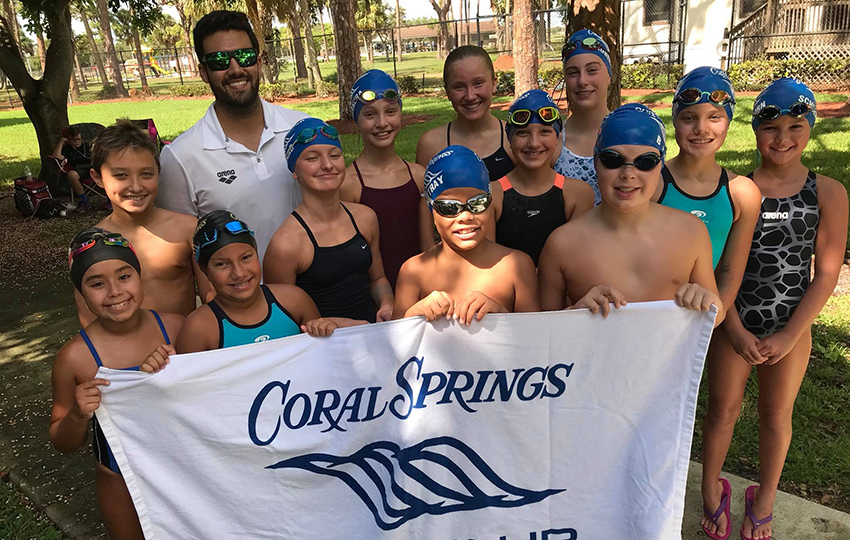 The Lake Lytal Lightning Swim Team hosted the 2017 Mike Horgan Invitational on October 13-15, 2017 at Lake Lytal Family Aquatic Complex in West Palm Beach. Coral Springs Swim Club were honored to be among the teams invited to the annual event held to honor Horgan, who served as Lake Lytal's head developmental coach. Horgan passed away at age 50 in August, 2011 but will always be remembered as one of Florida Gold Coast's most influential Swim Coaches.
Florida Gold Coast Junior Olympic qualifying times were met at the Invitational by 8 CSSC swimmers . Riley McCormick qualified in her 100 IM, finishing 2nd at 1:06.89 and both her 50 Free and 200 Free by finishing in 4th place in both races with respective times of 27.24 and 2:09.20 as well as her 200 Breast, finishing in 7th place at 2:49.62. Nicole Creed also achieved a FGCJ qualifying time by placing 4th in her 100 Back at 1:09.95. Emily Robertson also qualified in 4th place in her 100 Fly at 2:35.31 and her 200 Free at 2:12.97, as did Payton Ward in her 200 Back at 2:51.81.
Carolyn Powell, Mariana Montes, and Mila Bond qualified in their 50 Free with respective times of 31.29, 31.7, and 32.43. Montes also qualified in her 50 Fly at 35.80 and her 100 IM at 1:30.11. Powell also qualified in her 100 IM at 1:21.83 Sammy Schoenborn in her 200 Free at 2:29.12, her 50 Breast at 43.17, her 50 Fly at 37.49., her 100 IM at 1:24.65.
CSSC swimmers also showed improvements by dropping times at the meet including Grant Aran who dropped 2.37 seconds from his 100 Back (1:00.97), finishing in 2nd place and 3.29 seconds from his 200 Free (1:55.4), finishing in 3rd. Aran earned a total of 62 points for CSSC in the 4 events in which he competed at the meet. Jason Bonasera dropped over 5 seconds from both his 200 Free and 200 IM (1:56.92 and 2:16.65 respectively) and earned a cumulative 43 points. Ryan Brander placed 7th in his 200 Breast (2:34.46) by dropping 7.59 seconds from his previous record
Payton Ward dropped a whopping 15.67 seconds from her 200 Breast (2:51.81). Payton competed in 4 legs and earned 16 points at the Invitational. Other significant time improvements include John Lynch''s 27.38 drop in his 200 Free (2:23.27), Grayson Yellin's 24.85 second drop from his 200 Free (2:19.32), Savannah Korb's 24.76 drop in her 200 Free (2:52.37) Kenneth Rattray's 15.18 drop in his 100 IM (1:58.30), Faith Suther's 12.66 second drop in her 200 Free (2:20.43), and Alejandro Alvarez' 19.12 second drop in his 200 IM (2:37.15).
More impressive swims include Micaela Sierra's 3rd place finish in her 200 Breast (2:35.38), Giulianna Garcia's 4th place finish in her 200 Fly (2:16.80), Darion Louis-Jeune's 4th place finish in his 50 Free (24.69), and Kaitlyn Bonasera's 6th place finish in her 200 Fly (2:41.58) which she achieved by dropping 5 seconds from her previous personal record.
CSSC swimmers were honored to be able to participate in an event that pays homage to a man who played such an important role in the swim community.
Free Joomla Lightbox Gallery