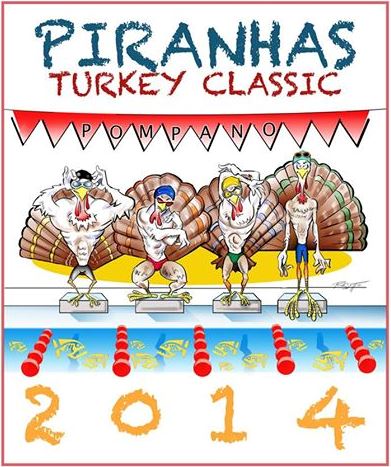 This Saturday's Turkey Classic in Pompano Beach welcomes more than 50 Coral Springs Swim Club athletes along with non-perishables to feed Broward's homeless and hungry over the holidays. ((break))
_______________
In a double-whammy of a good thing, families and friends get to see their favorite CSSC swimmers compete Saturday while at the same time help the less fortunate in Broward.
Instead of charging admission to this one-of-a-kind event, meet hosts - the Pompano Piranhas - ask that visitors donate a non-perishable food item to be collected at the gate by Family Central, a Florida non-profit.
The event features age group swimmers 14 and under sprinting 25- and 50-yard heats in all four strokes. More than 500 swimmers from nearly 20 South Florida teams will compete over two sessions in a single day. The fastest three girls and boys in each age group will be awarded a trophy and a frozen turkey in honor of the meet's namesake. Swimmers placing 4th - 8th will receive medals.
"We should have a pretty good meet with lots of good swimming and plenty of excitement," said Piranhas Coach, Jesse Vassallo.
The event takes place at the Pompano Beach Aquatic Center, 820 NE 18th Ave. Pompano Beach, FL. (Click for complete meet details)
Click for CSSC Swimmers competing Saturday