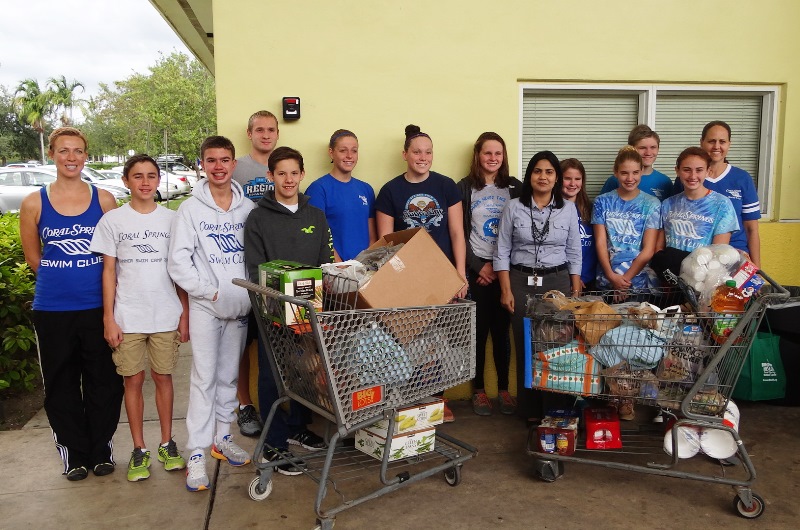 After collecting food items all month for the Broward Outreach Center in Pompano Beach, CSSC athletes prepared and served meals to the area's homeless and hungry Tuesday.
_____________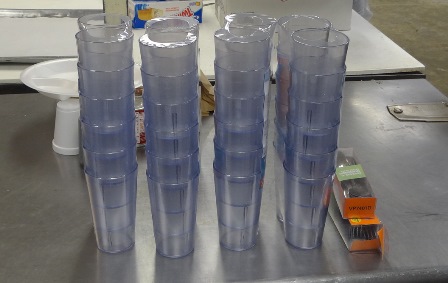 Fourteen swimmers in all unpacked two carloads of non-perishable items donated by Coral Spring Swim Club families in October; dried foods, canned goods, juices, paper and hygiene products among them.
The second year in a row CSSC swimmers have helped at Outreach, volunteers brought with them plastic cups, forks and spoons (right).
"Last year the kitchen kept running out because they only had so many. Kids asked this year if we could donate some and we did," said CSSC Booster Club President, Danica Schimansky.
Volunteer Coordinator for the Center, Asma Rashid, thanked athletes for their efforts.
"It's great that you are here today. You are helping those who really need it and that is something god really, really likes," she told swimmers.
Originally from Pakistan, Rashid said homelessness in her native land is not as prevalent as it is in the U.S. In contrast, the condition in America is driven by a variety of socioeconomic factors which often lead to abandonment, runaways and the unfortunate outcast of family members.
A National Team swimmer for CSSC, Bryce Pierce summed up Tuesday's mission in few words.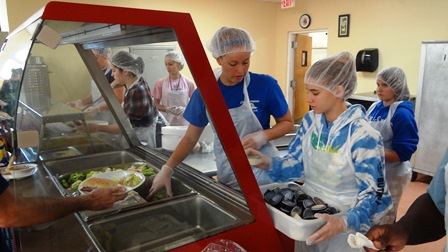 "A lot of people don't have it as well as we do. Today we're helping others get back on their feet," he said.
The Center is home to roughly 230 residents and serves an average 800 meals a day. Ten families live on campus to which 66 percent will move into viable homes in the next year. The Center engages case management workers, legal professionals and social experts to ensure that outreach efforts are results driven.
"After 30 days half of these parents will find jobs. In a year, seven out of ten families will successfully matriculate back into society thanks to the help of volunteers," Rashid said.
(CSSC Broward Outreach Volunteers Tuesday: Patrick Franzio, Guillermo Barrios, Sam McCormick, Megan Schimansky, Sarah Schimansky, Rebecca Wilkerson, Delaney Biro, Carly Brewington, Bryce Pierce, Gianluca Savino, Ellie Mitova, Bailey Feurman, Brooke Cordoba, Samantha Roth, Coach Irina James, Booster Club President Danica Schimansky)
Click for Facebook Photo Gallery
Related Article: Broward Outreach Center Makes Lasting Impression With CSSC Swimmers