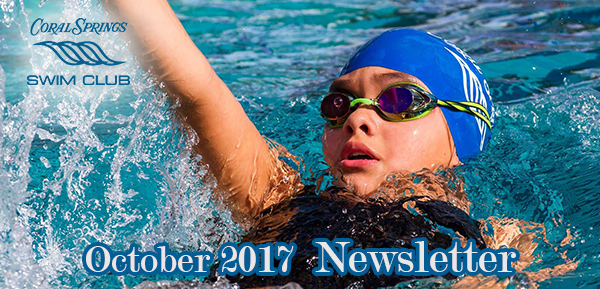 Message From the Board | National | Senior 2 | White and Blue | Silver | Mullins | Nutrition

Message from the Board
CSSC Families,
We hope everyone was safe during Hurricane Irma, and that damage to your property was minimal.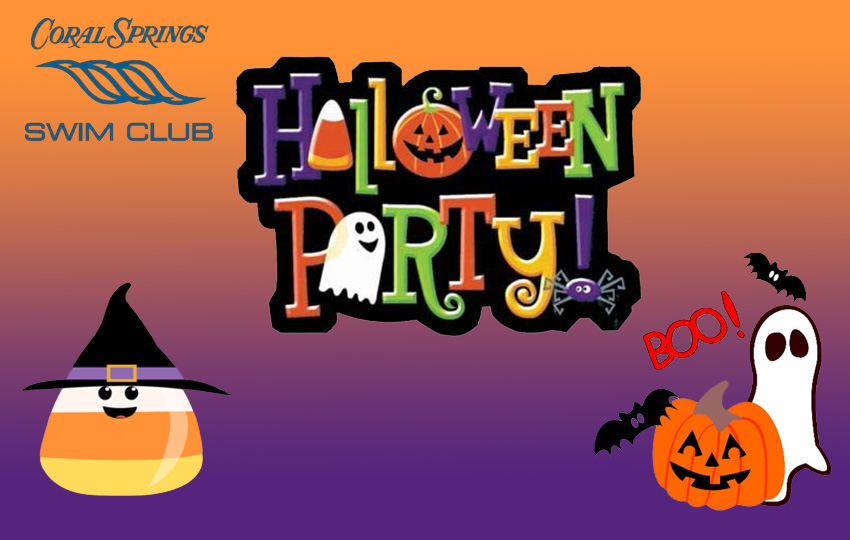 Our Annual CSSC Halloween Party will take place on
Thursday, October 19th
5:30-8:30pm at
Cypress Park Pool.
DJ, Dancing, Costume Contest with prizes, and Fun for Everyone!
You must RSVP by October 12 to
This email address is being protected from spambots. You need JavaScript enabled to view it.
and register to bring something from the list!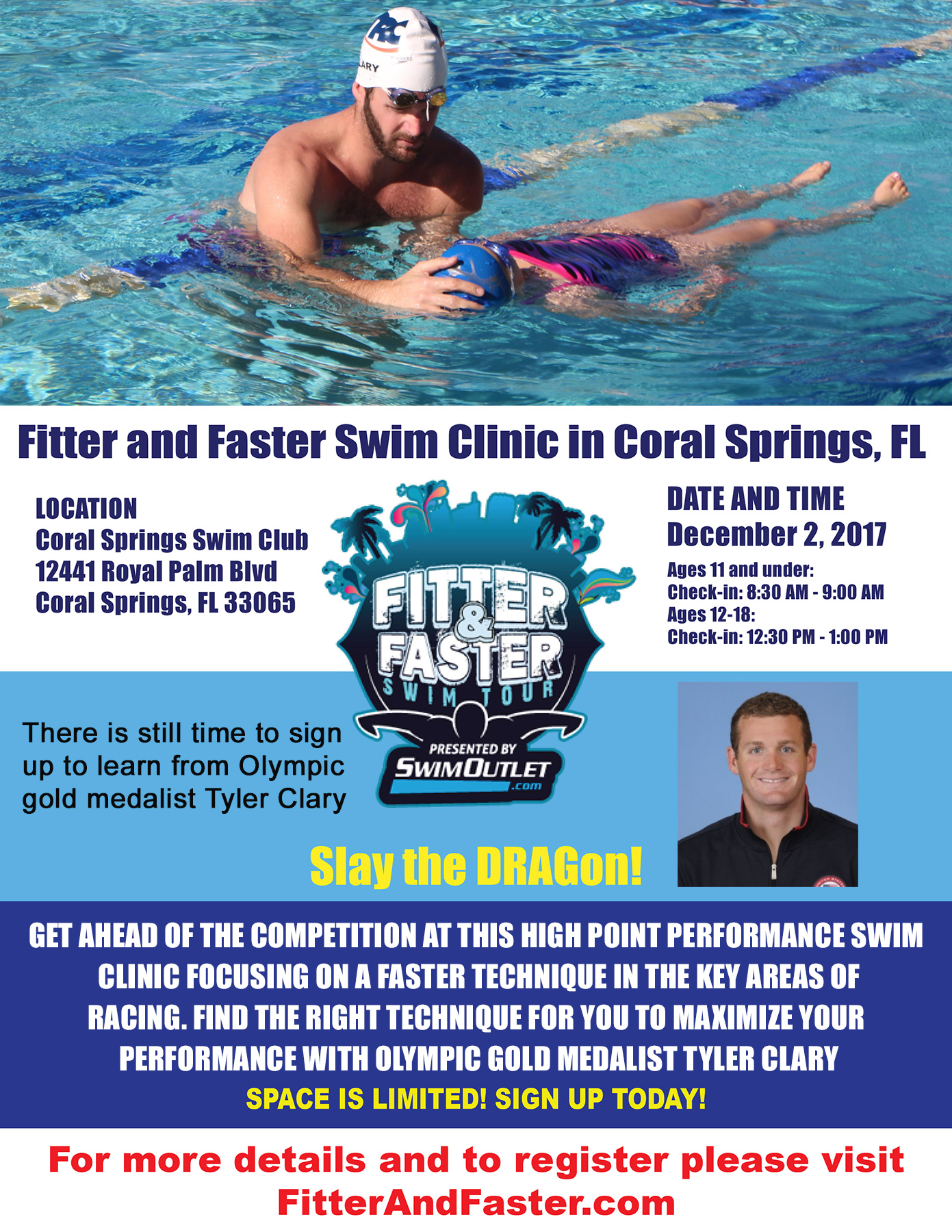 The Fitter and Faster Swim Clinic Slay the DRAGon has been rescheduled for Saturday, December 2nd. Register today and don't miss this incredible opportunity!
Learn how to reduce your drag and conquer the DRAGon in your swimming with Olympic gold medalist Tyler Clary! Tyler will be leading two sessions designed for swimmers of all ages and abilities. Space is very limited!
Thank you for your continued support!
CSSC Board of Directors
Announcements
CSSC has a wonderful new sponsor:
Xceed Preparatory Academy
Located in Coral Springs, is designed for elite athletes to reach their maximum potential in both athletics and academics. Xceed Prep's model is a blend of the best educational practices combining technology-enhanced curriculum with on-site coaches and project-based learning to provide a high-quality education for grades 6-12. Xceed Prep students create a personalized learning plan allowing them to have the flexibility to pursue their own interests and talents. Students have the opportunity to control their day and choose an academic schedule that works with their training schedule
The Xceed Prep campus is modeled after a high-tech start-up facility rather than the traditional factory-styled school. The campus will have 75 to 100 students who will work both individually and in groups in a supportive and productive environment. Students will benefit from one-on-one instruction from subject-certified academic coaches and will have access to their online courses year-round and 24 hours a day. Xceed Prep has more than 100 courses to choose from including Advanced Placement (AP) and honors courses.
Xceed Prep's model is designed to provide a well-rounded experience for students.
In addition to flexible schedules, individualized pacing, on-site academic coaches and year-round online curriculum, the school offers college counseling. The college prep and guidance go beyond helping students get into college. From day one, each student in grades 8-12 will receive an individualized college plan, one-on-one counseling and digital tools that will help prepare him or her for admission to a great college and successful collegiate life.
Xceed Preparatory Academy is now enrolling students for the 2017 school year.
For more information visit www.xceedprep.org or call 954-361-3405.

National Team
CSSC Head Coach Bruno Darzi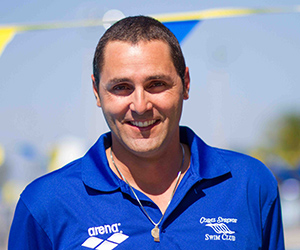 Hello National Team Swimmers and Parents,
Wishing everyone a safe passage of Hurricane Irma, we coaches and CSSC staff hope everyone was safe during those days.
We resumed our training as soon as the City allowed us to. It was not an easy transition to have lost a week's worth of training in the middle of the season. So, with high hopes, we hope all the swimmers stay focused and continue training hard, as Winter Championships and the High School Championships are just a few weeks away.
This past weekend we participated in an Open Invite meet held at Sunrise Here are some of the meet highlights:
Giulianna Garcia placed 1st over all in the girls' 100-yard Butterfly and 6th place in the girls 500-yard freestyle. Congratulations!
Andres McKeon placed 2nd overall in the boys' 500-yard Freestyle and also dropped 2 seconds off his 100-yard butterfly time.
Lydia Ladahan also improved her 50-yard backstroke, placing 3rd overall at the meet. Congratulations!
Sarah Schimansky placed 3rd place over all in the girls' 500-yard freestyle and 7th overall on her 50-yard backstroke.
Bryan Gonzalez placed 4th in the boys' 500-yard freestyle.
Faith Fowler achieved 3rd place overall for the girls 200-yard backstroke and 5th place for the girls' 500-yard freestyle.
Connor Marks placed 4th overall for the boys' 200-yard backstroke.
Micaela Sierra ranked 3rd overall for the girls' 100-yard breaststroke and also finished 3rd overall for the girls' 100-yard IM.
Jason Bonasera placed 6th in the 500-yard freestyle.
We were very impressed at the overall results for the meet from both our boys and girls National Team Swimmers. Keep up the good work and let's continue to train hard. We have a few meets left before the end of the season, so let's make them all count.
See you at the pool.
- Bruno Darzi and National Team Coaches

Senior 2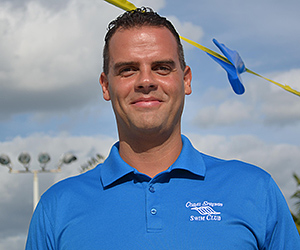 Dear CSSC Families,
I hope you and your family are doing well and that you guys made it safe through Hurricane Irma.
Getting back on track was a top priority these past two months, plus with school back in the game, we all had to make some adjustments here in there in order to get all running smooth.
In the pool, it has not been different. At this point, we are already working very hard again in which will get us faster and stronger in and outside of the water. Please remember how important it is to attend daily practices especially during this time of the year. I know that for some of the high school swimmers it becomes more challenging, but know that one of the reasons I am your coach, is to make it easier and possible to happen.
I am really looking forward for the upcoming meets. They will give us a better idea on where we stand as for right now and also what needs to be done better down the road. Talking about swim meet, congratulations to all swimmers that competed at the Sunrise meet on September 23rd, 2017. We had lots of great performance. Way to go guys!!! First time we had 95% of our group doing the 500 freestyle together.
I always say that I can describe our Senior 2 group as "swimmers that race like a champion", no matter how good, tired, or rested they are. So, let's keep it UP!!!!
Please join me in welcoming our new swimmers and their families: Kristy Hoang, Maria Jose Vera, Tristan D'Andrea, Rayanna Young and Fabian Salvador.
Swim-sincerely,
Coach Raphael Lima.

White and Blue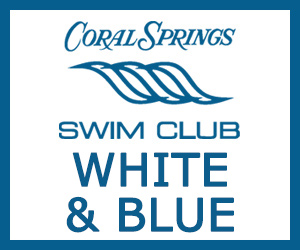 Hello White and Blue Parents and Swimmers,
This month's training has been wonderful with the kids working very hard; we are focusing 100% on technique, endurance and, twice a week, speed work.
Here is how training is broken down:
Monday and Thursday are endurance work days with long aerobic sets on a comfortable interval. These types of workouts are important to give swimmers a better understanding about "pace holding". Technique work on these days is crucial.
Tuesday and Saturday are speed work and race strategy days. The workouts are fun but extremely hard. The intervals are a little longer so they can focus on swimming the races in full speed.
Wednesday is a" recovery "day. We focus on technique, underwater kicks, dives, short sprints and lots of drills.
Friday is a mixture of endurance and speed work.
We are extremely happy with the way the kids are responding to this type of training and all their hard work is paying off. At the 2017 Sunrise Open Invitational, we had many outstanding swims.
White Group we had 23 new best times.
Here are some of the highlights:
Isabella Perez dropped 34seconds on her 200-yard IM. She also dropped time on her 50-yard backstroke and 50-yard freestyle.
Carolyn Powell won the 50-yard Backstroke and 50-yard Freestyle with personal best times.
Mila Bond, Radhika Nanavati, Alejandra Gil, Mariana Montes, Lilla Megyeri, Beckhem Korb and Kenneth Rattray also swam best times in most of their events.
Overall, we had amazing performances from our White group swimmers!!!
Blue Group we had 33 new best times. Here are some of the highlights:
Bella Sapp dropped 18 seconds on her 200-yard IM.
Meghan Swack dropped 10 seconds on her 50-yard backstroke.
Selina Guan dropped almost 9 seconds on her 100-yard IM.
This is just a little portion of how well Blue group swam. We had many more great swims; especially this early in the season, which is very promising. We can expect great swims in the near future!!
We will be swimming our second meet of the season in Sunrise on
October 7-8
.
On October 19th, 2017 we will have our Halloween Party from
5:30-8:30pm
at Cypress Park Pool so there will be no practice that day.
Let's keep up the good work White and Blue!

Silver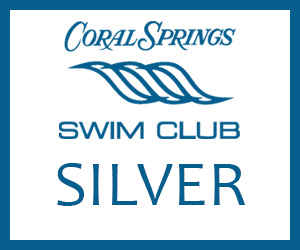 Hi Parents,
First off I hope everyone is well and safe after Hurricane Irma! Silver group is well and back into training mode after a little over a week of no practice due to the storm. Unfortunately due to the storm, our CSSC home meet was canceled which was what we had been training for, as well as the first meet that new silver groupers were going to participate in. With that said, our next meet that ALL of Silver group will be participating in is going to be the Turkey Classic in Pompano on
Nov 4-5
and we are already working hard to perfect technique, turns and starts.
As everyone already knows, Silver group has grown - we are now at an active roster of 34 swimmers. Please make sure you are on time for practice and ready to get in the pool at
7 p.m
so we can get started and not waste any time! Also - please make sure your swimmer is prepared with a cap, goggles, kickboard, fins and a WATER BOTTLE! A water bottle is now required for practice, our swimmers are working hard and they need to stay hydrated. :)
-Coach Brittany

Mullins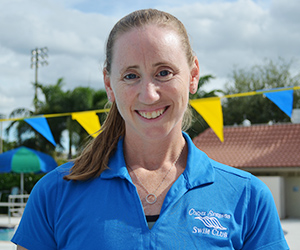 Hello Parents & Swimmers!
We hope everyone had a great summer and has adjusted back to normal schedule!
A HUGE Congratulations to our swimmers of the month from August! Gabriel Delpino, Gianna Martin, Valentina DIaz, Jorge Aguila, Olivia Ratliff, and Ethan Lin. They have all been very consistent over the summer and we look forward to see how they improve in the upcoming swim meets! Everyone else keep working hard and you might be next!
We are back to our afternoon practices and have already competed in some meets this season! Our Mullins groups have plenty of meets coming up for them to improve their times and put forth what we have been doing in practice! We look forward to see all the hard work and effort the kids have put into practice show in this meet!
We also have our Halloween Party coming up
Thursday October 19th
!! Come out for a great time of music, dancing, food, and a costume party!! Please RSVP to Coach Bar at bar.bogoslavsky for a great time!
-See you at the pool
-Coach Jessica
-Coach Bar

Nutrition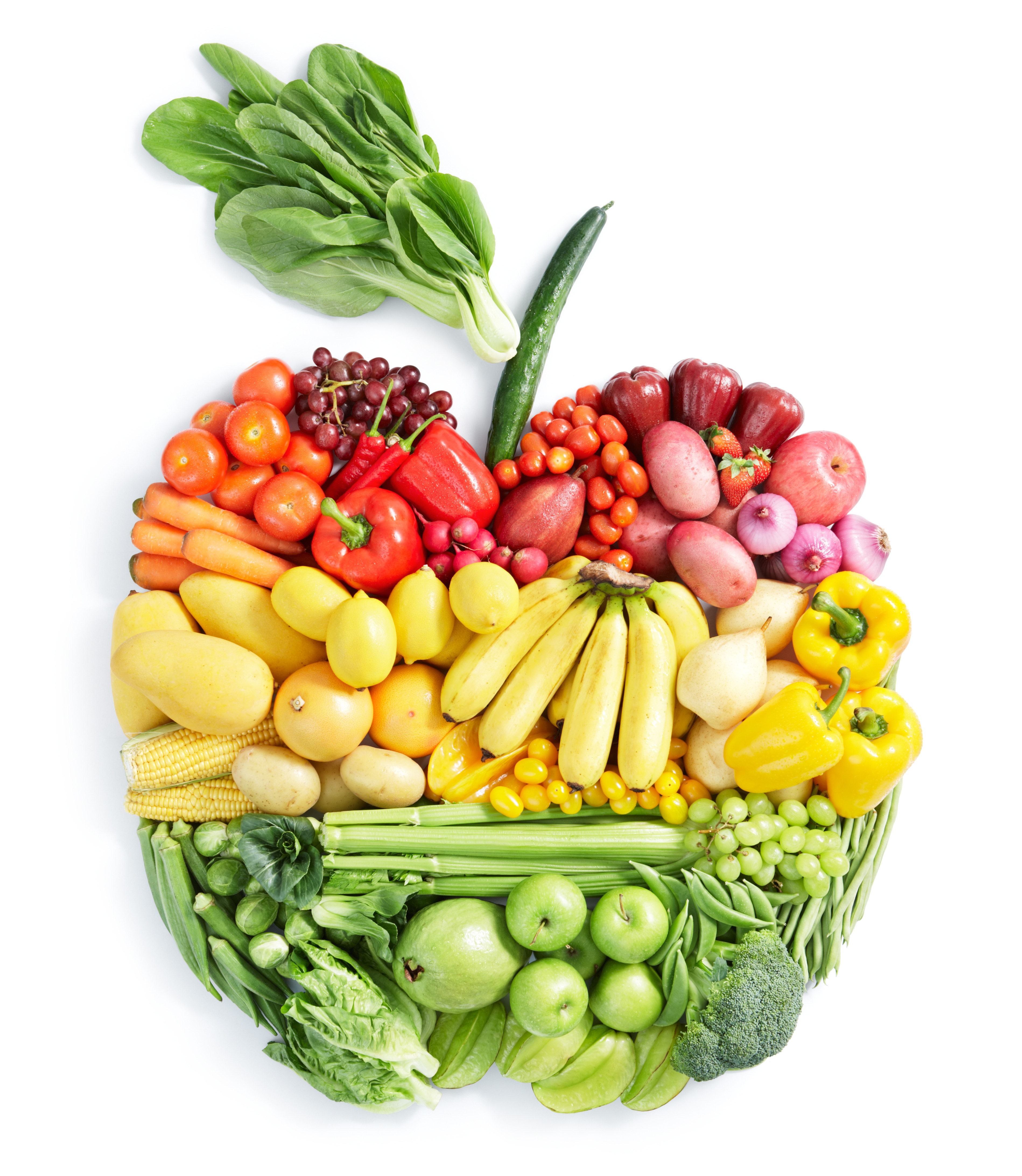 Tips for eating more family meals
By Chris Rosenbloom, PhD, RDN, CSSD
We all know that swimming is a demanding physical sport that requires good nutrition to fuel the long workouts and long day competitions. Parents often ask how they can improve their children's nutrition and here is an easy, overlooked way. Eat more family meals. In fact, research shows that there is 24% increase in healthy food consumption when families eat more than three meals together each week.
The Food Marketing Institute (FMI) Foundation has established September as Family Meals Month to encourage families to eat just one more family meal…breakfast, lunch, or diner…at home each week. This one small change can reap big rewards.
The FMI Foundation notes that half of all dinners are eaten alone, eaten away from home, or skipped altogether. Probably sounds familiar to parents whose kids are in after-school swim practice. The biggest obstacles to eating together as a family are differing schedules, distractions (put that phone or tablet down!), and lack of time.
Eating dinner together doesn't have to be a big production. You don't have to cook from scratch every night. Even if you don't consider yourself a good cook, you can assemble meals. So, here are some easy ways to get dinner on the table with four basic foods you probably have in your pantry, freezer, or fridge right now.
Pasta
Keep a variety of pastas and jars of marinara (red) sauce on hand for a quick meal
Try cooked pasta with a splash of olive oil and sprinkle with Parmesan cheese and toasted walnuts
Top pasta with steamed veggies, like broccoli, carrots, onions, and peppers and add a dash of Italian or Ranch salad dressing
Grill chicken, fish, pork or beef and serve over cooked pasta
Potatoes
Wash a baking potato, prick with a fork and microwave for 5 to 8 minutes
Top baked potato with canned chili, steamed broccoli and cheese, or salsa
Wash a large potato, cut in wedges, drizzle with olive or canola oil, sprinkle with Parmesan cheese and Italian seasoning and bake at 350° F for 20 minutes
Boil potatoes and smash with a fork; add cottage cheese and milk to boost protein
Rice
Try "Ready Rice" in microwavable pouches; ready in 90 seconds in the microwave
Drain a can of black beans or kidney beans, mix with rice and top with salsa
Add a cup of cooked rice to your favorite canned soup
Sauté strips of chicken or turkey with vegetables and serve over cooked rice
If your family loves rice, invest in a rice cooker for perfectly cooked white, brown, flavorful jasmine or basmati rice.
Pita or flat breads
Fill pita or roll flatbread into a wrap with turkey, cheese, tuna or chicken salad and/or veggies or leftover salad
Cut pita into 4 wedges and toast for a chip to dip with salsa or hummus
Sprinkle whole pita or flatbread with marinara sauce, top with cheese and bake for 5 to 10 minutes
Chris Rosenbloom is a registered dietitian, certified specialist in sports nutrition, and professor emerita of nutrition at Georgia State University. She welcomes questions from swimmers, parents and coaches. Email her at This email address is being protected from spambots. You need JavaScript enabled to view it.; follow her on Twitter @chrisrosenbloom.