Message From the Board | National | Senior 2 | White and Blue | Silver | Mullins | Nutrition

Message from the Board
Dear CSSC Families,
Our first home meet of the year is fast approaching. The 2017 Coral Springs Open Invitational (SCY) will take place on February 11th-12th. We invite you to volunteer and show support for all of our swimmers. Community Service Hours are available to Middle and High School Students. To sign up to volunteer please click here The CSSC Hospitalities ladies have set up a Perfect Potluck as well. Thanks for making a difference!
We will be participating in the 2017 Women's Wellness Race on Saturday, March 25th. CSSC is given a discount on the registration fee so our registrations have to be manually entered by the race director. Please fill out the Registration Form by March 11th. The forms with payment can be dropped off at the Aquatic Complex office. This is a very fun event and we have won 5 years in a row for the largest team. Come out and support a wonderful cause!
This year the Annual CSSC Picnic will take place on April 1st 11-2pm at Betty Stradling Park (it will NOT take place after the Women's Wellness Race)
CSSC has a wonderful new sponsor, the college recruiting company STUDENTathleteWorld.com. Their comprehensive program includes recruiting education, personal consultation, marketing, video, college-matching, scouting, academics, and much more. Their mission is to offer guidance, experience, and exposure to high school STUDENTathletes and their parents to generate admissions, playing opportunities, and scholarships based on the STUDENTathlete's educational, personal, and athletic goals. CSSC members get a 25% discount. For more information please visit: https://www.studentathleteworld.com/
Thank you for your continued support,
CSSC Board of Directors
Message from the Head Coach
Dear CSSC Parents,
I want to give you some exciting news about the 50-meter pool renovations. The revamping job is scheduled to be completed in time for the Junior Olympic Championships. However, renovations will conclude at the end of February, which means that our February meet in two weeks will be held at the 25-meter pool. The City of Coral Springs purchased and will be installing new starting blocks with the fin in the back (foot rest for track start). We will also get backstroke ledges for the backstroke starts, and the pool depth will change, getting one (1) foot deeper from end to end.
The score board numbers are currently being replaced since the old numbers had stopped working, making it hard for swimmers and parents to know their exact times and places. The underground piping is being installed and they will start pouring down concrete soon.
We can't wait to start using our renovated pool. It's been challenging working with limited pool space but the swimmers and coaches have done a tremendous job accommodating everyone.
Also, I am excited to announce the hiring of a new coach and great addition to our program. Coach Brittany Bellomo earned Bachelor's degree in Communications from University of Central Florida. She is currently enrolled in the Educator Preparation Institute at Broward College to become a full time teacher. Coach Brittany is no stranger to the Coral Springs Swim Club philosophy. She grew up swimming in our program before graduating and joining the Florida Gulf Coast University Division 1 swimming program. She is a Swim America Instructor as well as their Pre-Team Coach. Coach Bellomo is Certified by the American Red Cross for CPR/AED/First Aid, Lifeguarding & WSI.
Coach Bar will be assisting Coaches Jessica and Coach Emma at Mullins Park.
Sincerely,
Bruno Darzi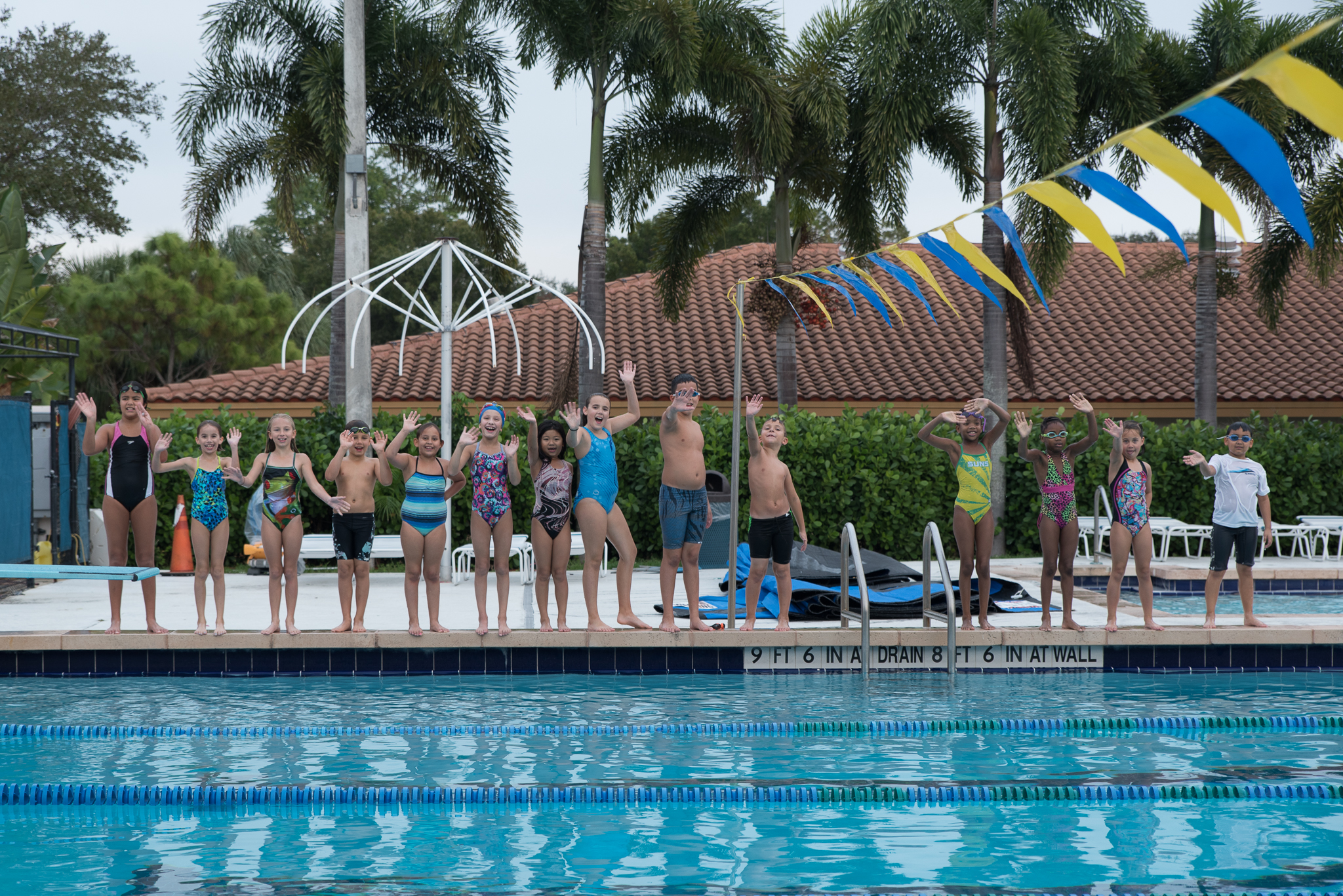 National Team
CSSC Head Coach Bruno Darzi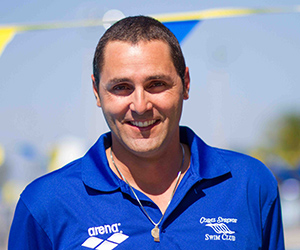 We are starting off 2017 right on track. This past weekend, we competed at the SOFLO Open Invitational. It was only our second meet of the season, which started after Thanksgiving week last year. At our first meet of this season, we swam at home in December, with only 1 week of training but since then, we have come a long way. We have gone through two training phases, where we focused on building endurance for the rest of the season. Right now, we are working on race strategy, speed and resistance training both in and out of the water.
Our dryland exercises have evolved, and our swimmers are in phenomenal shape. We are working on building strength, developing more speed and, keeping the core strong by working on hand eye coordination exercises
On Saturday, January 28, all National Team athletes swam the 500-yard freestyle, along with other events, in order to determine individual training paces for everyone in the group. The 500 freestyle test was developed by one of the best coaches in the world, Jon Urbanchek. The test allows us to always stay on the top of our game, and make sure we are training at the right intensity, distances and pace.
On February 11-12, we will be hosting our first home meet of the year. I am looking forward watching our athletes compete a full 2-day program. The meet will be held at the 25-meter pool at the Coral Springs Aquatic Complex.
See you at the pool.
- Bruno Darzi

Senior 2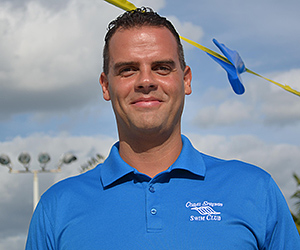 Dear CSSC Families,
I hope you and your family had a great start of 2017!
We have started the month of January really well. I can tell that everyone is motived and well-focused during practices.
I am looking forward to see everyone racing in the upcoming swim meets January 21st and on the weekend of February 11th. I am positive we will have outstanding performances on the way.
I also would like to welcome our new swimmers and their families: Andre Negron and Jordan Harold.
Please note that the Team BBQ date has been changed. We will now have it on April 1st,2017.
Swim-sincerely,
-Coach Raphael Lima

White and Blue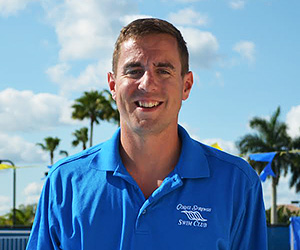 January was an exciting month for blue and white groups. The holiday season brings a lot of great moments and celebration for many families, it also brings one of the best months of training! The blue and white groups endured some of the toughest training of the season, and responded very well.
Both groups showcased their efforts at the SOFLO Open Invitational last weekend, they performed and exceeded expectations!
In February, we have two final meets before our championship season gets underway in March. The blue group will be participating in the Mile by Moonlight meet, with many people swimming either the 1650 free or 400 I.M.
In Mid February, Coral Springs is hosting our Spring Invitational. This will be both Blue and White group's final meet before the championship meets start. We look forward to some fast swimming in the spring!
See you at the pool!
- Coach Mike

Silver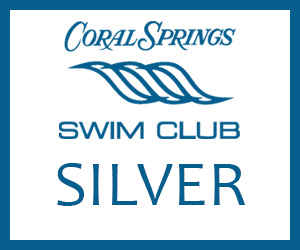 Dear CSSC families,
I hope everyone has had a great start to 2017!
I am so excited to be a part of Coral Springs Swim Club again, but this time around as a coach. After swimming for the team for over 10 years, I am honored to have been given the opportunity to take over Silver group! I've had a great welcoming by my swimmers and their families and can't wait to get to know everyone more.
I am looking forward a new month with Silver group and have many new and exciting things that I cannot wait to introduce to the group. I can't wait to see the swimmers learn, improve and grow over time.
- Coach Brittany

Mullins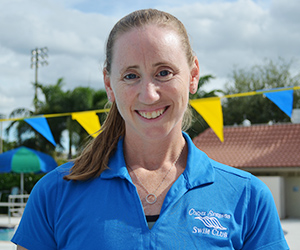 Hello parents & Swimmers,
We are very pleased to see that most of our swimmers are attending practice everyday! Our numbers are high and this a great thing for all of our swimmers! It is very important that our young swimmers learn to circle swim with more swimmers, and learn to swim without disrupting their own workout....more swimmers around them will only make them stronger swimmers! Keep up the great attendance everyone~in swimming consistency is the key!
We have our first home meet since December coming up! Looking forward to seeing ALL of our swimmers participating and having some of their best swims and times!
Keep in mind we will NOT be holding practices for Mullins groups on

Monday February 20th, 2017

. Happy President's Day and enjoy your long weekend!
Congratulations to our swimmers of the month for February! John Albornoz(Red Group), Meilah Pierce(Green Group), Meaghan Swack(gold group). You guys have swimming hard, and showing us just how dedicated you are with your swimming! Keep up the great work!
- Coach Jessica
- Coach Emma

Nutrition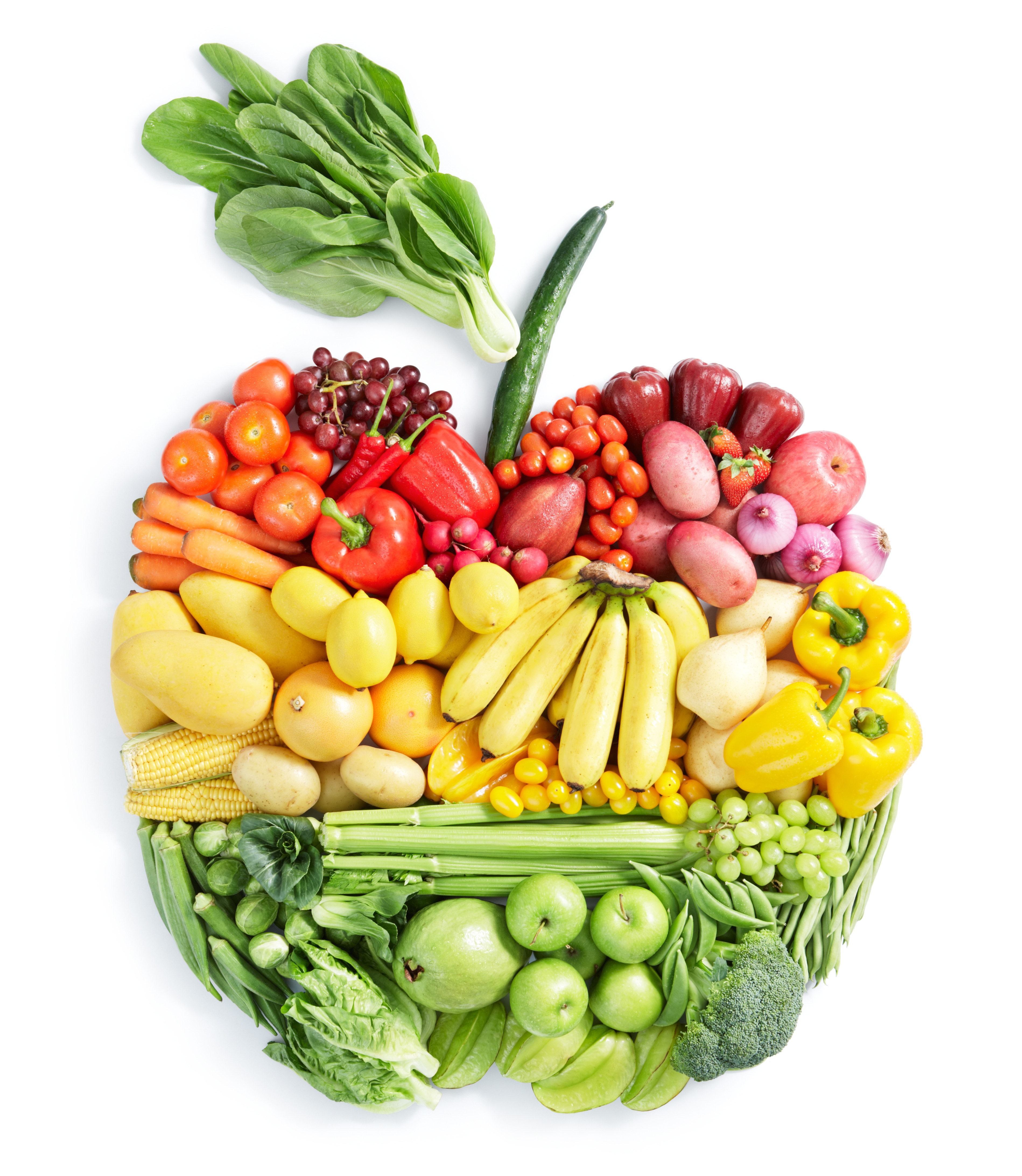 TOP TIPS FOR MEAL PLANNING
BY CHRIS ROSENBLOOM, PHD, RDN, CSSD

Last month I wrote about ketogenic diets for performance and cited the work of Dr. John Hawley showing that high fat, low carbohydrates were not performance enhancing. And, promised to show a general meal plan on how much carbohydrate swimmers should consume on heavy training days. Before we get to that, Dr. Hawley (along with his colleague, Dr. Louise Burke) have published their research and here is the citation, published in the Journal of Physiology.
When planning meals for swimmers it is important to consider many factors; to name a few…age (younger swimmers have higher calorie and nutrient needs than older swimmers), training intensity and duration, gender, and food preferences. I mention food preferences because if a swimmer doesn't like a food he or she just won't eat it!
Here is a sample meal plan for Ashley, a 16-year old high school student who trains 1 hour in the morning before school and 2 hours after school four days a week. She describes her training as moderately intense. Ashley is 5'6" and weighs 59 kg or 130 pounds. She tries to eat right to support her training but complains of being tired and stale in her training. Let's take a look at what Ashley is eating and what she could do to improve her nutrition.
First, here is a table on carbohydrate recommendations from the 2016 position paper on nutrition and athletic performance published jointly by the Academy of Nutrition and Dietetics, The American College of Sports Medicine, and the Dietitians of Canada.
Carbohydrate Recommendations
(kg=kilograms; lb=pounds; g=grams; bw=body weight; d=day; h=hour)
Daily Needs

Light Activity

Low intensity or skill-based

3-5 g/kg/bw/d or

1.3-2.3 g/lb/bw/d

Moderate

~1 hour/day

5-7 g/kg/bw/d or

2.3-3.2 g/lb/bw/d

High

Endurance (1-3 h/d) moderate to high-intensity

6-10 g/kg/bw/d or

2.7-4.5 g/lb/bw/d

Very High

Extreme (>4-5 h/d) moderate to high-intensity

8-12 g/kg/bw/d or

3.6-5.5 g/lb/bw/d
First, a quick assessment: Ashley needs 350-415 grams of carbohydrate on heavy training days. Her usual intake provides about 285 grams of carbohydrate or about 70% of what she needs. Ashley is on the right track, but needs to add more fuel to each meal and snack. With a few fixes, she can enjoy the foods she likes while boosting nutrition.
Ashley's Usual Food Intake

Nutrition Fix

Benefits

Before Practice

1 cinnamon-brown sugar toaster pastry

Banana

Add 8-ounces of low-fat milk

Substitute 2 slices of whole grain toast and peanut butter for pastry

Increases carbohydrate, protein, calcium, and B-vitamins. Also, increases fluids and dietary fiber.

After Practice

16-ounces sports drink

Sausage, egg & cheese biscuit

If a grab & go meal is her choice, substitute the biscuit for an egg, cheese, and Canadian bacon sandwich on toasted English muffin

Boosts carbohydrate while decreasing fat.

Lunch

Macaroni & cheese

Green beans

Burger, without the bun

Water

Don't avoid the bun; add lettuce and tomato (if available) and add 8-ounces of low-fat milk

Increases carbohydrate in lunch meal with the burger bun and milk

Before Practice

Bottle of water

Handful of cheese crackers

Keep the water and cheese crackers, but add 6-ounces of yogurt and keep a snack of trail mix pool-side to keep energy up during practice

Yogurt adds some protein, as well as carbohydrate to fuel practice

Dinner

Spaghetti with marinara sauce

2 pieces of garlic bread

Apple juice

Add a large green salad with plenty of veggies; sprinkle Parmesan cheese on pasta; try a protein-enriched whole grain pasta and add turkey meatballs to marinara sauce

Adds carbohydrate and protein for recovery

Before-Bed Snack

Bowl of ice cream

Make a smoothie with vanilla yogurt or ice cream, milk, and frozen berries

A smoothie not only increases carbohydrate, but adds another serving of fruit and more protein to help muscle refuel during sleep
Chris Rosenbloom is a registered dietitian, certified specialist in sports nutrition, and professor emerita of nutrition at Georgia State University. She welcomes questions from swimmers, parents and coaches. Email her at This email address is being protected from spambots. You need JavaScript enabled to view it.; follow her on Twitter @chrisrosenbloom.