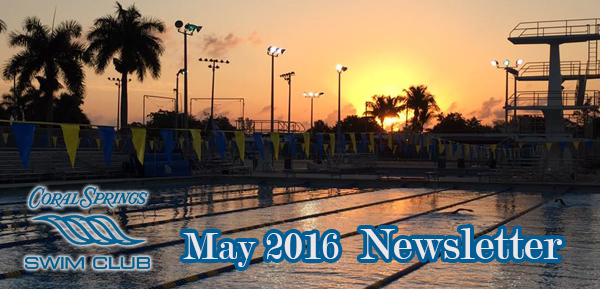 Message From the Board | National | Senior 1 | Senior 2 | White and Blue | Silver | Mullins | Nutrition

Message from the Board
CSSC Families,
The Coral Springs Swim Club 2016 Annual Banquet will take place on Saturday, May 21st, from 6:00pm-10:00pm at the Congregation Kol Tikvah, 6750 N. University Dr, Parkland. Please join us and celebrate a fabulous swim season, complete with dinner, DJ and awards! Please RSVP by May 12th, 2016. There will be no tickets sold on the night of the banquet.
Our annual
CSSC Summer Swim Camp
is taking place in June and July. The swim camp is a fun and unique way for swimmers to develop proper stroke technique as well as mental preparation and race strategies. For more details, information and dates, please
click here
Finally, this July, CSSC swimmer Diego Sanguinetti will be heading to the first Trisome World Games in Florence, Italy, as part of Team USA. He is one of only 4 swimmers representing the US!
Click here
to read more about his journey and how you can help Diego attend the first Trisome Games.
Thank you for your continued support,
CSSC Board of Directors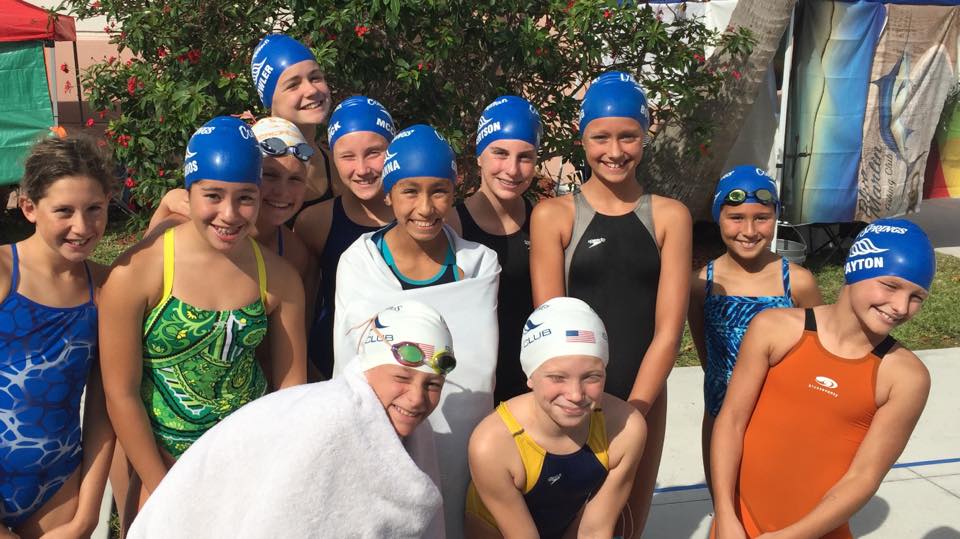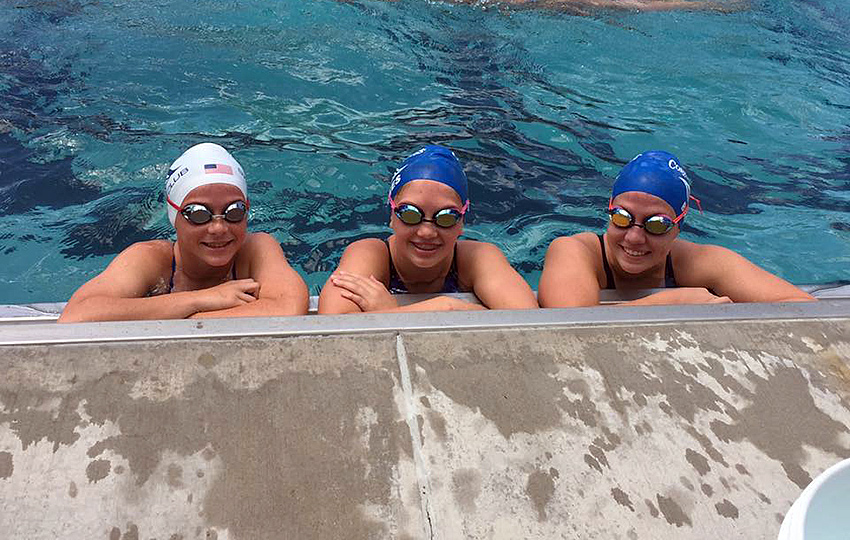 National Team
CSSC Head Coach Bruno Darzi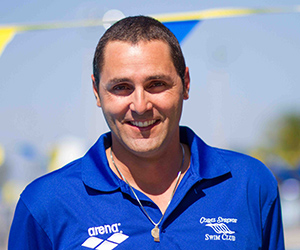 In April, the National team swimmers focused mainly in getting in shape, and training hard to get ready for the summer. We started swimming morning (5:45am) workouts, which we have not done in over a decade, with the purpose of getting the kids accustomed to swimming fast in the morning, since that's when most of them race during swim meets. We have had a good attendance so far.
We also turned up the intensity in the weight room with a new dryland plan. The plyometrics routine is always a challenge on Mondays and Thursdays, while the weight room routine keeps on evolving and getting more difficult. We had to work out outside for a couple of days last week because the Royal Caribbean dancers have been using the wood room. Gladly, the weather has been nice with a mild breeze, and we were able to use the new turf, just recently installed, right behind the bleachers.
As we get ready for the Sunrise meet, we have a goal as a group. We want to complete the IMX/IMR ready programs this season. It will be interesting to watch our swimmers compete in events that some of them have never swum before. For the IMR program, 13 and over swimmers must swim the following events: 200 Free, 100 Back, 100 Breast, 100 Fly and 200 IM. For the IMX program, they must swim the following events: 400 Free (LC), 200 Back, 200 Breast, 200 Fly, 200 IM and 400 IM. We are hoping to swim all those events by our next swim meet in May.
Our annual banquet is right around the corner, and we can't wait to see all of you there. The kids will have the opportunity to dress to impress and enjoy a good evening of fun and music with their teammates.
Later this year, we will be heading to Tupelo, Mississippi to compete at the 2016 long course Southern Senior Zone Championships. It will be a great opportunity for our swimmers to race kids from other LSC's. They offer A, B, C & D finals, which give our kids a great chance of having another swim at night.
We are looking forward to the end of school year so we can focus on training and swimming fast. This summer is going to be a blast. I will see you at the pool.
- Bruno Darzi

Senior 1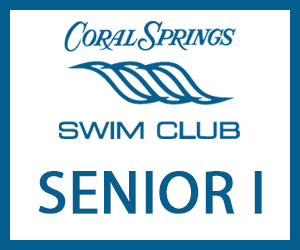 The month of April has been incredibly challenging, yet rewarding time. The swimmers and I have learned a lot about each other. We began this month looking toward the Sunrise IMR meet, where everyone swam events they aren't normally accustomed to, and we had excellent results. I'm very happy with the growth and improvements I've seen this season so far and I'm very excited about going into summer. In May, we begin swimming doubles in the morning, and we also started a new series of dry land workouts.

See you guys on the pool deck!
-Coach Brian

Senior 2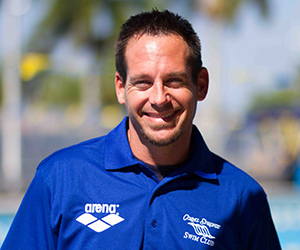 The month of April has been flying by, and excellent progress is being made with our Senior 2 swimmers. The aerobic base training has been a point of emphasis for our training regimen. This painstaking endurance can only be gained from sets with medium intensity that last 30-40 minutes. I would encourage you to try to swim with medium intensity for 30-40 minutes to see what it feels like. Coach Bar and I love these sets because when they are over, the swimmers are too tired to talk, and the ones that are talking did not "do there job".
On that note, it is my pleasure to welcome coach Bar to the Senior 2 coaching staff, she brings with her the experience of being a former CSSC swimmer and an impressive ASCA level V education. There are only 5 ASCA levels of education, so she is at the top! We are very happy with the training and effort our swimmers are putting in, but are ready to see better attendance from our group so we can really progress to drop those times. The only way to accomplish that is to get in the water. The swim meets coming up are the IMR meet in Sunrise, and our very own meet in Coral Springs in mid May. This will be the first taste of long-course season and swimming 50 meters vs. 50 yards. We can't wait to see how much our swimmers have improved!
-Coach Dave

White and Blue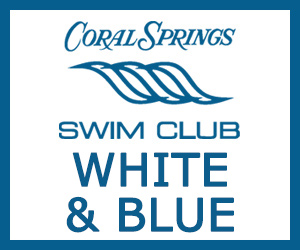 April was an exciting month of training and getting back into the swing of things in preparation for Long Course season. It isn't long before we start our first Long Course meet of the season in Sunrise at the IMR pentathlon from April 29th to May 1st. From there we host our first home meet of the season at the Coral Springs Invite (May 14-16).
Both the White and Blue groups have done a tremendous job of working hard and HAVING FUN! What has been most impressive is everyone's enthusiasm to take on new challenges and to try to accomplish things that they haven't done before. Little milestones in training can lead to big things in the future. Examples of this were Nicole Palacios and Elisabeth Olson doing their first ever 25 under water no breath this month or the entire white group doing 4-5 kicks off of EVERY wall in practice!
It has been a very smooth transition for my first month as the White/Blue group coach thanks to the excellent support and help from the other coaching staff. I look forward to working with this group as we work on reaching milestones every day together.
If we haven't had the chance to meet, just stop by and say hello. I will be on deck!
Coach Mike

Silver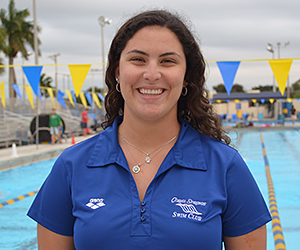 Over the past few weeks we have been working on our stroke technique and building endurance! We will be swimming in the meet the weekend of April 30- May 1 at Sunrise. I look forward to seeing some fast swims from the young group. We are training hard and gettinf ready for long course season!
See you at the pool
-Coach Bar

Mullins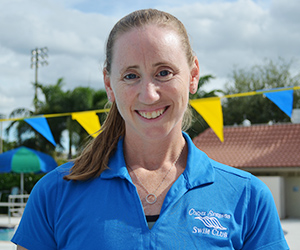 Hello parents and swimmers!

Happy spring to everyone! It is getting hotter every day so please make sure you are giving your children water or Gatorade to bring with them to practice! It is so important for them to stay hydrated during their workout.
A special Congratulations to our April swimmers of the month, Mikhel Martin (red group), Ege Lale (green group), and Fernanda Andino (gold group). All three of you have been working very hard and your efforts have not gone unnoticed! Coach Jessica & Coach Emma Are so proud of you!

Just a few important reminders to mark your calendars for upcoming events:
***Our annual swim banquet is for ALL of our CSSC swimmers and is coming up soon! (Saturday, May 21st) Please be sure to rsvp when you receive your invitation in the mail! If you have not received your invitation in the mail please let coach Jessica know asap!
***We also have our annual Key West meet coming up in June 17th-19th. Please see the travel information sheet in your email and let me know if you have any questions. Please be sure to book your accommodations/ conch train tickets now as these things book up fast! I will send you the actual meet registration information as it gets closer to the date of the meet, so watch for it in your email.
***Summer morning practice sessions will start on Monday June 13th, 2016. Red group is 8-9am, green is 9-10:15am and gold is 10:15-11:30 am. Please let coach Jessica know if you will have any trouble making these practice times. Thank you.

Nutrition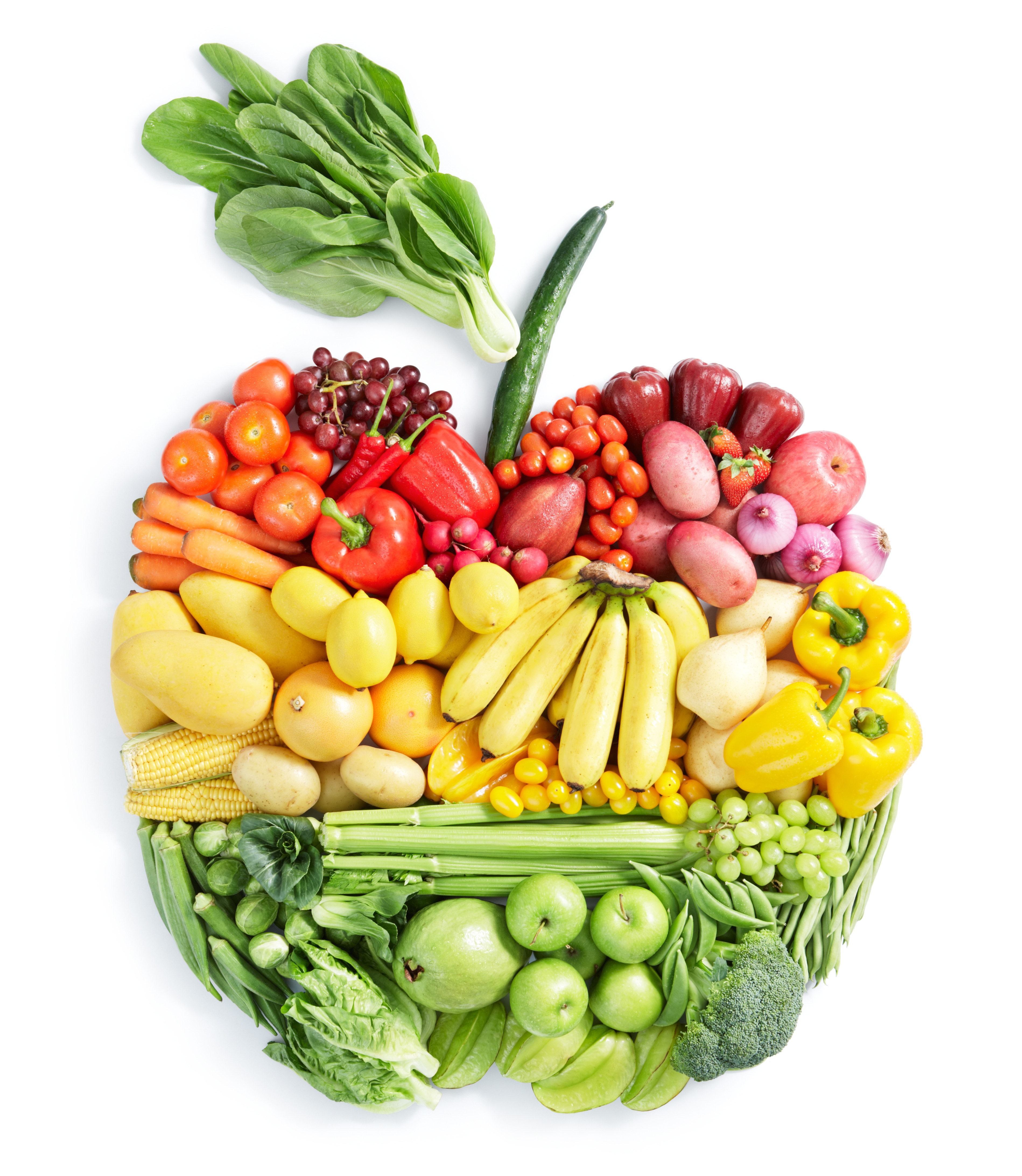 BUILD BETTER BONES IN THE SWIMMER
BY JILL CASTLE, MS, RDN
As the mom of a swimmer and a childhood nutritionist with a special focus on young athletes, I've often wondered about the bone health of young athletes. Certainly, a healthy diet and exercise contributes to healthy bones… but is it enough?

Childhood and adolescence are when bones are built. If bone health is not established during this time, the risk of future osteoporosis (weak, brittle bones) is real. In fact, it is estimated that by 2020, 50% of Americans will be at risk for bone fractures related to osteoporosis, according to the National Osteoporosis Foundation.

What Swimmers Eat
Diet is one area that impacts bone health, especially the nutrients, calcium and vitamin D. Unfortunately, consumption rates of these nutrients among children and teens fall short of requirements, according to the 2015 Dietary Guidelines for Americans.
The average calcium intake by teen girls is 876 mg per day (67% of the Recommended Dietary Allowance (RDA)), and less than 15% of teen girls actually meet the RDA. Boys have slightly better intake levels, but remain less than desirable.
As a refresher, children aged 9-18 years need 1300 mg calcium every day (and 600 IU of vitamin D daily).
Complicating the matter, milk consumption in teens has decreased over the years in favor of soda consumption and other beverages. Although milk substitutes such as almond milk or rice milk are fortified, bioavailable calcium (calcium that is active and available for the body to use) may be reduced in these products. Plant-based calcium foods are an option, but quantities may be too much for some young athletes to consume and others may be uninterested in these food options.
Also important to bone health is vitamin D, which is required for the absorption of calcium. Without it, only 10-15% of calcium from food is absorbed.
Swimmers can get vitamin D from animal-based food (fish), plant-based food (mushrooms), fortified food (milk, orange juice, eggs and cereal) and from activated vitamin D in the skin through sun exposure.
Sun exposure is a primary source of vitamin D, but this depends on skin color (darker skin colors absorb less vitamin D), time of day, latitude and use of sunscreen. Sunscreen with an SPF of 8 or greater will effectively block the synthesis of vitamin D in the skin. On the other hand, according to a 2014 report from the American Academy of Pediatrics, exposure of arms and legs to the sun without sunscreen for 5 to 15 minutes, 2 to 3 times per week can generate up to 3000 IU of vitamin D.
Meeting calcium requirements from food requires thought and planning. Here's an example of what it looks like for a 9 to 18 year old to meet daily requirements:
Two 8 ounce glasses of milk, 1 cup of yogurt and 1 cup of calcium-fortified orange juice; or 1 cup yogurt, ½ cup calcium-fortified orange juice, 1 cup calcium-fortified cereal, 1 slice of American cheese, ½ cup of cottage cheese, and an ounce of chia seeds.
For the dairy-free athlete:
One cup of almond milk and ½ cup of tofu (prepared with calcium sulfate); or 1 cup chocolate soymilk, 1 cup of spinach, two slices of calcium-fortified white wheat bread, ¼ cup almonds, 1 cup Bok Choy, and ½ cup V-8 juice.
How Swimmers Exercise
Other aspects encourage the healthy foundation and creation of strong bones in young athletes. Exercise is one of them.
Weight-bearing exercise seems to have the most impact on the development of bone structure, density and strength.
So what does that mean for a swimmer? Especially when the primary exercise in which he participates is non-weight-bearing?
I looked to a 2016 meta-analysis for insight. In this analysis, the effect of swimming on bone mineral density (BMD) was evaluated. Child and teen swimmers were compared to non-athletic sedentary peers, and were also compared to young athletes competing in high bone-building sports such as gymnastics.
Researchers found that swimmers had similar bone mineral density as the non-athlete sedentary group, and lower bone mineral density than the athlete peers participating in high bone-building sports. Furthermore, as the swimmers aged, the difference in bone mineral density grew with significantly lowered BMD over time compared to their athlete peers playing bone-building sports.
The authors concluded that swimming had a neutral effect on bone mineral density. In other words, it was not an effective sport for improving bone mineral density.
They suggested young swimmers add other bone-building exercises to their workout routine, such as running, jumping, brisk stair climbing and speed walking. This appears to be particularly important for the younger swimmer who may not be cross-training outside of the pool. Weight training also appears to help, and for younger swimmers, using one's own body weight is effective and considered safe.
Jill Castle, MS, RDN is a registered dietitian, childhood nutritionist, and youth sports nutrition expert. She is the author of Eat Like a Champion: Performance Nutrition for Your Young Athlete. Learn more about Jill atwww.JillCastle.com and check out her free list of 70 Awesome Pre-Workout Snacks for Kids here.