Message From the Board | National | Senior 1 | Senior 2A | Senior 2B | White and Blue | Mullins | Nutrition
Message from the Board
CSSC will be hosting Junior Olympics March 6th-8th. This is the largest meet we host so please sign up and volunteer here. We will be running two pools and it is prelims and finals so we need many volunteers. The hospitality ladies have set up a perfect potluck for CSSC families to donate baked goods and breakfast casseroles for JOs. Deadline to sign up is Wednesday, March 4, 2015.
Thank you to everyone who registered for the Women's Wellness Race. CSSC has 73 participants and it looks like we will win for the largest team the 3rd year in a row! If you still want to run they have given us a few more days. Please turn in your registration form   ASAP to the Aquatic front office. The CSSC Team Barbecue will be after the race at Betti Stradling Park, 10301 Wiles Road Coral Springs, FL. All swimmers and families invited. It will be a lot of fun so we hope to see everyone there.
This week was the launch of our Train Like A Seal Challenge fundraiser for the Lohberg Scholarship fund. Each team had meetings to get all the information and fundraising forms. If you missed the meeting please let the coach know and the parent rep for your group will get you the information. On April 11th, Stew Smith, a former Navy Seal and current coach at the Naval Academy for the Special Ops Team, will motivate and train alongside our swimmers. The event will be held in conjunction with Pool Safety Day being organized by the city of Coral Springs and a portion of the proceeds raised will be donated to the Red Cross Learn to Swim Program.
The new CSSC tshirts are here and each swimmer will be getting their free team shirt this week.
CSSC families can now pay for their escrow account online at csscswim.com.
Thank you for all your support,
CSSC Board of Directors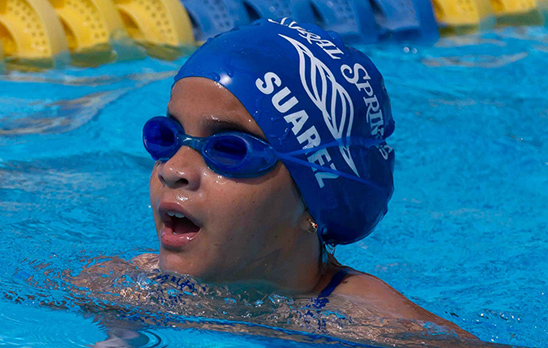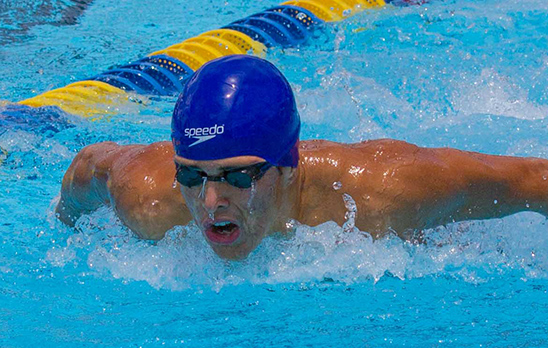 National Team
CSSC Head Coach Bruno Darzi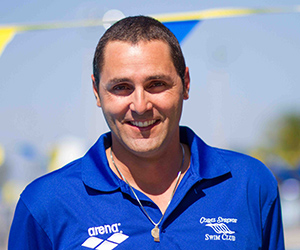 Our first home meet of the year was the last competition for our National team athletes prior to all the March Championship meets. We had great results with our swimmers bettering their times in a total combined 26 races.
Gabby Beltrano won 4 events and swam 5 personal best times. Delaney Biro placed 3rd in 3 different events, earned the gold in the 50-yard freestyle and swam 3 new best times. Rachel Botting swam 3 new best times and finished 3rd in the 200-yard breaststroke. Stephanie Campo finished 7th in the 100-yard backstroke. Catharine Cooper earned the gold in both sprint freestyle events, swimming just shy of her personal best time. Nico Ferrara shaved off almost 3 seconds in the 200-yard individual medley and won the gold in the 50-yard freestyle. Acacia Jones improved her 200-yard butterfly by over 10 seconds and shaved off another 5 seconds in the 200-yard breaststroke.  Jose Pascual placed 3rd in the 200-yard individual medley and 200-yard breaststroke. Bryce Pierce earned the silver medal in the 100-yard freestyle, and took the bronze in the 100-yard butterfly and 50-yard freestyle events. Isabella Pittinger won the 200-yard butterfly in her age group and placed 5th in the 100-yard backstroke. Lindsey Sauer finished 5th in the 100-yard butterfly. Megan Schimansky won both 100 and 200-yard backstroke, as well as the 400-yard individual medley. Joao Silveira, a visiting swimmer from Brazil, swam best times in the 50 and 100-yard freestyle events. Sebastian Vargas had a great meet, winning the 400-yard individual medley and the 200-yard freestyle. He also swam 2 new personal best times. Hannah Virgin won her best event, the 100-yard breaststroke. Rebecca Wilkerson won the 100 and 200-yard breaststroke races, and swam a personal best time in the 400-yard individual medley, earning the silver in that event. Henrique Yamamoto placed 9th in the 100-yard breaststroke and 10th in the 2---yard individual medley.
In the following week, Brian Arnaud competed at the Orlando Grand Prix meet, narrowly missing the finals in the 100-meter breaststroke. He was a just few tenths of his personal best.
We are looking forward to hosting the Junior Olympics on March 6-8. Most National Team swimmers will be competing at JO's Sectionals and Senior Champs. We can't wait to see how the season will unfold.
See you at the pool deck
- Coach Bruno
Senior 1
We are working very hard in and out of the water looking forward for the championship meets coming up. We have half of the group racing this weekend at Area 2 meet trying to get more JO times.

-Coach Junior
Senior 2A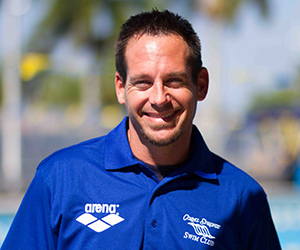 The month of February saw the Coral Springs Swim Club Senior 2A team have some amazing performances. Justin Irwin had probably the best performance of the month going under five minutes and 40 seconds in the 500 yard freestyle. Let's see if we can drop a few more seconds so we can get that JO cut. Joshua Garber Sebastian Suarez Dennis Hopkins Matea Smith Fabrizio Parraga all swim personal bests or tried a new event for the first time.
Well it's that time of year where swimmers start catching colds and the weather gets a little dreary. We managed to maintain an excellent training regimen. Special kudos to the polar bear club swimmers who came out and swam a practice when it was 50° out. That was actually one of the best practices we've ever had.  I am very excited to see our performances  at the end of the month at the Area 2 Championships and Junior Olympics at the beginning of the month. 
Lastly, special congratulations to our Junior Olympic qualifiers as of today;  Ashley Ruf, Julie Mason, Lauren Noyola, and Emily Puia.  Lets hope we can snag a few more JO cuts at the end of the month.  I hope everyone stays healthy for these big meets, see you on the deck!!
-Coach Dave
Senior IIB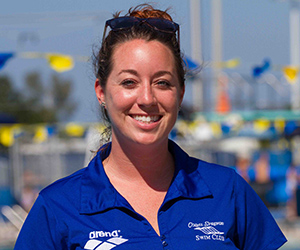 February was a fun month for Senior 2B! We started out at our home meet, the 2015 Coral Springs invitational on February 7th and 8th.  There were a lot of great swims including David Blanco and Brandon Schutz who were 2 seconds away from the JO in 50 free! They are going to try again this weekend and the area 2 championships in Sunrise.

We've been doing a lot of stroke work and speed work this month. We will continue doing this but add more starts and turns soon.
Don't forget about the "Train like a Seal" meeting on March 4th, at 5:45pm. There will be a pasta dinner that night also.
Keep up the good work everyone!
-Coach Kayla
White and Blue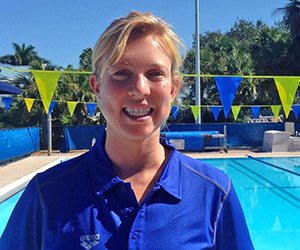 Hello Everyone,
February has been a great month for both White and Blue. We had our first swim meet of 2015 on February 6th and 7th at the Coral Springs Invite. We had 100% BEST TIMES at this meet in both White and Blue! A few highlights include Lydia Szakacs from Blue group who has been working extremely hard and had an awesome 200 breaststroke swim where she dropped three seconds (2:46.34) and finished in second place. She placed second in the 400 IM as well after a 4 second drop and a time of 5:30.83. Cara Virgin from the Blue group has been dealing with an ankle injury and she made a great come back where she was able to achieve all new best times in all of her races! Connor Marks in Blue has been working hard on his breaststroke which paid off in his 200 IM with 38 second drop and a new JO cut of 2:31.32. He also had a solid 500 free with a 51 second drop and an "A" time of 6:01.05. Speaking of the 500 free, Brian Gonzalez finished in 2nd place after a 44 second drop and a new "AA" time of 5:45.48. Cody Chin had an impressive 200 freestyle with a 48 second drop and was just a few seconds shy from a JO cut with a time of 2:20.10. Ashley Nagy who just moved into the Blue group had a great 200 freestyle as well with a whopping 58 second drop and a time of 2:43.43. In the 400 IM, Jason Allen had a fantastic swim with a 3rd place finish, a 17 second drop since Winter Champs and a new "AA" time of 5:11.28. As for the ladies, Olivia Reposa has been working on her endurance which paid off with 34 second drop in her 400 IM and a new best time of 5:54.17. Sarah Schimansky had a total of 7 new best times, and added two events for the first time which was the 200 backstroke and she got a new JO cut in the 400 IM with a time of 5:38.53. Kaitlyn Armbruster from the White group achieved a total of 7 new best times at this meet as well. They were all just shy of the 9/10 JO cuts but she is determined to get her JO cuts at Area 2!. Riley Botting had a first place finish in the 10 and under 200 breaststroke with a 10 second drop and secured an 11/12 JO cut with a time of 2:54.90. Gulianna Garcia finished in first place in the 10 and under 200 freestyle with a two second drop and time of 2:20.05. Nicole Palacios, Payton Ward and Elisabeth Olson all dropped over 12 seconds in their 200 free and Emily Robertson dropped a whopping 30 seconds in her 200 freestyle. Robertson also had a third place finish in the 100 fly after swimming it for the first time. Finally, Kelly Pinilla got her first JO cut in the 100 backstroke with a time of 38.91.
Since the CSSC invite, the White and Blue swimmers have been working hard to prepare for Area 2, and JO's which is just around the corner! Parents and swimmers who are not swimming JO's must help support your teammates and your team by volunteering. Don't forget to sign up! We are also going participate in the 5K run for Women's Wellness on March 28th in which they are working hard to prepare for as well. We look forward to an exciting month and we will see you at the pool!
-Coach Irina
Mullins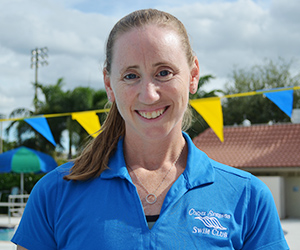 Hello Parents & Swimmers,
We have had a very busy month in February! The Coral Springs Invitational Meet saw some best times from all of our swimmers, and the Azura Sizzler our younger swimmers placed first in most all the races! A job well done for all of our Kids!
March we will be taking a month off with no Area 2 meets or Sizzler meets.  This is the perfect time to make sure that your swimmers are attending practices regularly to ensure that they are ready for our upcoming meets in April! It takes the whole month of attendance to work on their strokes, starts and turns.
Just a  reminder to mark March 28th on your calendars, for the team BBQ! It's going to be a lot of fun for all!
- Coach Jessica
Nutrition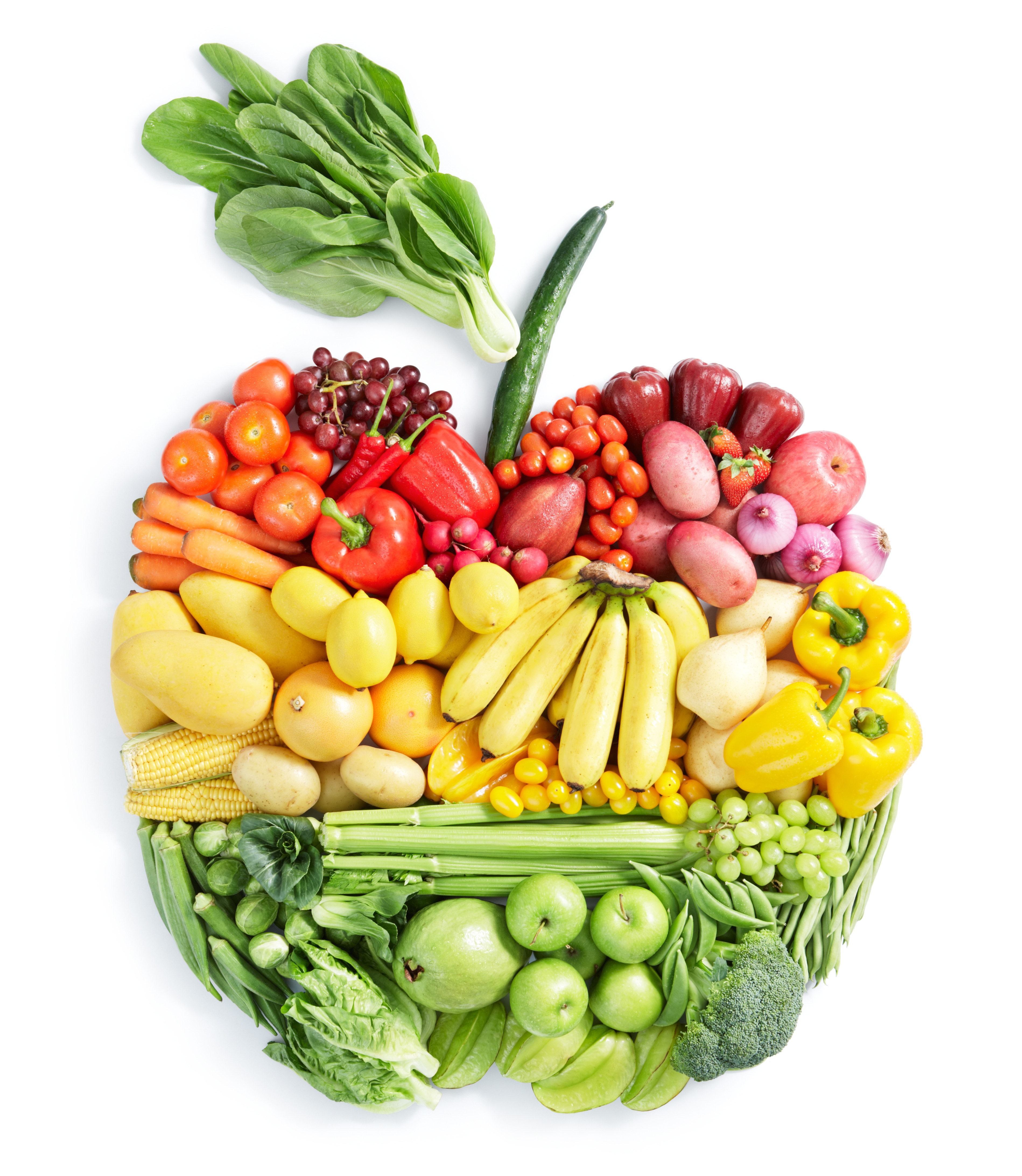 The Best Carbs to Include in the Training Diet

By Jill Castle/MS, RDN
Carbohydrate-based foods are a swimmer's best buddy when it comes to fueling for competition. Carbohydrate-containing foods can offer a quick burst of energy, or they can load up the muscle with a lasting source of fuel. A swimmer's training diet should contain two types of carbs: simple carbs to provide a fast source of carbohydrate (think sports drink or dried fruit) and complex carbohydrate foods to offer sustained fuel (pretzels, bread, potato).
Carb loading is the idea that eating a high carbohydrate diet prior to competition prepares the muscles with a ready source of glycogen (carbohydrate that is stored in the muscle) so the swimmer will avoid early muscle fatigue, low energy, and experience superb performance in the water. Although a popular concept, carbohydrate loading is not proven to be effective in young swimmers. 

For one, carbohydrate loading is an approach based on what we know about the adult metabolism of carbohydrate. The reality is there is little scientific evidence supporting the benefit of this practice in the younger athlete (pre-pubertal or pubertal children and teens). Additionally, young swimmers don't store carbohydrate in their muscles as well as adults. Females, because they have less muscle mass than males, store less. It's not until teens reach adulthood that they may see the benefits of carb loading. 

Instead, researchers advise a daily high carbohydrate diet for young athletes so they have a readily available fuel source for their working muscles.

The healthiest and best way to get optimal amounts of carbohydrate is to eat a diet that is loaded with fruits, vegetables, whole grains and low fat dairy products. Some of the best carbohydrate-based foods the swimmer can incorporate into daily meals and snacks are starchy carbs. 
Despite the media spin that carbs are "bad," starchy carbs are a good fuel source for the swimmer. Here are some starchy carbs to incorporate in meals and snacks, along with some of their nutritional benefits:

Sweet potato: A baked sweet potato is full of fiber and vitamin A. Nix the brown sugar to keep it a healthy option.

Potatoes: Potatoes are high in fiber, potassium and vitamin C. Eat them baked, not fried, most of the time.

Rice: Rice is low in fat, and if you chose brown or wild rice, you'll get a kick of fiber as well. 

Quinoa: Quinoa offers a good source of fiber, potassium, healthy fats, protein and magnesium. Cook it like you would cook rice.

Pasta: A classic pre-competition meal inclusion, pasta is a favorite among youth athletes. Bump up the fiber by opting for whole wheat versions.

Corn: It may surprise you to know that corn contains protein and iron. It's also a good source of vitamin B6 and magnesium.

Peas: Peas enhance the diet with potassium, fiber, protein and vitamin C.

Beans and lentils: Beans and lentils are a nutritional powerhouse. They are low in fat, high in protein, fiber, potassium and iron. 

There are many more carbohydrate-rich foods swimmer's can include in their training diet. Try whole grain breads, cornbread (made with cornmeal), shredded wheat cereal, cornflakes, pretzels, bagels, English muffins, and oatmeal. 

Which carbs will you add to your diet? Jill Castle, MS, RDN is a childhood nutrition expert and co-author of Fearless Feeding: How to Raise Healthy Eaters from High Chair to High School (www.fearlessfeeding.com) and author of the upcoming book, Eat Like a Champion: Performance Nutrition for Your Young Athlete (July 2015). She lives with her husband and four children in New Canaan, CT. Find out about Jill at www.JillCastle.com.