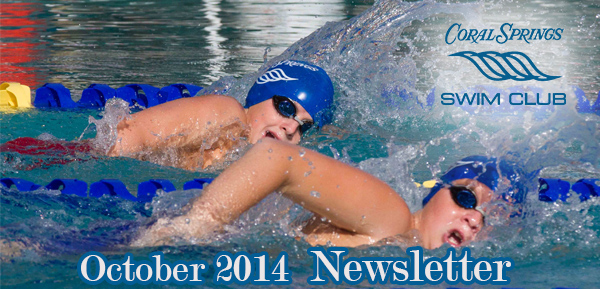 Message From the Board | National | Senior 1 | Senior 2A | Senior 2B | White and Blue | Mullins | Nutrition
We would like to thank everyone who trained at our mock meet. It is so important to have volunteers in all areas to run a successful meet. This month we have the Halloween Party at Cypress Park Pool on Thursday, October 23rd from 5:30pm-8:30pm. Remember to wear your costumes and get ready for lots of dancing. The haunted house is always a hit. Please sign up to bring a dish at perfectpotluck.com. Coordinator name: Long Password: club

We also want to thank all the families that purchased the local fun books. If you have any books to return or payments, please leave them at the Aquatic Complex office. We are selling CSSC towels for $20. To see a picture of the towel and pay on our website, please click here
It is time for our 3rd Annual Food Drive. We will be collecting for the Broward Outreach Center in Pompano Beach. This center houses homeless families and helps them get back on their feet. Their vision is no one is homeless. There is a box at the Aquatic Complex and Mullins Pool. Please bring non-perishable food items from October 1st-October 29th. Thank you for your support.
CSSC Board of Directors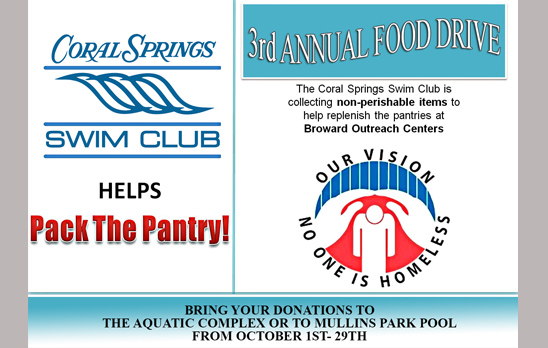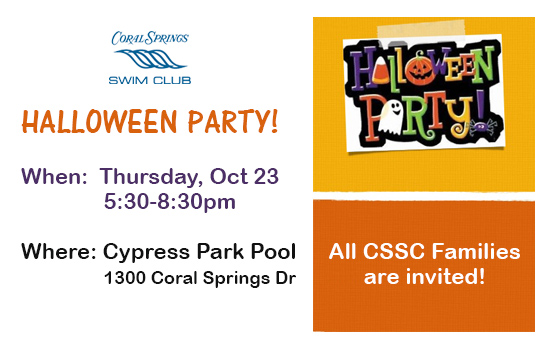 CSSC Head Coach Bruno Darzi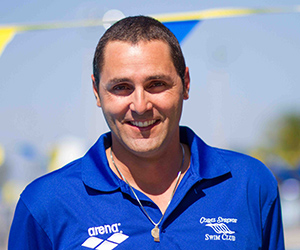 In September, CSSC held the second to last swim meet in 2014. Our swimmers swam a combined total of44 personal best times capturing several top 8 finishes in various events.
Jillian Alexander won the 200-yard breaststroke and took silver in the 100-yard breaststroke. Gabby Beltrano swam a total of 8 personal best times, which included two first place finishes in the 50 and 100-yard backstroke. Delaney Biro dominated her age group, winning a total of 7 events. Rachel Botting had an incredible meet, swimming a total of 8 personal best times. Botting also shaved off almost 20 seconds in the 500-yard freestyle. Catharine Cooper won the 50, 100 and 200-yard freestyle. Nico Ferrara won the 50-yard freestyle and finished second in the 100-yard freestyle. Acacia Jones dropped over 16 seconds in the 500-yard freestyle and dropped another 2 seconds in the 100-yard butterfly. Bryce Pierce finished 8th on the 50 and 200-yard freestyle. Isabella Pittinger won the 100-yard backstroke and took the silver in the 100-yard butterfly. Sam Roth took the gold in the 500-yard freestyle after dropping over 17 second. Megan Schimansky placed in the top 3 in all of her events. Schimansky won a total of 4 events and swam 5 new personal best times. Arlene Semeco won the 50-yard freestyle within less than half second of her personal best times from Winter National last year. Sebastian Vargas dropped over 18 seconds in the 400-yard IM and finished 2nd. Hannah Virgin won both the 100 and 200-yard breaststroke. Henrique Yamamoto dropped over 2 seconds in the 100-yard breaststroke.

We also hosted a mock meet in September. I would like to thank Mr. Poznanski, Mrs. Beltrano, Mrs. Ferrara, Mrs. Candido and Mrs. Franzino for volunteering to train at the omnisport and inside compuer positions. Thank you to Alfie Trimble and Danica Schimansky for dedicating a couple of hours of their weekend to train our volunteers. Thank you to the parents that assisted the swimmers competing at the mock meet. Any additional volunteer wishing to help us continue to run successful swim meets, please contact me directly at This email address is being protected from spambots. You need JavaScript enabled to view it..

Next month, the National Team swimmers will race at the Mike Horgan Invitational in Lake Lytal. This will be the last FGC meet prior to the FHSAA High School State Championships held in Stuart, and the Winter Championships held in Plantation.

See on the pool deck.

- Coach Bruno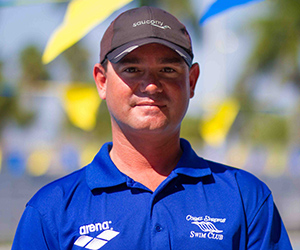 September has been a month filled with hard training for Senior 1. We have been steadily increasing the intensity and quality in our workouts over the past few weeks. Our training is getting more race specific as we get closer to when we want to perform at our best. It has been a challenge for my swimmers to balance school and swimming with homework, high school meets and clubs. We all know swimming is a sport that takes a lot of time and effort. Typically you get out of it what you put in. It is important to use time wisely so the swimmers are able to excel in the things they really care about. We will continue to increase our intensity as we approach the taper meets in November and December.

Senior 1 competed in the CSSC Open Invitational on the 6th and 7th of this month. My group had 7 swimmers at this meet where 15 personal best times were produced. It was good for the first meet of the season but we defiantly have work to do. Notable performances were achieved by: Andres McKeon dropped 3 seconds in the 200 IM, 8 seconds in the 200 freestyle and 4 seconds in the 200 backstroke. Gian Savino dropped 3 seconds in the 200 freestyle and 2 seconds in the 100 breaststroke!! All in all was a good month for Senior 1. That's it for now!

See you at the pool,
Chris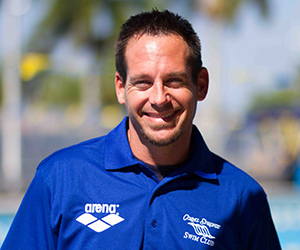 The Senior 2A swim team crushed their swim's in the month of September! The results we had at the Coral Springs home meet were EXTREMELY impressive. The team was lead by Domique Fajardo, who went a blistering 25.84 in her 50 freestyle, and crushed the 100 free in 56.92. Ashley Ruf had impressive times drops as well and closely followed Dominique's performance in the 50 free. Daria Chiarella had a great swim in the 200 free dropping over 5 seconds from last season. So many swimmers had excellent swim's and I am sorry if I missed anyone's best times but; Sadie Reese, Daniele Chiarella, Ashley Tan, Sophia Viner, Grace Nemanic, and Lauren Noyola all saw huge time drops as well! On the boys side Kalvin Hernandez and Josh Garber had the most substantial time drops, quite frankly there are too many to list for these two gentelmen. Nate Lalor had excellent swims as well going 2:05 and 56.33 in the 100 and 200 freestlye respectively. Sabi Sauarez dropped over 10 seconds in four different races! While Charles Santamaria, Lorenzo Prado, and Justin Irwin all torched the pool with best times. I could not be more proud of the races of our swimmers in September. I just think about how fast the COULD be if they trained 5 days-a-week, and did NOT MISS practice so much. I know your fall schedules are busy but I know most of you are snuggled up in your beds on Saturday morning while about a dozen of us are at the pool improving technique and aerobic capacity. Hmmmmm is it any wonder that those are the people dropping the most time? Something to think about!
See you on the deck.
-Coach Dave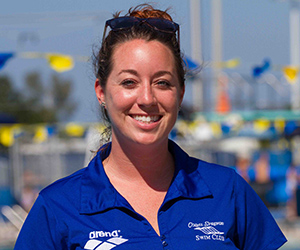 Senior IIB had some great swims at the Sunrise pre-JO meet on September 13th and 14th. Congrats to these swimmers who swam their first meet with us: Nicolas De Los Heros, Ari Goldwyn, and Kendall Roush! Jenna Weissman dropped 6 seconds on her 100 back and 3 seconds on her 50 free. Ian Lee dropped 12 seconds on his 50 fly, and 20 seconds on his 100 free. Zachary Huang dropped 2 seconds on his 50 back and went a best time of 29 on his 50 free! Aaron Graber dropped 7 seconds on his 100 free, 4 seconds on his 50 free, and 10 seconds on his 100 IM. Anna Gally dropped 5 seconds on her 200 IM and had a great 1st time swimming the 100 fly. Theresa dropped 7 seconds on her 100 back and 7 seconds on her 100 free. Daniela Ortiz had some great swims and went a 48 which was her best time in 50 breast. Way to go everyone!
Our next meet is also in Sunrise on October 11th and 12th. Please let me know what you want to swim so I can sign you up.
Great job everyone and keep up the great work!



-Coach Kayla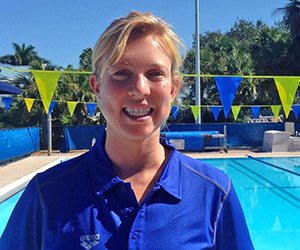 Hello Everyone!
The White and Blue swimmers are off to a great start this season! We had our first meet of the season right here at Coral Springs where swimmers in the White group ended the meet with 86 new best times! White swimmers had the chance to swim the 200 IM and the 200 free for the first time and they all did a great job! Alejandro Alvarez dropped a whopping 17 seconds off of his 50 fly and finished in 9th place. Braina Dattile dropped 10 seconds in her 100 free with a new JO cut and a 3rd place finish. She also dropped another 10 seconds in her 100 breaststroke which left her in 5th place and yet another new JO cut. Faith Fowler sneaked into third place in her 100 back as she shaved 4 seconds off of her time. Giulianna Garcia who has never swum the 200 freestyle in SCY finished in first place with a time of 2.22.27. Finally, Riley Botting finished the meet with 6 medals, one of which a first place finish in the 50 breaststroke and a new best time of 37.31. Blue group swimmers ended the meet with over 85 new best times and a total of 35 new JO cuts. Jason Allen dropped time in all 6 of his events, 4 of which were new JO times. He also swam the 400IM for the first time and snagged another JO cut with a time of 5:38.06. Brooke Cordoba sprinted her way into 1st place in the 50 breaststroke with a time of 34.01 and did a great job swimming the 200 fly for the first time! After recovering from ankle surgery, Bailey Feurman not only dropped time but got her JO cut 50 fly. Brian Gonzalez, Samuel McCormick, Rebecca Poznanski, Lydia Szakacs and Gregory Trimble have never swum the 400 IM before all survived the race and they all finished with a JO cut! Patrick Franzino who just joined the Blue group dropped 6 seconds and finished with his very first JO cut in the 50 backstroke.
The following weekend, both White and Blue swimmers were on the hunt for more JO cuts at the Pre-JO meet in Sunrise. In the white group, Giulianna Garcia and Brianna Dattile swam the 200 breaststroke and finished in second and third place, respectively. Both swimmers who will be 11 very soon were just a few seconds away from their 11-12 JO cut. Willow Holmes dropped another 4 seconds from the weekend before in her 100 backstroke and Nicole Palacios did a great job in her 100 free with a whopping 14 second drop. In the Blue group, 12 new JO cuts were made. Jason Allen had another great meet with a 13 second drop in his 200 free and a new JO cut in his 200 backstroke. Guillermo Barrios finished the weekend with two new JO cuts in the 50 Fly and 50 Breaststroke and Brooke Cordoba dropped 9 seconds in her 100 backstroke. Madelyne Garcia got best times in all 6 of her events and Anna Kasperski sprinted her way to 2nd place and got her first JO cut in the 50 free with a time of 29.44 and Ellie Mitova got her JO cut in the 50 free as well with a time of 30.39. Connor Marks snagged another JO cut after dropping 16 seconds in his 200 backstroke and Samuel McCormick finished with two new JO cuts in the 100 back and 100 free. Well done everyone!
-Coach Irina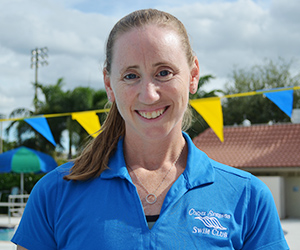 Hello Parents & Swimmers,
We are going to be having a VERY busy month of October!! A lot of exciting things happening with our Mullins groups!
We are very excited for our swim meets coming up in the beginning of October. We have our Sunrise Sizzler meet for our 8 &under swimmers! Good Luck to Mila, Lucas, Brooke, Marissa, Alejandra, Paul, Tyler and Rhania, who will be representing CSSC!!! Swim FAST guys and have fun!
We also have our Sunrise Invitational Swim Meet for our older swimmers, and we are VERY excited at the turn-out we will have more than 50 Swimmers from our mullins groups so far signed up for this meet! We can't wait for some great swims and lot's of fun for everyone attending!
We will be having our CSSC Annual Halloween Party!!!!! Thursday October 23rd, at Cypress Pool in Coral Springs. The party will be from 5:30pm-8:30pm! Be sure to come in FULL costumes! We will have great food, Dancing, and Prizes for BEST costumes! (please see the flier at Mullins Bulletin Board for more information and how to sign up to bring a potluck item !!!) Please let Coach Jessica know if you can VOLUNTEER!
A HUGE WELCOME to ALL of our swimmers that are returning to us or are with us for the first time: Igor, Victor, Henry, Evan, Marissa, Alejandra, Paul, Mikhail, Avery, Gabby, Fernanda, Darion, Tiago, Thiago, Esther, Sean, Mehul, Megan, and Thomas!!!! Thanks for joining us!
-Coach Jessica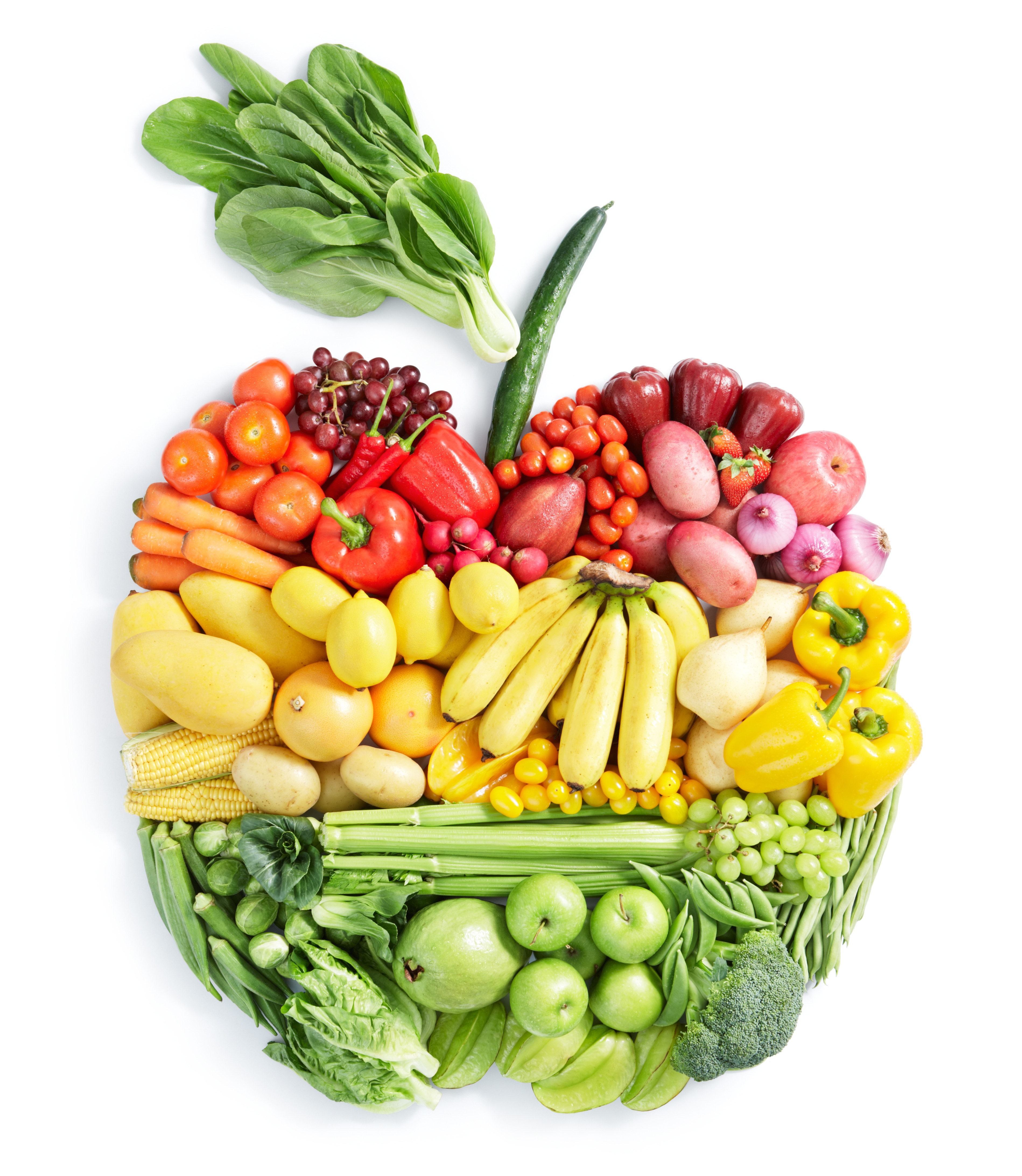 Breakfast Can Make or Break Young Athletes

by Mitch Jones
Swim Club parents have been invited to participate in a unique Social Media intervention aimed at boosting the benefits of breakfast among swimmers.
____________
Connecting with families in cyberspace is the goal of "Tweeting Before Breakfast: Improving Family Breakfast Habits" - a study conducted by Dr. Catherine Coccia Ph.D.R.D. from the Department of Dietetics and Nutrition at Florida International University.
The one-week social networking intervention asks parents of swimmers ages 2-18 to creatively Tweet about breakfast as a means to combat rising numbers of young people who skip the first meal of the day. Research indicates that 30% of children and adolescents don't eat breakfast.
"These are big numbers when you think about it. Not eating breakfast can affect both academic and athletic performance," Coccia said.
To participate is easy. Parents commit to two online surveys and to "Tweet" 10-15 minutes a day for seven days about what their children are eating; challenges in getting children to eat; and how children feel about breakfast. After a week, a brief post-survey determines whether family breakfast behaviors have been changed by the experiment.
"The study encourages families to eat breakfast together and for family members to support one another in good eating habits," said Coccia.
The social media experiment comes at a time when children and parents are not taking breakfast seriously, the doctor said. Children and grabbing going and often don't include necessary food groups at breakfast. Fruits, grains and proteins are all vital to mind-body development.
"Skipping breakfast has been associated with higher intakes of fat and cholesterol and lower intakes of healthy fiber. It can also elevate one's Body Mass Index which can lead to obesity and other problems," she said.
Coccia's study is funded by a grant from the Academy of Nutrition and Dietetics. The Coral Springs Swim Club is one of many athletic organizations in Broward she has approached in an effort to publish a larger body of work on the breakfast habits of young athletes. Coccia is looking for at least 10 families to participate and hopes to get the experiment off the ground at CSSC in the coming week.
"Twitter is a real easy way for parents to communicate with one another and everybody is using it. I really think this will make a difference in the lives of young athletes now and in the future," she said.
To learn more or to participate in the study contact Dr. Catherine Coccia at This email address is being protected from spambots. You need JavaScript enabled to view it. or call 305-348-0194.