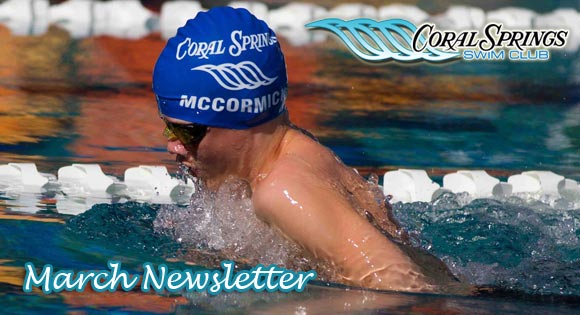 Message from the Board
The Adventures at the Gate

Have you ever wondered what it would be like to work at the gate during a swim meet? I am sure that it has crossed your mind whenever you pay the $3 admission and the $3 for the heat sheet. What goes into the preparation for this exciting and glamorous job? Do you have what it takes to handle the pressure?
At first thought, you might believe, "I pay my $3 at one table, grab a wristband and head to the other table to buy my heat sheet." No, my friends, it is so much more than this simple exercise at 7:30 in the morning. First of all, we help our guests juggle their chairs, tents, coolers and most importantly, their coffees, while they pull out their wallets and give us the money. Spills are mostly averted but just in case, we have paper towels ready!
We must keep the line moving. Working quickly to make change and to pass out the colorful wristbands (notice the new colors we ordered at the next meet), we want our guests to have a pleasant experience so we are very efficient. We always profusely thank those who have their exact change ready. Exact change makes us very happy. Moving along to the heat sheet table to buy the important document that allows us to track our children's every move, we have the option of buying it immediately, with all our swim paraphernalia in tow, or to set up first on the swim deck, get settled in, and then return to that table without having to stand in another line.
Does this sound like a fascinating and thrilling volunteer position that you would like to explore? If you need some more motivation, I should also explain that at this position, you would be able to attend to all your child's needs, i.e., giving them snacks, putting on their swim caps before a race, and most importantly, watching them in their races. Approximately one and a half hours after the meet starts, we close the gate and you will be able to enjoy the meet with your family.
We are hosting the 2014 Junior Olympics at our facility on Friday, March 7 thru Sunday, March 9. We host many meets are our pool and this one is among the largest in our district. We need a fleet of volunteers for many positions. This one is just one of several to choose from. The perks of the volunteer position are: free admission, free heat sheet, parking in the closer lot, breakfast and lunch buffet and the satisfaction of doing something for your club and child that helps the larger community.
Sign up to volunteer at http://www.volunteerspot.com/login/entry/117871488079#/form
National Team
CSSC Head Coach Bruno Darzi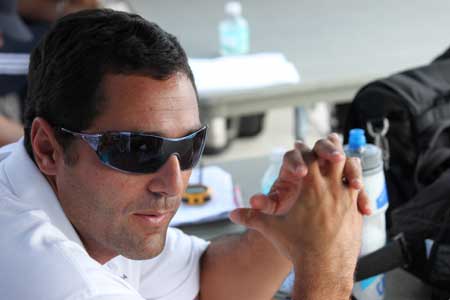 The National Team is getting ready for all the upcoming Championships. Starting out with JO's at home, where the National Team will have 5 swimmers participating. After JO's, we head off to Plantation to compete at Sectionals. Then, off to Pembroke Pines to compete at the Senior Championships. We will wrap up the short course season with the All-Stars meet in Fort Pierce, where our National Team swimmers, when qualified, will represent the Florida Gold Coast at a dual meet against swimmers from the Florida Swimming Association.
In addition to all the meets listed above, three-time Olympian Arlene Semeco is finalizing her preparation to the 2014 South American Games that will be held in Santiago, Chile. It will be the 10th edition of the games, and this will be the second time that Santiago will be hosting the event. Arlene Semeco is the current South American record holder in the 50-meter freestyle, event in which she won in 2012. She also finished 3rd in the 100-meter freestyle at the last edition of the games, held in Belem, Brazil.
In another attempt to qualify for the 2014 Youth Olympic Games in China, Cathy Cooper will continue to train until April 6, when she will participate at the 2014 Camex Championships held in Panama. The meet will attract members of Mexico, Costa Rica and Panama Federations, among others. The multi-sporting event will host athletes of the following sports: swimming, water-polo, synchronized swimming, open water and diving.
After the completion of the season, we turn our efforts in getting our swimmers ready for the upcoming long course season. I am looking forward to all the action.
See you on the pool deck.
Senior I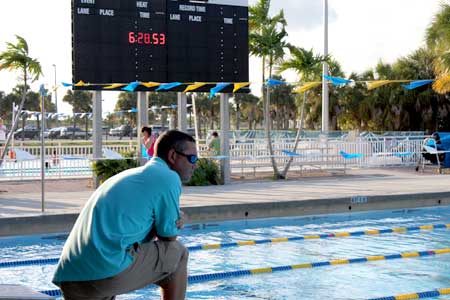 February has been a month of solid training for Senior 1. We have progressed to full training mode with a lot of quality and a variety of speed work. My athletes are very tired in practice which is where they should be at this point. The workouts over the next few weeks will become a bit easier as we begin to taper for the championship meets in March. We will focus on the little things in practice that make the difference when it counts!
Senior 1 had one competition in February. They swam at The 2014 Coral Springs Open Invitational held at our pool. Senior 1 produced 19 best times at this meet. This was a good performance considering my swimmers were very tired from the training that we have been doing. Notable performances include: Guy Bogoslavsky dropped 4 seconds in the 200 breast and 24 in the 500 free- Gui Hada dropped 10 in the 200 im, 3 in the 200 breast and 3 in the 200 free- Brenden Teeters dropped 23 in the 400 im. We are all looking forward to some high level competition in March!!
See you at the pool,
Chris
Senior 2a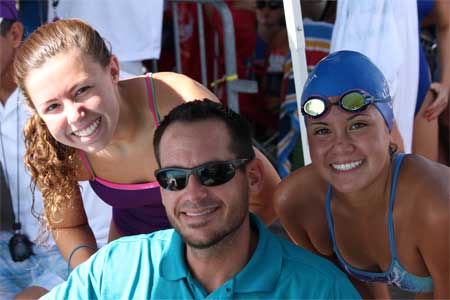 The month of February was a great training month for Senior 2A. With the championship meets in March looming, we cranked up the yardage and intensity. We even managed to have a nice beach/yoga day down in Fort Lauderdale as well.
The hard work put in by our swimmers was on full display in Coral Springs February. Congrats to Alex Meyer who FINALLY broke the one minute barrier in the 100 freestyle. He accomplished this by taking it out fast the first 50, and letting it hurt on the back half. If you want to swim fast your going to have to experience and persevere through the pain. Newcomer's Sadie Reese and Haley Simonson, along with CSSC veterans Hannah Pillado and Sarah Schmanski saw multiple best times.
Remember the Championship Swimming month of March has the following meets:
Feb 28th- Mar 2nd: 14 AND UNDER, with times SLOWER than the JO cut.
March 7th-9th: 14 AND UNDER, with time FASTER than the JO cut.
March 21-23: 15 AND OVER
Senior 2A is currently in BEAST MODE in the water (parents ask your swimmers what that means). We will be increase the tempo and sharpness in the coming weeks, with the hope of peaking at the right time to have great swims in these championship meets. Good Luck to all participants!!
-Coach Dave
White and Blue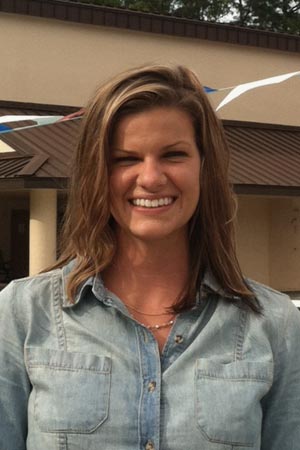 White and Blue had an outstanding meet at the Coral Springs Open on February 7th and 8th. There were MANY great swims at this meet, but here is a brief over view. Gabby Beltrano had three first place finishes and was top three in all of her events swimming many best times, including a 29.84 in her 50 backstroke. Delaney Biro posted 5 first place finishes with a 6 second best time in the 500 freestyle. Rachel Botting dropped 13 seconds in the 200 breaststroke for a first place finish and had several other best times including a 10 second best time in the 500 freestyle and 6 second best time in the 100 butterfly. Treasure D'Souza posted an 8 second best time in the 100 backstroke. Justin Irwin posted best times in every event including a 15 second best time in the 100 breaststroke. Sam McCormick also posted a best time in every event he swam. Andrew McDade posted an impressive 13 second best time in the 500 freestyle. Gianluca Savino posted five best times, had several top three finishes and swam a 7 second best time in the 200 breaststroke. Lydia Szakacs swam to several top three finishes and many best times including an 8 second best time in the 200 breaststroke, 4 second best in the 100 breaststroke and a 4 second best in the 100 freestyle. Greg Trimble had an impressive meet as well with six best times in which he dropped a total of 18 seconds! Jason Allen swam a 10 second best time in the 200 breaststroke. Riley Botting posted five best times and won the 100 breaststroke. Among many best times, Faith Fowler dropped 17 seconds in her 200 IM and 10 seconds in her 200 backstroke. Madelyne Garcia had an outstanding meet with all best times including a 9 second best in the 200 IM, an 8 second best in the 100 freestyle and a 5 second best time in the 200 breaststroke. Devlin Lee, who is currently out with a foot injury, swam all best times, and dropped a total of 28 seconds in all of her events combined. Molly Mason had three great swims on Sunday, all with best times. Rebecca Poznanski had a great meet with many best times including a 6 second drop in the 200 breaststroke. Andromeda Smith and Cara Virgin also posted three significant best times at the meet.
In practice we have been focusing on increasing yardage and intensity while maintaining great stroke technique and mechanics. As this season comes to a close with Area 2 Championships and Junior Olympics we will be spending more time fine tuning and tweaking our starts, turns and finishes. We are looking forward to many fast swims at these meets!
After JOs, we will be focusing on swimming each set with purpose and intention. We will be working to understand the 'why' behind each set and learning to swim each and every lap with our minds engaged in what we are doing to get the maximum benefit from each minute of practice. Another thing we will be working on is remembering to always focus on something and always working to do something better than we already do it.
We have two diligence winners this month. In white group, Jason Allen has been showing tremendous improvement! Jason rarely, if ever, misses a workout, and in the last couple of months has been working hard to make the best use of his time at practice. In practice Jason is focusing on doing each set exactly as it was meant to be done and always does it with a smile on his face. Jason is quickly developing great leadership qualities and an encouraging attitude towards his teammates. The dedication and drive Jason has shown in the last few weeks is truly impressive!
In blue group, Andrew McDade is our diligence winner this month! Andrew also rarely misses practice. He has been working at giving his best effort at everything, no matter what it is and he is doing is quite successfully! Andrew has been diligent this month to work hard and stay focused in practice. In the last couple of weeks we've seen great improvement not only in Andrew's focus and determination to improve, but also in his attention to detail. He has made a great effort to make technical changes and to swim each set the way it was designed to be swum!
I am so proud of both of these boys! Their championship meets next month are going to be great! Keep up the great work boys!
See you at the pool,
Coach Erin
Mullins
by Coach Jessica Long
Hello CSSC-Mullins Parents & Swimmers!
The spring it upon us! We hope that everything is enjoying being back into the swing of things with prcatices and meets!
We have already had our meets for the month of March, but please keep in mind that we will be having our April meets registrations coming out via email very soon! We will have the Sunrise Sizzler for our 8 &under swimmers on April 11th, and our Area 2 invitational meet in Jupiter for our 9 & over swimmers! Please look out for emails regarding the registration for these meets!
We will also be having a Spring Social Gathering coming up over the course of the month for ALL of our swimmers, so please watch pout for those emails as well!
Thank to all of our dedicated swimmers and parents at Mullins, KEEP UP THE GREAT WORK!!!!
Nutrition Corner

Swim, eat and sleep... Repeat!
One thing I have learned in my 20 plus years I have been in the sport of swimming, is to be conscious and aware of my body at all times. Most of the "regular" people, aka: non-swimmers, go through the day without even taking in consideration what they eat or do for exercise. Who has time for that, right? However, we swimmers, have not other choice than to be aware of our body because it simply screams to us. We are sore 24/7. In fact, if we are not sore we think we aren't doing something right (We are a little crazy, not going to lie). It is just not us to go through the day with just one bowl of cereal either. And it definitely is not us to go through the day with just a couple of hours of sleep!
Swimmers is a different breed of athletes. We need training 6 days a week, and if we are tapering we even need to get in the pool on our day off because we do not want to "lose the feel for the water". What in the world??? There is no wondering why we need our rest. Sleep for us is like our medicine. Swimmers take pride when resting. Our naps could go anywhere from 1 hour all the way to 3 plus hours. And our night sleep is not less than 8 hours every night. (FYI: Beware of a swimmer without her/his nap! We can be dangerous!)
Now, although swimmers know sleep is important, some research assessment of sleep quality in competitive athletes show an interesting prevalence of poor sleep quality. Some problems come from having problems falling asleep to having problems waking in the morning, which could be indicate sleep deprivation (I say... we want to sleep more!!!). So, recommendations suggest having 7-9 hours of sleep (minimum), of which 80-90% should be during the night. Consequences of poor sleep quality include: reduction in cognitive and motor performance, reaction times (ouch!), mood state and emotional stability, impaired metabolic and immunologic processes and underrecovery. So, there are many recommendations that we can draw from these studies to improve our sleep, recovery and therefore overall performance:
• Adolescent athletes may require up to 10 hours sleep per night while undertaking heavy training. Elite athletes may require 10 to 12 hours sleep.
• Maintain a regular schedule of going to bed and waking up.
• Naps should be limited to around 30 minutes and be avoided in the late afternoon/evening. Too long of a nap could prevent you from having a good night sleep at night. However, swimmers often require longer naps if they have two practices a day.
• Avoid watching television, eating, working, or reading in bed.
• Maintain a room temperature comfortable for sleeping.
• Use compression garments prior to bedtime or cold-water immersions to promote muscle recovery.
• Maintain proper hydration throughout the day.
• Avoid coffee, or caffeine containing beverages.
• Increase your protein intake (80-100 grams a day).
• Eat your fruits and vegetables for extra vitamins and minerals.
• Take a multivitamin, probiotics and omega 3's daily.
One thing is for certain; we take pride in what we do. When race time comes, we are ready. We step up and we go for it. So, let's not forget to rest, hydrate and eat a balanced diet. When it comes to race time, everything counts!
- Arlene Semeco, MS, RD, CISSN