Message From the Board | National | Senior 1 | Senior 2A | Senior 2B | White and Blue | Mullins | Nutrition
Our last home meet of the year was a success! Thanks to all the volunteers for helping run another great meet. We couldn't do it without you!
The holidays are coming so think about purchasing CSSC apparel as gifts. We have CSSC fleece blankets and CSSC towels on sale also, click here to visit our Apparel Page
The yearly USA Swimming registration deadline is December 31, 2014. If it is not turned in your swimmer cannot participate in swim practice or any meets, so please remember to get those registrations in.
CSSC will be participating again in the 2015 Race for Women's Wellness 5K and Half Marathon. It is time to register to get the discounted price. Click here for the Registration Form. You can turn them in at the Aquatic or Mullins office. This is a very fun event and we won 2 years in a row for the largest team.
Finally, this week our swimmers are celebrating the Holiday Season with parties hosted by the Coaches and sponsored by the Booster club, click here for the days and times.

Thank you for your continued support. Have a wonderful Holiday season!

CSSC Board of Directors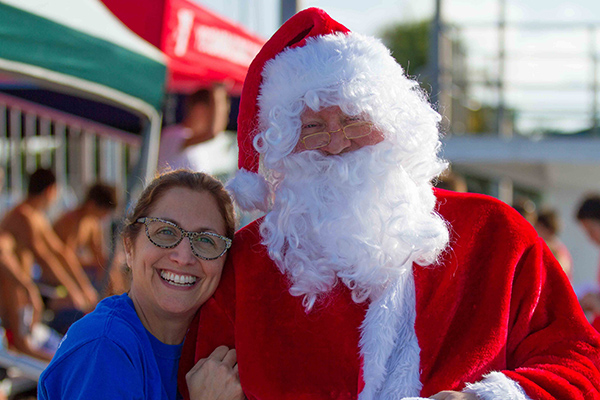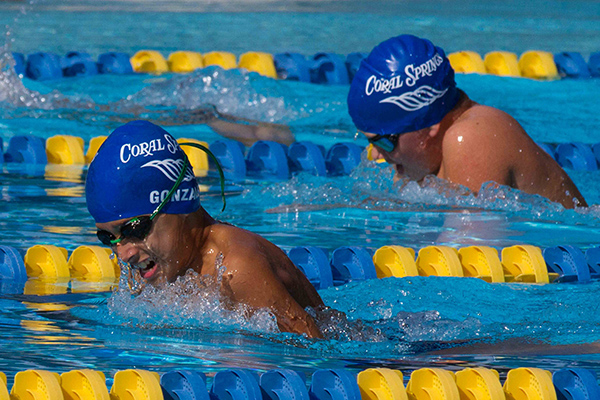 CSSC Head Coach Bruno Darzi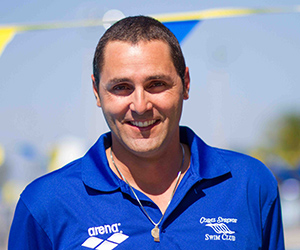 The Championship season is almost over. After a marathon of swim meets, CSSC swimmers were finally able to get their well-deserved break. Overall, we had great results and were able to wrap up the season with the Coral Springs Swim Club finishing 5th place overall at the 24th Winter Championships held in Plantation.
 
See below the results from both high school season, Winter Championships and Winter Juniors:
 
Jillian Alexander swam the 100-yard breaststroke with a 1:09.11 in prelims and a 1:09.39 in B-Finals. Alexander finished 3rd in B-Finals that night wrapping up her high school swimming career.
Brian Arnaud swam a total of 5 personal best times. He placed 3rd in the 100 breaststroke and shaved off over 3 seconds in the 200 breaststroke where he placed 4th in the open category.
Gabby Beltrano made finals in 5 different events. She finished 2nd in the 100 backstroke, placed 3rd in both 50 and 200 backstroke.
 
At the Winter Champs, Delaney Biro placed 8th in the 200 butterfly, 3rd in the 100 IM, 7th in the 100 and 200 freestyle, and 5th in the 50 butterfly. Rachel Botting had a great meet, winning the 50 breaststroke, placing 2nd in the 100 breaststroke, 3rd in the 50 freestyle and 6th in the 100 and 200 freestyle.  Botting, also competing in her very first High School Championships, was a member of the 200-yard medley relay.
 
 At the 2014 FHSAA States, Stephanie Campo swam a best time of 1:55.43 classifying in first place for B-Finals, where she swam another best time of 1:54.41, keeping the first place (9th fastest time in the state in Class 2A). She swam the 500-freestyle in a best time of 5:04.42 finishing 8th place overall.
 
August Charni swam personal best times during prelims in the 50-yard freestyle and 100-yard backstroke (21.53 and 53.25, respectively). Charni made A-Finals in 50 free and a very respectable position in the B-Finals in the 100 back. He finished 6th fastest in the State in the 50-yard freestyle in Class 4A with a 21.58, a mere 0.05 seconds from his best
 
Cathy Cooper placed 4th in the 50 freestyle with the time of 23.49, and 3rd in the 100 freestyle at the 2014 FHSAA Championships. She was also a key member of our 13-14 girls' relays at the Winter Championships. She led the 200 and 400-yard freestyle relays helping her team post 6th and 3rd places in A-Finals. Cooper also competed in the 100-meter freestyle at the XXII Central American and Caribbean (CAC) Games, currently held in Veracruz, Mexico. She swam 59.99 in the morning and finished the B-finals in 2nd place with the time of 1:00.29.
 
Nico Ferrara had an incredible meet. He won the 50 butterfly and won and broke the CSSC 13-14 Club record in the 50 freestyle in 22.26. Ferrara also placed 2nd in the 100 freestyle and 3rd in the 200 freestyle.
 
Nicole Gautieri, competing at her very first State meet, swam the 50-yard freestyle in 25.18 seconds, just 3 tenths of a second off her best time, which she achieved the week before at Regionals. She also anchored the 200-yard freestyle relay securing a spot for her team in the A-Final, clocking the fastest split in her team with a 24.72. In finals, she anchored again and bettered her split time with the time of 24.49, also the fastest leg in her relay. Gautieri, a senior, will be off to college after the summer. She also placed 9th in the 50-yard freestyle at the 2014 Winter Champs.
 
At the Winter Champs, Acacia Jones dropped over 4 seconds in the 400 IM finishing in 10th place, and shaved off over half second in the 50 butterfly.  Jose Pascual swam 2 personal best times at the FHSAA States. In the 200-yard individual medley, he swam the time of 1:57.13, while in the 100-yard breaststroke he swam it in 59.70. After coming off a strong FHSAA State Championships performance, Jose Pascual finished 4th in the 400IM, 2nd in the 200 breaststroke, 3rdin the 100 breaststroke, 4th in the 200IM and 5th in the 50 breaststroke at the 2014 Winter Championships. Giancarlo Payamps swam a career's best in the 100-yard backstroke, one of the last events of the program. He stopped the clock at 55.07 seconds during prelims and qualified in second place for the B-Final. In the evening, Payamps stayed close to his prelim time with a 55.63, tying the third place.
 
Bryce Pierce finished 14th in the 200 freestyle in 1:42.89 and 10th in the 100 butterfly in 51.85 at the FHSAA State Champs. Pierce also placed 6th in the 200 butterfly after shaving off almost 3 seconds, and placed 5th in the 50 butterfly at the Winter Champs.
 
At the High School States, Isabella Pittinger swam the 100-yard butterfly in 59.57, slightly slow than her personal best time. Pittinger finished 3rd in the 50 butterfly, 5th in the 50 freestyle and 7th in both 50 and 200 backstroke at the 2014 Winter Champs.
 
Sam Roth, swam the 100-yard and 200-yard freestyle in 52.95 and 1:56.05 respectively, securing a spot on the B-Final in the 100-yard freestyle. Roth teamed up with Gautieri in the 200-yard freestyle relay and was the leadoff leg in both prelims and finals. She achieved personal best times this season at Districts and Regionals in these two events (100-yard free: 52.70; 200-yard free: 1:55.37), both AAA USA Swimming times.
 
At the State Championships, Lindsey Sauer swam the lead off leg of the 200-yard free relay with a time of 25.71, a best time. She was also a member of the 200-yard medley relay. She and her teammates won the B-final in both events.
 
At the Winter Champs, Gianni Savino finished 8th in finals in the 200-yard breaststroke with a 2:34.35.
 
Megan Schimansky, swimming as a freshman this year, had an outstanding season finishing second in B-Finals with a personal best of 58.54 seconds in the 100-yard backstroke.  At the Winter Champs, Schimansky placed 5th in the 200-yard backstroke.
 
Andrew Szatkowski won bronze as a member of the 200-yard freestyle relay at the 2014 FHSAA 4A State Championship. Szatkowski also represented his school swimming the second leg of the 4x100-yard freestyle relay later that evening in 50.54 seconds, helping his team finish 3rd in B-Finals with a time of 3:16.93.
 
At the 2014 FHSAA, Sebastian Vargas swam a 1:46.40 in prelims and 1:46.61 in the B-Final, finishing 16th in the 200-yard free. In the 500-yard free, Vargas qualified 7th for B-Finals and with a time of 4:52.83 he finished 6th in the evening (14th fastest time in the state in Class 2A). At the Winter Champs, Vargas played 5th in the 400-yard individual medley. He also took the bronze in the Men's 15-16 200-yard Butterfly, in a best time of 1:56.55, shedding 1.92 seconds from his morning time (1:58.47).
 
Hannah Virgin had a stellar performance in her signature event, the 200-yard breaststroke at the 2014 Winter Champs. She won gold comfortably in 2:21.98, dropping 2.11 seconds from her previous best time.
 
Rebecca Wilkerson swam a best time in her 200–yard individual medley in prelims with a 2:14.70, qualifying for B-Finals, where she swam a 2:17.63. She also swam the 100-yard breaststroke, one of her strongest events, in 1:09.10 classifying 2nd for B-Finals where she dropped 0.08 clocking 1.09.02 and keeping her second place. At the Winter Championships, Rebecca placed 5th in the 200-yard breaststroke.
 
Henrique Yamamoto swam a personal best time with a 53.91 in the 100-yard butterfly, a AAA USA Swimming time. He was also a member of the Douglas men's 200-yard medley relay team, taking the butterfly leg in 24.48 and 25.00 in prelims and finals, respectively. At the Winter Champs, Henrique finished 9th in the 400-yard individual medley.
 
Our relays performances were crucial in aiding our team finish 5th overall at the 2014 Winter Championships.
 
At the beginning of the new season, our swimmers competed at our last home meet of the year in Coral Springs on December 6-7. Both Nationals and Senior 1 teams will continue to train during the holiday break and prepare to swim fast at the next championship season in March.
 
On another note, Cathy Cooper competed at her very first Junior Championships in Seattle, WA. She swam the 50-yard freestyle in just 23.84. In the 100-yard freestyle, she completed the race in 52.29. It was a great experience for her to compete at the highest level against the best 18-under swimmers in the country.
 
On Wednesday, December 14, Stephanie Campo will compete at a championships meet in Colombia that will be a qualifying meet for the upcoming South American Championships. Campo will swim the 200-meter, 400-meter and 800-meter freestyle as well as the 100-meter and 200-meter backstroke.

See on the pool deck.
 
- Coach Bruno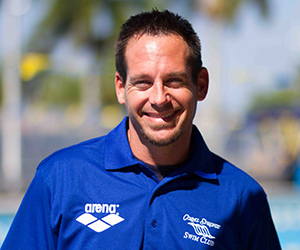 Senior 2A had an AMAZING November!  Our high school swimmers swam extremely fast in the district and regional meets.  The 1:00.00 mark in the 100 freestyle has been the "goal" for many of our swimmers to attain.  In the month of November five swimmers broke the one minute barrier!  In Winter Championships Dominique Fajardo, Lauren Noyola, and Julie Mason all swam personal best times. Lauren had a particularly interesting meet running from one competition pool to the other in order to make all of her events. On a sad note, Senior 2A had to say good bye to two of its members this month due to distance these families had to travel to train with the Coral Springs Swim Club.  Sadie Reese and Hayley Simonson have been traveling to Coral Springs from Miami to practice everyday for the past year.  They have made incredible improvements to their strokes and swim times.  However, what I will miss as their coach will be their smile, kindness, and hard work.  It has been a pleasure to coach both of them.  I am very proud to have gotten a chance to coach them as athletes, and to get to know them, as you will not find two nicer young ladies.  Now let's end on a happy note.  The big news of this month was Diego Sanguinetti who competed at the DSISO (Down Syndrome International Swimming Organization) World Championships in Morelia, Mexcio.  Diego's top individual performance was 14th in the 50 fly.  He also competed in two relays as well, placing 4th.  This incredible accomplishment would not have happened had it not been for the help of Laura Acevedo and head club coach Bruno Darzi.  Both of them put in many hours of extra work to make sure Diego would have the opportunity to compete.  It was an amazing month for Senior 2A!
During the CSSC Sprint meet in December, Senior 2A swimmers had some of their best swims of the year.  Many swimmers had best times, too many to list in fact.  It was nice to see Carly Brewington notch a few best times, especially when her training kicks in.  Daria and Dani Chiarella both saw large time drops (must be a sister thing) as well as Kyle Oliver.  Other outstanding swims were had by Sabe Suarez and Sophia Viner, both dropping time in the final swim of the meet, which is a hard thing to do.  I wish I had enough time to mention all participants, but please know I am very proud of ALL of you.  See you at the Holiday Party December 18th :))
-Coach Dave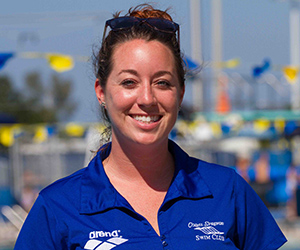 Senior IIa started out the month of November at the Turkey Classic in Pompano Beach. It was a fun SPRINT meet and we had a few swimmers race for the first time! David Blanco and Alex O'keeffe kicked butt at their first races! So did Brandon Schutz who swam a best time of 28.98 in 50 free. Jenna Weissman had her best time in 50 free also with a 34.22 and Kendall swam awesome in 50 breast. Fabrizio swam all 4 events and did great!

We also had a great home meet on December 6th and 7th. Most swimmers dropped time in all events. Callie Ocello swam her first meet with CSSC and couldn't have done better! She got out there and was ready to swim after a lot of practice! Nicolas De Los Heros dropped his 50 breast time from a 43.29 to a 39.53. Brandon dropped 2 seconds off his 100 back and Nic dropped 4! Kendall Roush swam her best 50 free time with a 36.73 and Tyler Oviedo did great in his races too! Nice job guys!!
I'm really happy with how every has been doing in practice lately and even the dry land...keep up the great work and see you next year!
-Coach Kayla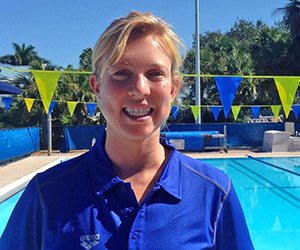 Hello Everyone,
In November, White and Blue swimmers finished off their season at Winter Champs on November 20th-23rd. Jason Allen kicked off the meet with a ten second drop in his 400 IM and a finishing time of 5:28.30. Connor Marks had a great 200 backstroke, finishing in 9th place with a new best time of 2:27.57. On Saturday, the girls 200 medley relay dropped 4 seconds and finished in 6th place and the boys finished in 5th place. In prelims, Brian Gonzalez dropped 3 seconds in his 100 fly and made it to finals where he finished with a 1:09.68. Connor Marks almost tied with Brian where he dropped 3.5 seconds and finished with a time of 1:09.62. Sam McCormick made it to finals in his 100 breaststroke and had a great second swim where he dropped two seconds from his prelim time and finished in 7th place with a new best time of 1:14.71. On Sunday, Lydia Szakacs had a great 200 IM swim where she dropped 3 seconds and she also had an awesome 50 breaststroke where she finished with another best time of 36.82. Rebecca Poznanski had a second chance to swim her 50 breaststroke in finals where she finished in 10th place with a time of 37.25. The boys finished off their meet with the 100 free where Jason Allen (1.01.46), Connor Marks (1.00.81), Sam McCormick (1.00.65) and Brian Gonzalez (1.01.42) all had a great race and a close finish! Alex Meyer finished in 4th place at finals in his 100 free with a time of 56.83. Last but certainly not least, Sarah Schimansky had a great mile swim where she dropped 21 seconds from Mike Horgan and finished in 4th place with a new best time of 20.37.43.
As for the White swimmers, Giulianna Garcia, Riley Botting and Brianna Dattile had a great meet! Giulianna Garcia finished 4th in her 100 IM after dropping 2 seconds finishing with a time of 1:12.60 and Riley Botting dropped 3 seconds and finished in 5th with a time of 1:12.86. Giulianna dropped 3 seconds in her 100 fly finishing in 4th place with a time of 1:14.25. Riley Botting finished in 2nd place with a three second drop and a time of 1:19.32 and Brianna Dattile finished in 10th with a time of 1:27.25. On Sunday, Riley Botting dropped a second in her 50 breaststroke with a third place finish and time of 36.32. Giulianna Garcia dropped two seconds in her 50 breaststroke and finished in 8th place with a time of 38.42 and Briana Dattile finished in 11th with a time of 39.55. Finally, in the 100 free Giulianna Garcia gave it all she got and dropped 4 seconds with a 10th place finish and time of 1:04.56!  
During the first weekend of December, White and Blue swimmers competed at our home pool in the Coral Springs Sprint Invitational. This meet was a quick one and a great one since every single swimmer dropped time! Guillermo Barrios and Anna Kasperski coincidently dropped 13 seconds and got JO cuts in their 100 IM. Jason Allen finally kept his head down in his 100 breaststroke and dropped 9 seconds and Brian Gonzalez dropped a whopping 29 seconds in his 100 breaststroke! All of that hard work in the White group finally paid off as every swimmer dropped time in their backstroke but there were some major drops which include Briana Dattile who shaved off a total of 18 seconds in her 100 backstroke time. Riley McCormick had a fantastic meet in which she took off a total of 14 seconds in her 100 backstroke, 20 seconds in her 100 IM and 13 seconds in her 100 free! Great Job everyone, what a great way to end 2014!
Hard work is nothing new for White and Blue swimmers but boy are we chatty in practice as we gear up for our Holiday party coming up on December 20th! There will food, music, festive attire and a White Elephant exchange. We will then be on break from December 24th-January 4th and we will be back in the water on January 5th. I will send workouts via email over the break and swimmers are strongly encouraged to swim on their own time. It has been a great season so far, keep up the good work and let's get ready to Rock N' Roll in 2015!
Happy Holidays and Cheers to a New Year!
-Coach Irina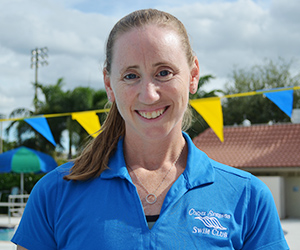 Hello Parents & Swimmers!
We have had a very busy month in December!
We had an incredible meet at the CSSC Sprint Invitational Dec 6th-7th! ALL of our swimmers swam their BEST times! We have been working very hard in practice, and it has really paid off for our swimmers.  So proud of EVERYONE! We are excited to have Gilon Kravatsky, Fernando Calero, Randall Rassi, Dillon Nelson, who swam their very first swim meet with our club!
After all this fun & craziness, we will be taking our HOLIDAY BREAK! Please mark your calendars as will be taking our break starting Tuesday December 23rd, 2014 there will be no practice, and we will NOT return to practice until Monday January 5th, 2015!
*****Coach Danila & Coach Jessica would like to wish all of our swimmers and their families very HAPPY HOLIDAYS! REST, and ENJOY!*****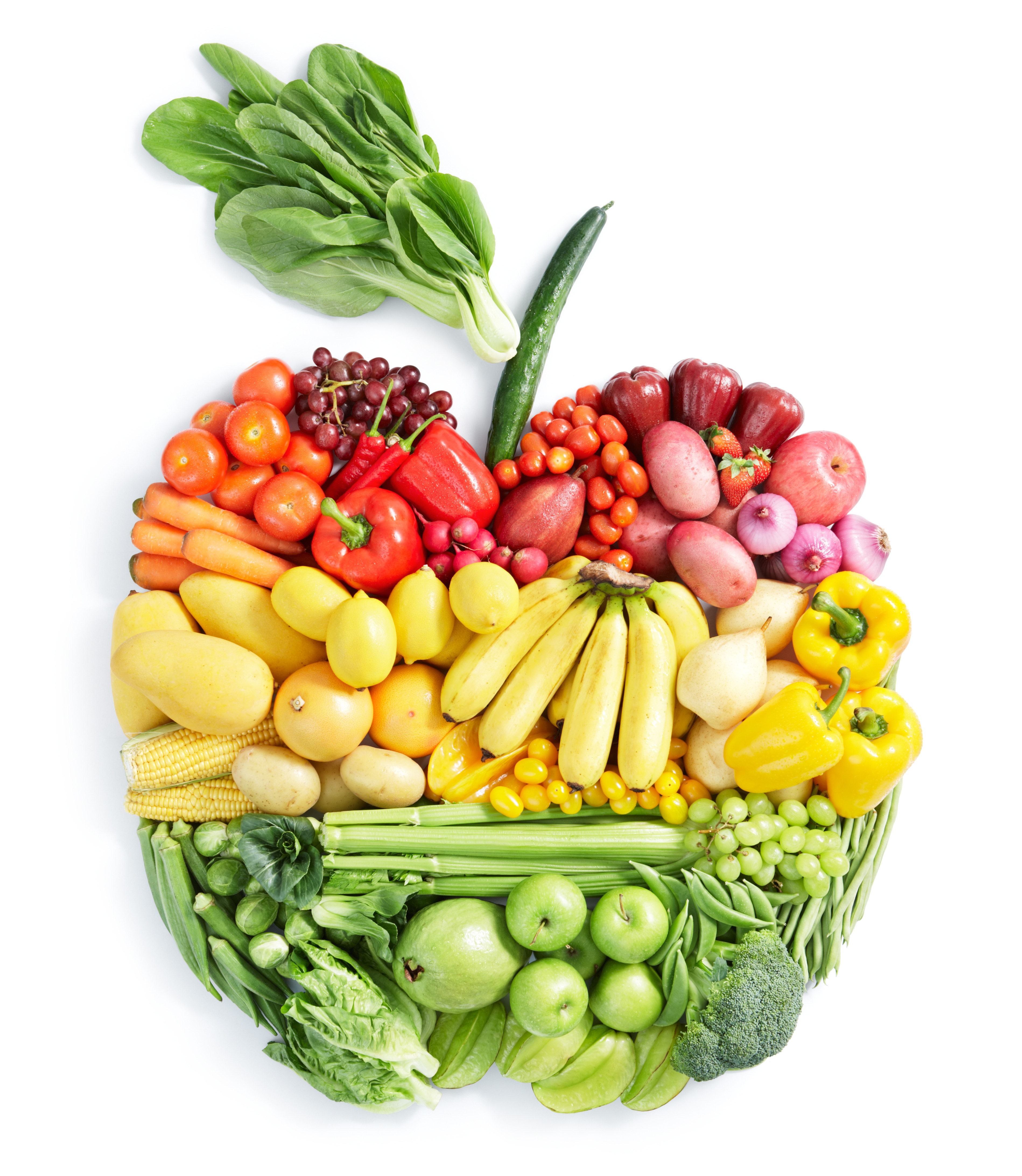 Top Nutrient-Rich Food Choices

By Chris Rosenbloom, PhD, RDN, CSSD
Recently a coach asked me what foods were the best sources of carbohydrate, protein and fat for swimmers. Nutritionists like to talk to athletes about nutrients, but swimmers eat foods, not nutrients. So, with that in mind, here are some nutrient-rich foods for each of the energy-producing nutrients of carbs, protein, and fat. 
Carbohydrates: Carbs provide 4 calories per gram of carbohydrate and provide not only quick energy to fuel muscles, but they also supply a lot of the B-vitamins in our diet. Carbs also provide dietary fiber, if you choose the best carbs. Carb-rich foods that also supply vitamins and fiber include whole-grain starchy foods, like whole wheat bread (not wheat bread) and other whole grains like brown rice, whole wheat tortillas, rolls and buns and popcorn. Starchy veggies also are good sources of nutrient-rich carbs: corn, green peas, white and sweet potatoes, lentils, black or red beans, and chick peas. Fruits are mostly carbs and whole fruit is best, followed by frozen, dried, canned in juice and fruit juice. All whole fruits are nutrient-rich, so while some swimmers tell me they avoid the sugar in fruit, there is no need forego the naturally occurring sugars in fruit. But, remember that fruit roll-ups, fruit drinks, and fruit-flavored candies are not fruit…those foods do contain a lot of added sugars. Lastly, dairy foods, like milk and yogurt contain the naturally occurring carb, lactose, so don't forget you are getting carbs when you drink milk for recovery or snack on yogurt.
Protein: Most athletes know that eggs, meat, fish, poultry and milk are good sources of protein, but don't overlook nuts and seeds and beans and peas for protein. Vegetarians can get all the protein they need from vegetables sources, if they make the right choices. Eating protein throughout the day is the best strategy to build and maintain muscle. 
Fat: Healthy fats for swimmers include the fats in nuts and seeds (including peanut and almond butters), avocado, canola, olive, sunflower or soybean oil (and salad dressings made from these oils). Mayonnaise is made from heart-healthy oils, so there is no need to avoid it. Fats do contain more than twice the calories as carbs and protein, so these are good to include for those trying to gain weight.
Putting it all together: Here is a sample meal plan for swimmers to include nutrient-rich foods for performance and good health.
Breakfast:
Whole grain toaster waffles topped with berries and real maple syrup
1 cup of low-fat milk
1 cup of 100% juice
1 hard cooked egg
Mid-morning or post training snack
Peanut butter and fruit jam sandwich on whole wheat bread
16 ounces of water or fruit juice or sports drink

Lunch
Cup of vegetable soup
Grilled chicken sandwich on whole grain bun with lettuce and tomato
Coleslaw
Fruit salad
Water

Mid-afternoon or pre-practice snack
Plain mini-bagel with almond butter
16 ounces of water
After practice snack
16 ounces of low-fat chocolate milk

Dinner
Protein-enriched pasta with marinara sauce
Ground turkey meatballs
Green salad with tomatoes, bell peppers, mushrooms, and sunflower seeds and olive-oil based salad dressing
9-grain dinner rolls
Fruit cobbler or sorbet
Water

Evening snack
Whole grain cereal and low-fat milk with banana
Or 
Hummus and whole grain crackers and baby carrots Chris Rosenbloom, PhD, RDN, CSSD, is a nutrition professor emerita at Georgia State University and provides nutrition counseling to athletes of all ages. She welcomes questions from athletes at This email address is being protected from spambots. You need JavaScript enabled to view it..