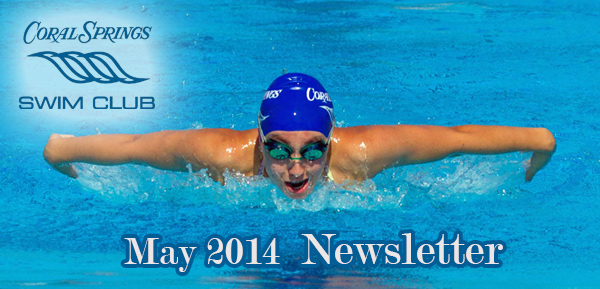 Message From the Board | National | Senior 1 | Senior 2A | Senior 2B | White and Blue | Mullins | Nutrition Corner
We would like to thank all the swimmers and families for attending the Splash Bash and bringing such great food. To see the Photo Gallery, please click here
The annual banquet is May 22nd. If you have not received your invitation, please email Sharyn Mason at This email address is being protected from spambots. You need JavaScript enabled to view it.This email address is being protected from spambots. You need JavaScript enabled to view it.. We are hoping to see everyone there for lots of fun and awards. We will be having raffle baskets again so bring some cash.
CSSC has started a fund raiser with Origami Owl Jewelry. Christina Lambard is taking online orders, and will also be at our May meet, and at the Michael Lohberg meet in June. There are nice items for Mothers Day and Graduation gifts. CSSC will get 20% of all sales.
May 17-18th is our first long course home meet. Please come out and volunteer.
Thank you for all your support!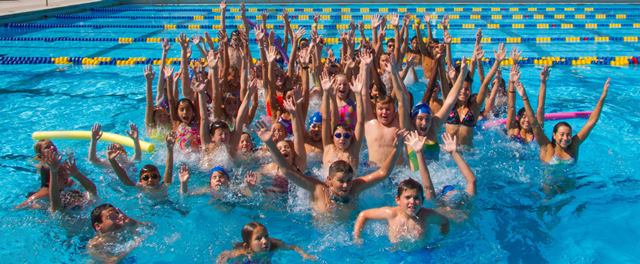 CSSC Head Coach Bruno Darzi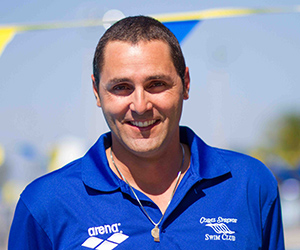 The month of April was dedicated to increasing the training yardage and intensity. Our dryland has got more challenging and the training sets are getting tougher. Most of our swimmers competed at the IMX-IM ready meet in Sunrise. The meet was used to evaluate our progress so we can make adjustments in the upcoming weeks. The results were very good for this time of the season with a few swimmers achieving personal best times. Our next challenge will be in 2 weeks at our first home long course meet of the year. I am excited for the end of the school year, when our swimmers will head to another training camp in Arizona. At 7,000 feet of altitude, the Northern Arizona University will be our home for 8 days, where our swimmers will be pushed to their limits and focus on preparing for all the championships meet in July.
I am looking forward to what's to come.
- Coach Bruno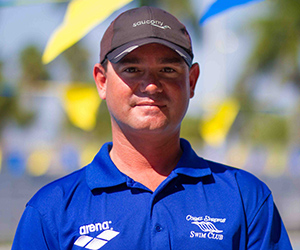 April has been a relatively slow month for Senior 1. This was a well deserved break after a month full of meets in May. We started the month with a week off over spring break, which I'm sure my kids really enjoyed. We started this season's training easing back into it. Our first week back we played a lot of football and water polo. These activities are great for getting back in shape, and the swimmers love it!
The rest of the month has been a steady increase in yardage and intensity. My swimmers' aerobic capacity is getting better each week. They are looking very strong in the water. We ended the month of April with The Splash Bash. All of the kids had a great time enjoying all the goodies and playing with their friends. That's about all there is to report. Senior 1 is looking forward to a solid month of training in May!!!
See you at the pool,
Chris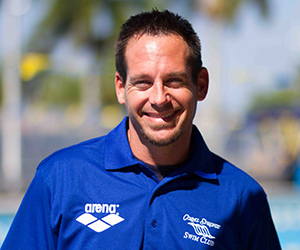 April was a tough training month for Senior 2A. We pounded the yardage out, and did a bit of aerobic training. Only one meet was attended this month, the start of long-course season. Those brave souls were: Carly Brewington, Daria Chiarella, Julie Mason, Sadie Reese, Hayley Simonson, and Kalvin Hernandez. All of these swimmers got a taste of how difficult long-course swimming can be. A special shout out to Julie Mason, for grabbing best times in EVERY event by wide margins. The effort put forth in practice really shows in these meets, and Julie is one of the hardest workers on the team!
The other swimmers are relatively new to long-course competition and starting from scratch. Either way, I am proud of the way my swimmers performed. The training will only increase from here! Get EXCITED!
-Coach Dave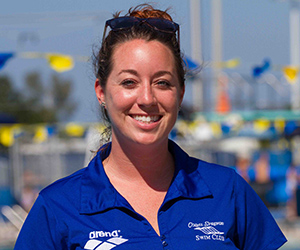 This past month the Senior IIB team has been working hard and getting ready for our upcoming meet. We have been increasing your yardage and working on our speed to make best times in the 50 and 100 yard swims. The swimmers who have moved up from gold have been working hard and so have our previous swimmers. The next meet is the Coral Springs Open Invitational on May 17th and 18th. Don't forget to sign up by May 5th. See you at the pool. Coach Kayla
–Coach Kayla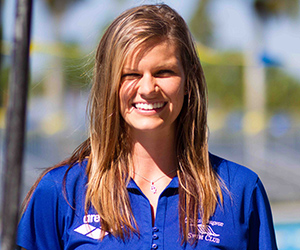 White and Blue groups have experienced a slight increase in yardage as well as intensity in preparation for the long course season. We are working hard to focus on remembering that the 'little' details in the execution of practice each day matter in preparation for race day. We've discussed the importance of getting plenty of sleep and increasing water consumption throughout the day in order to maximize the benefits of training in preparation for competition.
Several members of CSSC moved from Blue Group to the Senior Groups. Congratulations to Andres, Gianluca, Justin, Julie, Lauren, and Acaica! We're going to miss you in our corner of the pool, but wish you great success in each of the senior groups! We also, welcomed new CSSC members into white group! Welcome Amber, Nicole and Riley! We are so glad to have you!
Our first meet of the long course season was a one day event in Jupiter. Despite the issues with the starting system, there were many great swims worth noting. Many of our swimmers tried new events they have never swum before and crushed them! Among those who swam all best times are all of the white group ladies who attended the meet including Riley Botting, Amber Candido, Faith Fowler, Riley McCormick, Meredith McDade, Nicole Palacios nad Rebecca Poznanski! Riley Botting, Faith Fowler and Rebecca Poznanski all posted top 5 finishes! Among those in blue group to swim 100% best times were Jason Allen, Treasure D'Souza, Emma Gomez, Anna Kasperski, Samuel McCormick, Andrew McDade, Lydia Szakacs and Gregory Trimble. Those blue group swimmers who posted top five finishes include Jason Allen, Gabby Beltrano, Delaney Biro, Rachel Botting and Samuel McCormick!
While there were countless outstanding swims, the swimmer of the meet was definitely Greg Trimble. Greg dropped 68.86 seconds in his 400 freestyle for a sixth place finish and had huge drops in all four of his other races as well! In between races, Greg was on the side of the pool encouraging his teammates and watching every race and cheering for every CSSC swimmer. Greg celebrated with his teammates that swam a JO cut for the first time in an event and he had an encouraging word for those not super satisfied with their races. In practices over the last month Greg has been working harder than ever before and brings and upbeat and positive attitude to practice with him every day. There is no set too tough for Greg. No matter what task is presented to the team, you can be guaranteed that Greg is going to give his best effort and do it without complaint! The best part is that he is always encouraging his teammates to do the same! Congratulations Greg, you are our swimmer of the month! So proud of you!
We will continue to train hard and are looking forward to racing again at the Coral Springs Invitational in May! Parents, thank you in advance for all the hours you volunteer to make it possible to host such great meets! We can't do it without you!
See you at the pool!
-Coach Erin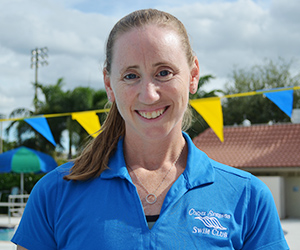 Hello Parents & Swimmers!
We will be having a VERY busy month here with the Mullins groups of CSSC! We have a Sunrise Sizzler meet on
Friday May 9th
, as well as a home meet on
May 17th-18th
at Coral Springs Aquatic Complex. We look forward to our swimmers having some great swims and lot's of fun!
***Don't forget to RSVP before
May 12th
for the CSSC Annual Banquet!!!(please let me know if you did not receive an invite in the mail) This is a great event for everyone to get together and celebrate all of our swimmer's accomplishments throughout the season. We have a great time with great food, and lot's of fun and dancing for the kids!
The plans have been set in motion for our KEY WEST MEET the weekend of June 13th-15th!!! Please see Coach Jessica's email for more information our weekend of fun with the CSSC Mullins Groups!
- Coach Jessica
Small meals or 3 main meals? What's the verdict?
Everyone is always asking me if the best way to lose weight is to eat 5-6 meals throughout the day, or to keep it to 3 big meals. There are so many myths out there. But one thing is for certain, when it comes to dieting "one size, DOES NOT fits all".
We have to look at our overall intake and go from there. The rule of thumb for weight loss beginners is to start reducing your total calories intake by 500 calories. If followed consistently, we can predict a reduction of one pound of weight per week. Not bad, right?
So, the bottom line is, if you want to lose weight, it really does not matter how many times you eat throughout the day, but rather count the calories you are eating. People that eat small meals throughout the day tend to eat more calories without noticing, because they make it 6 big meals. If you are like me, someone who gets hungry midmorning or midafternoon, you can grab a small and healthy snack, and eat a little less during the big meals. Just be conscious on what you eat. Choose healthy snacks like fruits and vegetables, and combine them with some protein for satiety. What about a delicious small protein vanilla smoothie mixed with some berries for a sweet treat? The key is to be smart and be conscious. That's all :)

-Arlene I. Semeco, MS, RD, CISSN