The Mullins Park program at the Coral Springs Swim Club serves children ages 6 to 12 in three different groups: the Red, the Green and the Gold. Led by coaches Jessica Nugent Long and Bar Bogoslavsky, young swimmers at Mullins Park get introduced to the swim team experience, begin technique drills and interval training, and participate in their first USA Swimming sanctioned meets. Every month, the coaching team highlights the performance and commitment to improvement of a swimmer from each group. "We want to recognize their hard work, discipline and dedication to the sport," said Nugent Long.
Here are the Swimmers of the Month for June 2017: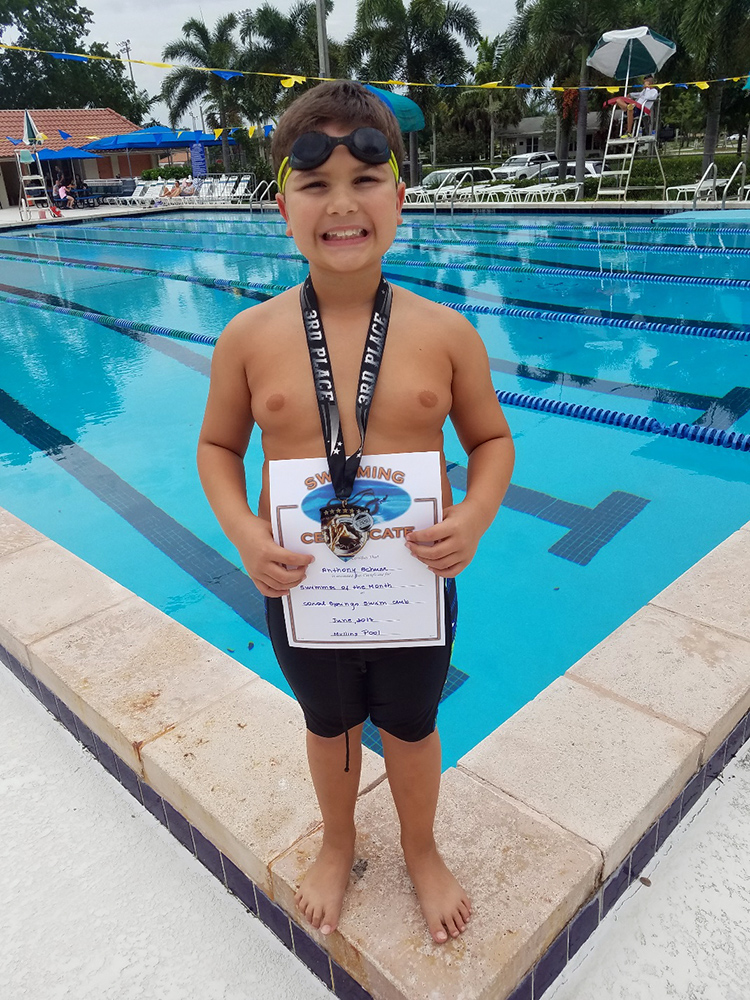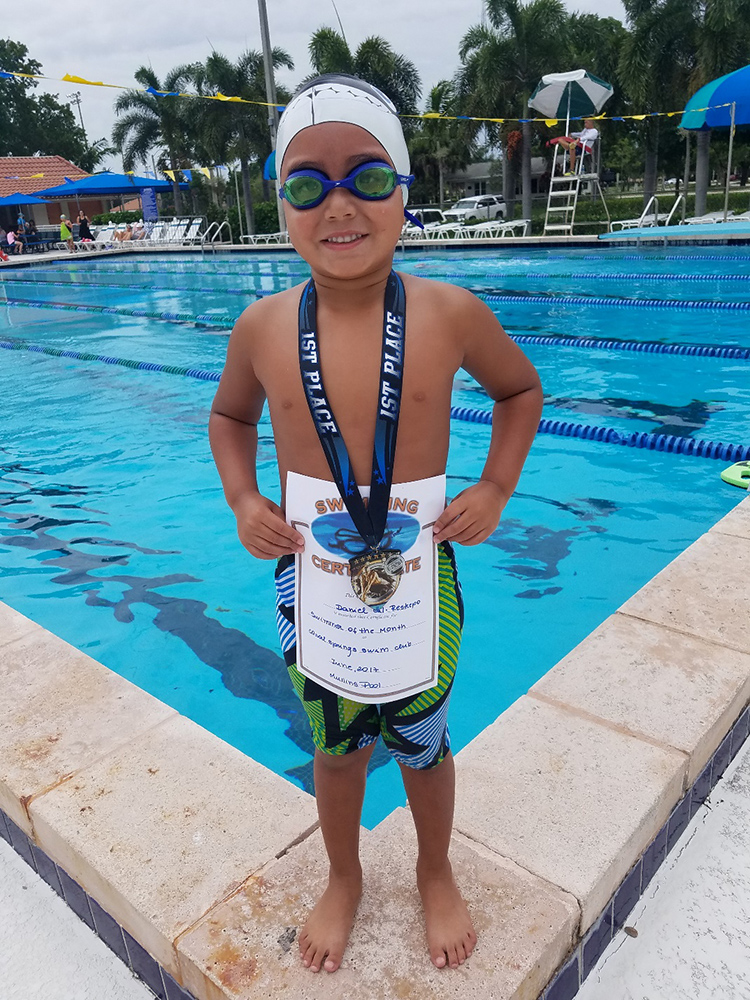 This month we have 2 Swimmers of the Month for the Red Group.
Anthony Schurr is a "very strong swimmer and attends practice all the time. He is working on gaining more and more confidence in the pool and prcatice very hard! He always tries very hard to do what we are asking of him."
Daniel Gil is "our only 5 year old swimmer in the club and he is a powerhouse of talent and hard work. He never stops and loves to race!"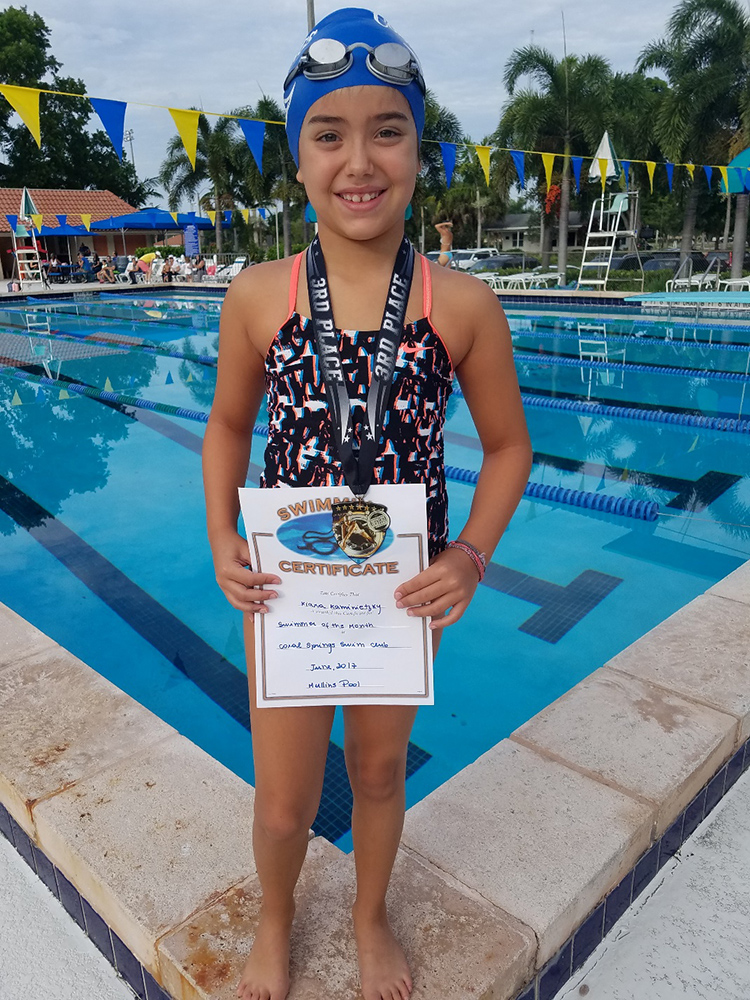 We have 4 Swimmers of the Month for the Green Group:
Kiara Kaminietzky is a "very strong swimmer and loves her breaststroke! she tries very hard and picks up on things very quickly which makes her so easy to coach! Keep up the good work!"
Emma Viola "tries very hard and i love to see her compete in the meets so she can see all of her hard work pay off!"
Miles Barnhart "is very quiet but you can tell that he loves to swim and he loves to get better at his strokes. He tries so hard and comes to practice all the time and has improved so much since he has been with us! cant wait to see him swim in the meets now!"
Joshua Guo is a "very polite kid and hard worker, always listens in practice and makes corrections when we ask him to. he is also working on getting a little more out of his comfort zone and I see it improving every day!"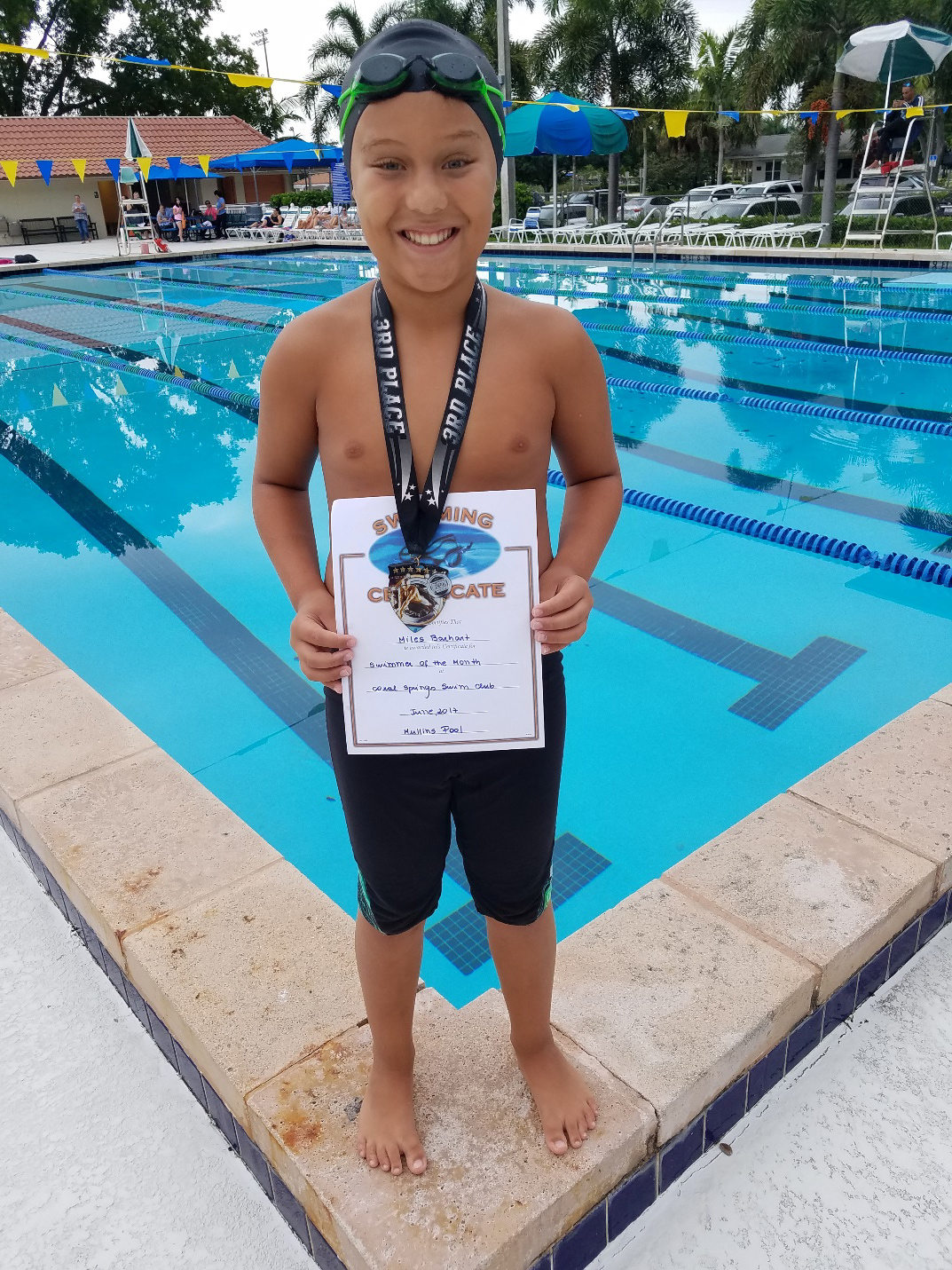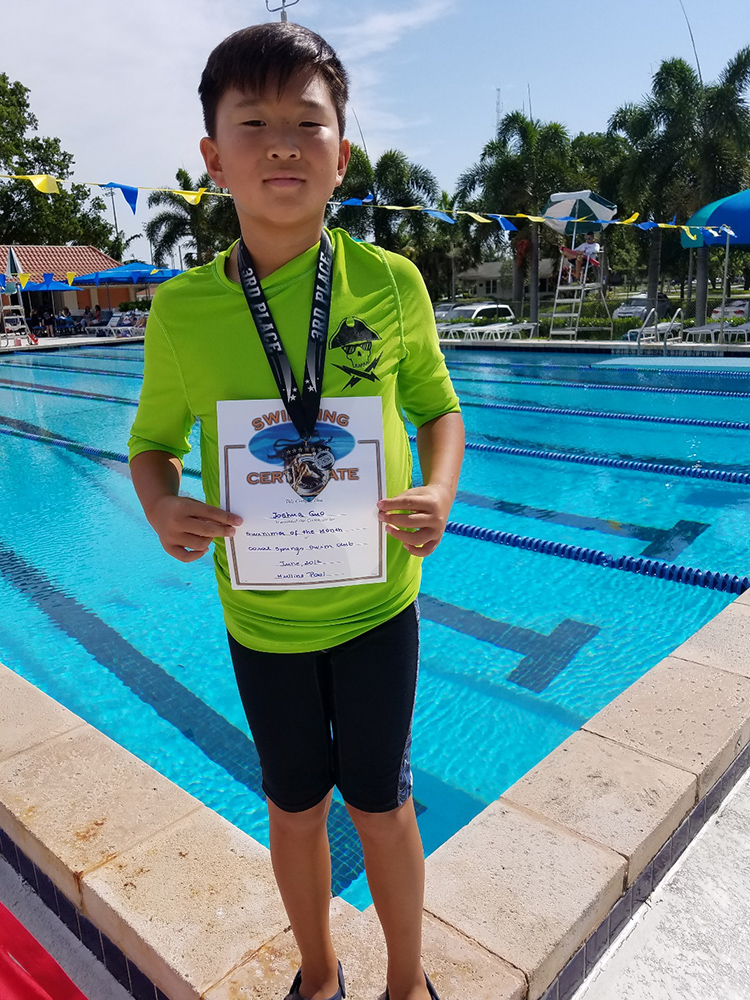 And last but not least, we have 2 Swimmers of the Month for the Gold Group
Kennedy Grisby
is a "
great kid and listens so well in practice. she is working more and more on swimming outside of her comfort zone and pushing herself more in practice and meets! she is capable of such great things in the pooll!
"
Nicole Giglio
is a "
what a strong and talented swimmer, and since she has joined us she has only gotten better. her improvments have really come from nowhere and she has been working very hard to come to practice all the time and continue to get faster and better at her strokes. she will do very well when she starts doing the meets and continues to excel.
"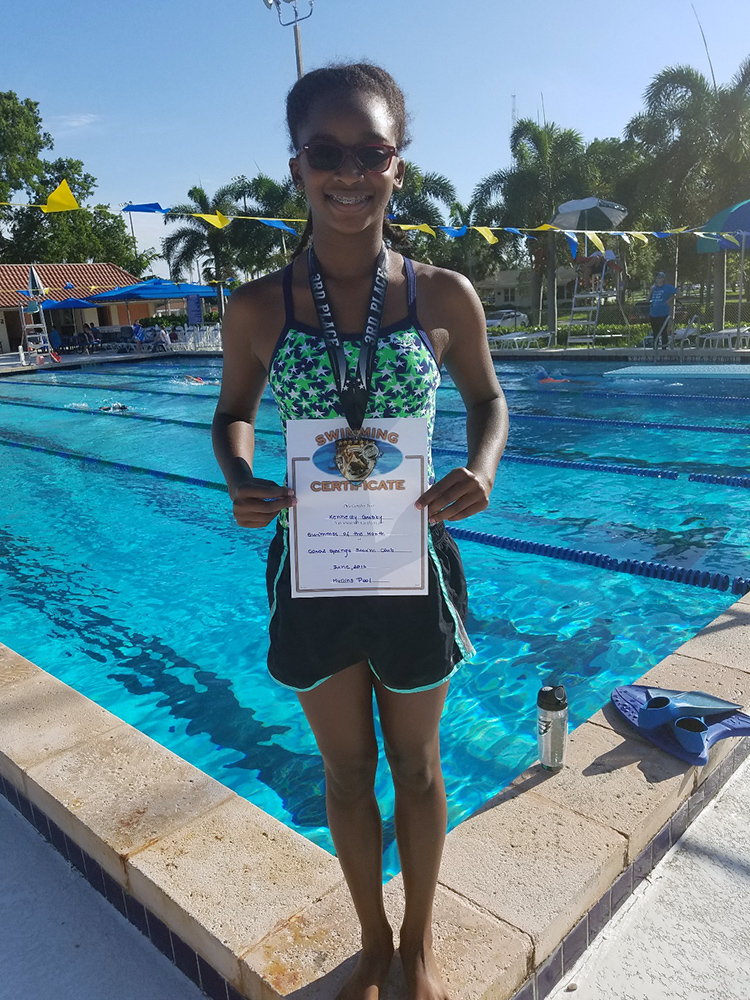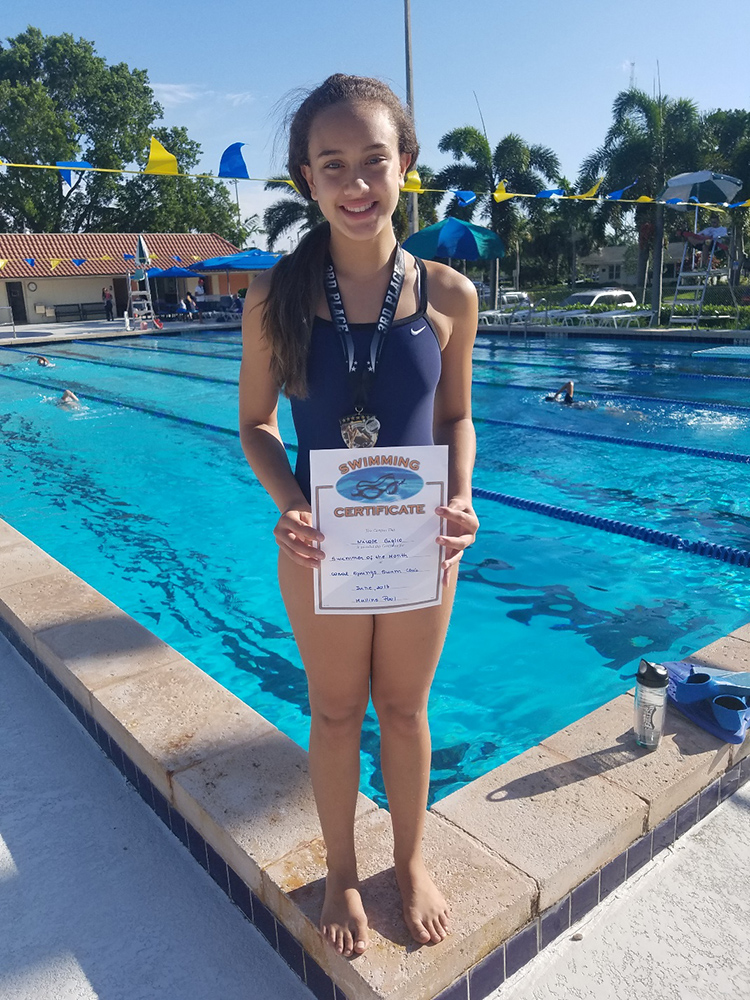 The Swimmer of the Month program is an initiative of the Coral Springs Swim Club to "recognize special traits of commitment and positive work attitude in [their] young athletes."
For more information about the Coral Springs Swim Club Age Group Program, click here.
For information about the Learn-to-Swim program provided by Swim America Coral Springs, click here.