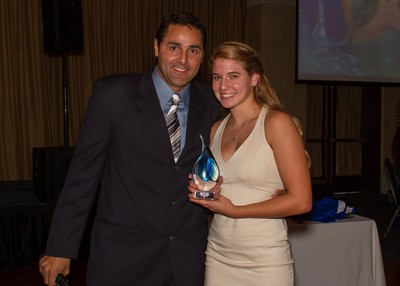 Every year Coral Springs Swim Club hosts the highly anticipated awards banquet. The 2017 banquet was held on May 27th, at the lovely Congregation Kol Tikvah in Parkland. Coaches, swimmers, and families were dressed to the nines to enjoy an evening of celebration.
After an opening welcome, board introductions and big thank yous to volunteers, parents and swimmers, several well-deserved awards were presented throughout the night.
Delany Biro and Alex Evdokimov were named the Female and Male Swimmers of the Year after outstanding seasons.
Among other award recipients were:
2017 Volunteer of the Year:
Linda and Sandy Candido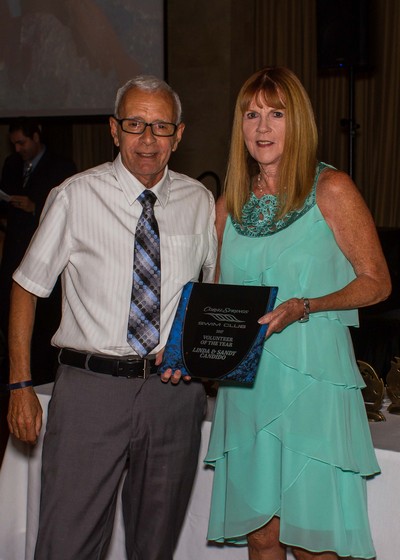 CSSC Coaches Awards:
Jorge Aguila
Braelyn Thorpe
Alejandra Gil
Anthony Palumbo
Meaghan Swack
Steve Quispe
Giulianna Garcia
Samantha Schoenborn
Evan NG
Chloe Carignan
Ryan Brander
Sophia El Chantiry
Andre Negron
Megan Schimansky
Brian Hamilton
John Albornoz
Jose Pascual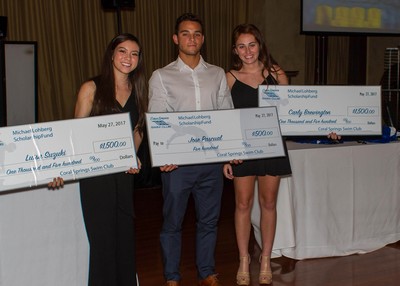 CSSC Booster Club president Danica Schimansky and Darzi honored the club's five graduating seniors: Carly Brewington, Jose Pascual, Joshua Garber, Luisa Suzuki, and Andrea Zambrano.
The Michael Lohberg Scholarship, named after six-time Olympic coach Michael Lohberg who built the club into a world-class champion team, were also awarded.
The recipients for 2017, the fourth year of the scholarship were Carly Brewington $1500, Luisa Suzuki-$1500, and Jose Pascual-$500.
The Raffle Fundraiser did not disappoint. Many raffle prizes including private swim lessons, 1-hour photoshoots, luxury hotel accomodations, themed evenings out such as "Italian Night", Acquatic Center gift bags and certificates, Safari ltd. gift baskets, and Patron and Ultimate gift baskets were raffled off. Proceeds benefitted the Coral Springs Swim Club. Among raffle winners were Roni Lubarsky, Cesar Montes, Brian Gonzales, Catherine Voit, Delaney Biro, Valerie Block, Victoria Vega, Scott Smith, Abby Frank, Greg Trimble, Jose Pascual, Katelyn Lay, Payton Ward, the Dattile family, the Schimansky family.
Photo Gallery from the 2017 CSSC Banquet
Photo Credit: Dave Brewington. All photos can be found at http://www.aboobarley.com
Free Joomla Lightbox Gallery