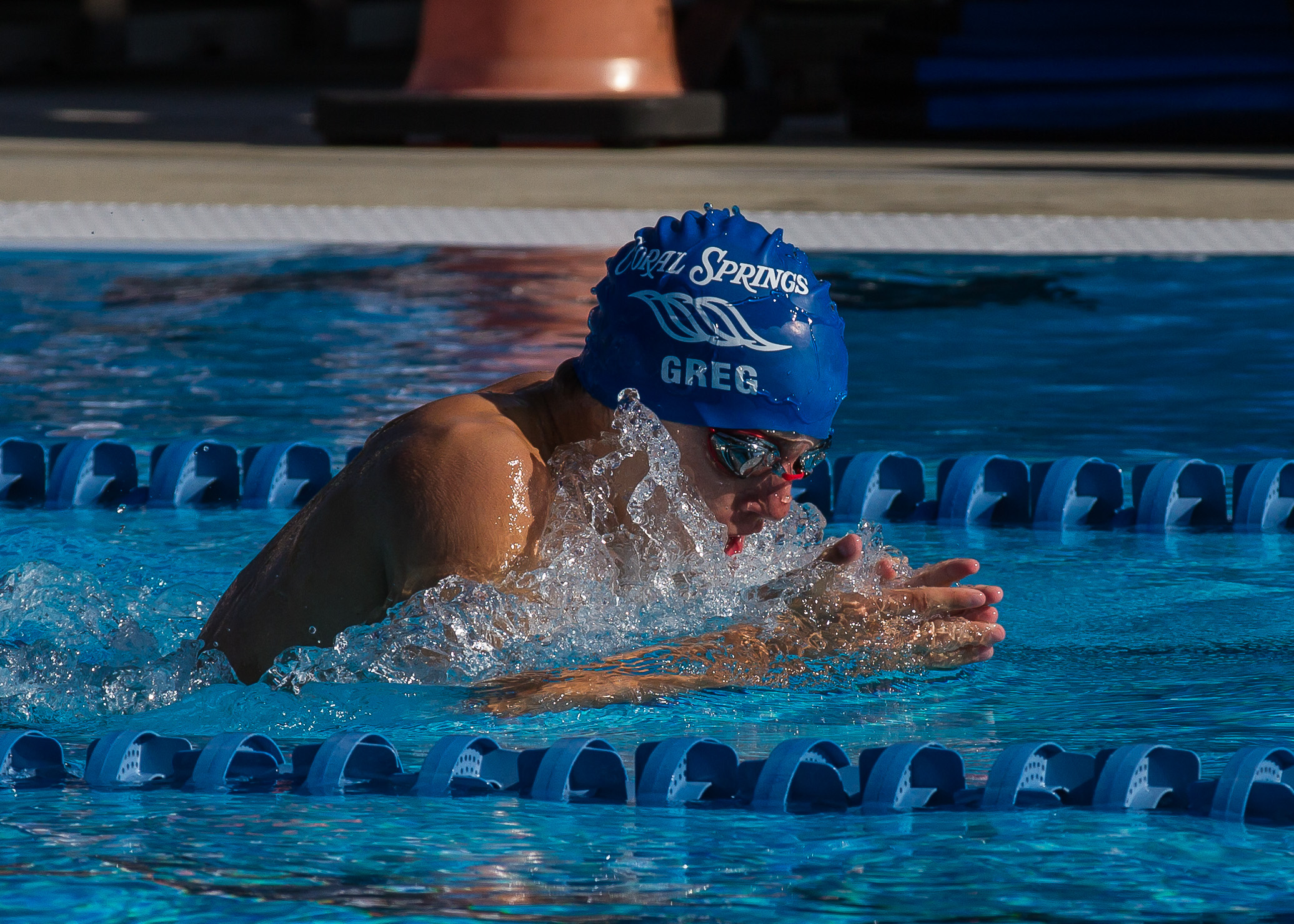 This past weekend Coral Springs Swim Club participated in 2 different local events. Our 8 and Younger swimmers attended the HAT Sizzler on Friday May 5th, then CSSC hosted an Invitational Meet our state-of-the-art facility from Saturday May 6th- Sunday, May 7th. It was an exciting weekend for our swimmers, coaches, volunteers, and fans alike.
The Mullins group attend the HAT Sizzler, which was held at the American Heritage School. Coach Bar Bogoslavsky thought that the Meet was "a success for our 8 and under swimmers" not only because the Mullins group produced some excellent swims, but also because "this meet gave me the opportunity to see the swimmers race in 25's only". Coach Bar was especially proud "our relays" because they "killed it". It was a great start to a weekend of competing.
Gianna Martin competed in 4 6 & Under events. She dropped 2 seconds in her 25 Fly and secured 2nd place at 25.95. Gianna also placed 2nd in her 25 Breast at 27.83. Sydney Larsen also skimmed time off her previous record in order to secure 2nd place. Sydney's new record in her 25 Free is 25.46.
More impressive swims include Daniel Gil-Restrepo's 4th place finish in his 6 & Under 25 Fly (31.90), Jorge Aguila's 5th place finish in his 25 Free (17.82), and Mikhel Martin's 6th place finish in her 25 Free (18.87).
Swimmers who also showcased their hard work during practice by dropping time include Alexander Mitov in his 25 Free (21.90), Breast (27.87), and Fly (28.44), Dominique Aris' 3.68 drop in his 25 Fly (26.68), Grace Zhu's 1.5 second drop in her 25 Back (30.15), Samantha Grossman's drops in both her 25 Back and Free (27.44 and 31.27 respectively) and John Alborno's 1 second drop in his 25 Breast (27.85).
Aveline Harding and Vanessa Rodriguez Walker both showed a passion for the sport. We can't wait to see what their future holds.
Coach Bar was also impressed with her Mullins' group's performance at the Invitational, "we had a lot of best times and first time swims and it was an overall great weekend, some of the kids tried new events and it went very well." Both the Mullins group and our older swimmers made the Meet a true success.
Delaney Biro was in top form at the Invitational. She placed 1st in her 400 Free (4:44.78) and 2nd in her 50 Fly (30.75), 100 Fly (1:09.34), and 100 Fly (1:04.07). Faith Fowler and Megan Schimansky both showed superior skill and technique in their Backstroke and beat out the rest of the competition and placing 1st (the 200 for Faith 2:37.18 and the 100 for Megan 1:12.23).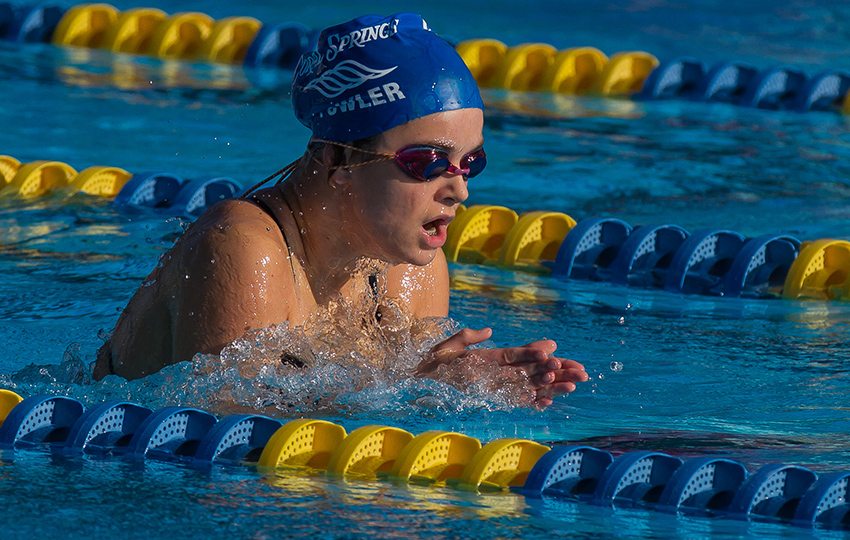 Gregory Trimble placed 2nd in his 400 IM with an impressive time of 5:20.78. Riley McCormick earned a bronze victory in her 400 IM (6:05.29) while Gian Savino placed 4th in his 200 Breast (2:56.16). Micaela Sierra also placed 4th in her 50 Breast (36.93), as did Dominique Fajardo in her 50 Fly (31.32).
CSSC swimmers have been sharpening their skills and technique during the practice. This hard worked showed in the 200 IM, an event in which many of our swimmers created new personal records for themselves. Olivia Mason improved her time by over 40 seconds (2:51.79), Rhania Suarez improved her time by 29seconds (3:24.82), Mila Bond improved her time by 27 seconds (4:17.32), Kayleigh Didovic and Grace Nemanic both improved their times improved their times by 25 seconds (3:07.52 and respectively 3:08.76), Kaitlyn Bonasera by 24 seconds (3:46.31), Jason Bonasera dropped of nearly 18 seconds from his (2:40.44), Ryan Brander dropped over 11 seconds from his (3:02.74), Andres McKeon, David Blanco and Hailey Wells each dropped over 5 seconds from theirs (2:29.47, 2:41.32, and 1:12.82 respectively), and
Connor Marks and Wilson Ward each dropped 4 seconds from theirs (2:37.20 and 2:52.54 respectively). Samantha Schoenborn, Selina Guan, Sarah Schimansky, Nicole Palacios, and Amber Candido also achieved new personal records in their 200 IM heats.
More swimmers who showed time improvements include Kenan Kocoglu in his 50 Back (33.75) in which he finished 5th, Reese Maxwell in both her 100 Free (1:28.01) and 200 Free (3:04.51L) Oscar Dougherty in both his 100 Free (1:53.54) and 50 Breast (1:01.44), Kenneth Rattray in both his 50 Fly (1:06.36) and Breast (1:04.49, Mariana Montes and Carolyn Powell in their 200 Frees (2:54.29 and 3:05.03 respectively), Cole Narbonne in his 100 Fly (1:26.19),
The 100 Free was another race where many of our swimmers showed drastic improvement. Payton Schurr and Ysabella Sapp both shaved 40 seconds from their previous personal best times at 1:39.68 for Payton and 1:18.53 for Ysabella. Brian Gonzalez (1:02.58), Haley Most (2:02.15,), Addison Palumbo (1:51.36,), and Beckhem Korb (1:37.28), Sherwin Sterling (1:36.20), Evan NG (1:37.04), Brandon Schutz (1:04.04), Faith Suther (1:14.15), and Emma Viola (1:44.32) also achieved new personal records.
Coach Bar celebrated successes and utilized the Meet as an opportunity to guide future practices. She said, "This was a great way for Coach Jessica and I to see the swimmers perform and see what needs work on during practice. Coach Jessica and I look forward to training hard during the few upcoming months so that we can improve more in our upcoming meet". She concluded, "overall it was a great weekend and I am looking forward to our next meet".
Photo Gallery from the CSSC May Invitational
Photo Credit: Dave Brewington. All photos can be found at http://www.aboobarley.com
Free Joomla Lightbox Gallery