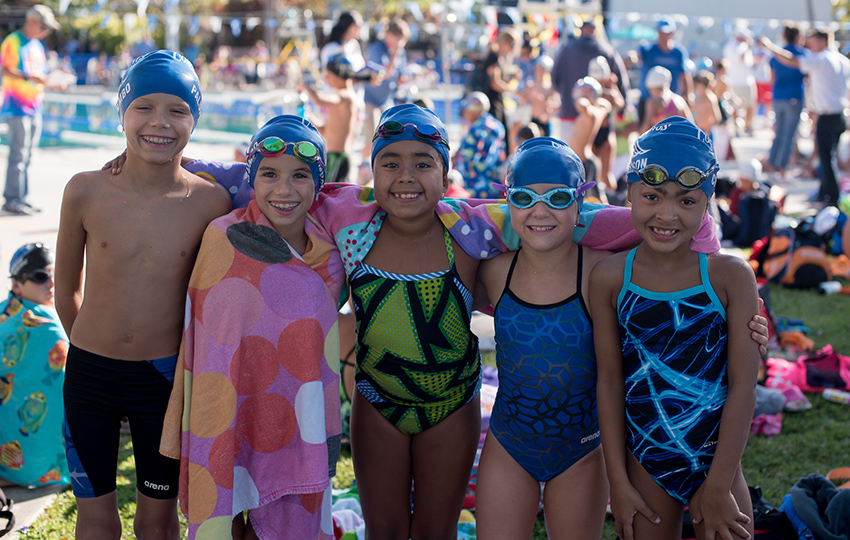 The Sunrise Swim Team hosted an 8 & Under Sizzler on Friday, April 7th. Coral Springs Swim Club's youngest swimmers gathered in Sunrise to compete in the event. Coach Jessica Long was thrilled with their performances. She said, "we had a great meet! All the kids did so well especially with their Back, Breast and Fly." CSSC coaches and swimmers have been working hard to improve technique and speed in these events.
Braelyn Thorpe outswam her competition in each of the 4 events in which she competed including the 6 and Under 25 Fly (21.22), Back (23.31), Breast (25.05), and Free (18.85). David Rodriguez dropped time in 2 different events. He claimed 2nd place in his 25 Fly (18.52) and 4th place in his 25 Free. Sophia El Chantiry dropped an impressive 3.8 seconds from her 25 Fly (18.87), securing 3rd place in the 7-8-year-old division.
Gianna Martin not only enjoyed 2 3rd place finishes (one in her 25 Breast (26.95) and the other in her 25 Free (22.88)), but she also placed 5th in her 25 Fly (27.91) and 25 Back (27.84). Daniel Gil-Restrepo shaved over 3 seconds from his previous personal best in his 25 Fly, securing 3rd place at 29.55.
Both our Girls and Boys teams came in 3rd in their 100 Free Style Relays. Our Girls team was made up of 8-year-olds Addison Palumbo, and Alejandra Gil, 7-year-old Molly Chaison, and 6-year-old Braelyn Thorpe. This powerhouse team completed their relay at 1:22.33, just under 2 seconds shy of YMCA of South Florida's 2nd place and 8 seconds shy of Pine Crest Swim Team's 1st.
The Boys relay was swum by 8-year-olds Anthony Palumbo, John Albornoz, David Rodriguez, and Jorge Aguila. Their impressive time of 1:14.96 was just under 3 seconds shy of Sunrise Swimming's 2nd place and 4 seconds shy of South Florida Aquatic Club's 1st.
More stand out performances from the event include Jorge Aguila, the lead off for the Boys 100 Free Relay who also dropped time and secured 5th place in both his 25 Back (21.65) and his 25 Breast (24.73Y), and Aveline Harding, who placed 6th in both her 25 Fly (28.98) and her 25 Free (23.54).
More of our swimmers swam personal best times at the Sizzler include Amanda Robins 10 second time drop in her 25 Fly (23.32), Vanessa Rodriguez Walker's 5 second drop also in her 25 Fly (29.08), and Samantha Grossman and Sydney Larsen, who each swam new personal bests in their 4 events, perhaps most impressively for Grossman was her 6 second improvement in her 25 Fly (24.73) and most impressively for Larsen her 4 second improvement in her 25 Breast (39.82).
Logan Jeffrey also dropped time in his 25 Breast, finishing at 29.51, 6 seconds ahead of his previous record, Mikhel Martin shaved a second from her 25 Breast (26.07) and Haley Most shaved 2 seconds from hers (26.39).
We cannot wait to see what these young swimmers have in store not only for upcoming Sizzler Meets, but also many more events in the future.
Photo Gallery
Photo Credit: Drew Thorpe
Free Joomla Lightbox Gallery