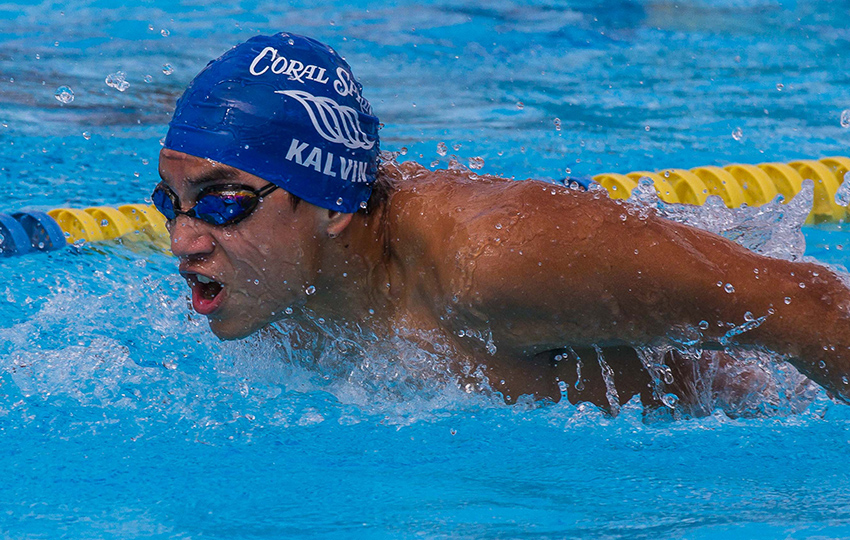 The Gold Coast Senior Championships were held March 24-26, 2017 in Pembroke Pines at the Academic Village Swimming Pool. Head Coach Bruno Darzi said, "We had an incredible meet, full of outstanding individual performances. At last weekend's swim meet, we decided to focus on individual swims, and not participate in any relays. The decision made was due to the fact that many relay swimmers had been sick for a few days prior to the meet, and we wanted to give the other swimmers an opportunity to perform at their best".
Kalvin Hernandez showcased outstanding swims at the event He competed in 6 races and dropped time in every one in order to achieve new personal bests. Hernandez placed 2nd in his 200 Free at 1:44.14, 5th in his 100 IM at 55.96, and 6th in both his 100 Free (48.00) and 50 Fly (23.79). Combined with an 8th place finish in his 100 Fly and a 12th place finish in his 50 Free, Hernandez accumulated a noteworthy 97 points.
18-year-old Jose Pascual enjoyed 3 3rd place finishes in his Breast events. He completed his 50 at 27.24, his 100 at 58.14, and his 200 at 2:05.68. Pascual earned a total of 92 points.
Megan Schimansky earned a cumulative 77 points throughout the weekend, including 19 points for her 4th place finish in her 200 Back at 2:06.73. Delaney Biro was another major point earner. She accumulated 51 points including 15 points for her 6th place finish in her 500 Free (5:10.64) as was Andres McKeon who earned 42, including 15 points for his near 2 second time drop in his 200 Free (1:46.02).
More impressive swims include Dominique Fajardo's 10th place finish in her 50 Fly (26.92Y), Connor Marks' 11th place finish in his 200 Back (2:03.93Y), Sarah Schimansky's time of 5:30.81 in her 500 Free, and Gian Savino's time of 4:54.29 in his 400 IM.
We also saw a number of time drops this past weekend. Gregory Trimble showcased just how hard he has been training by dropping time in every event in which he competed, including 6 seconds off his 200 Breast (2:25.16) and his 200 Back (2:06.48).
More time drops from the weekend include David Blanco's 1 second drop in his 50 Breast for a new personal best time of 29.27, Micaela Sierra's nearly 4 second drop in her 100 Free (57.84), and Pedro DaSilva's 2.5 second drop in his 500 Free (5:01.17).
Darzi was proud of our swimmers' performances over the weekend, "the results were exactly what we expected. I could not be more proud of this group of athletes." As always, he is looking toward the future and what it holds for CSSC, "now it's time to recharge and get ready for the long course season."