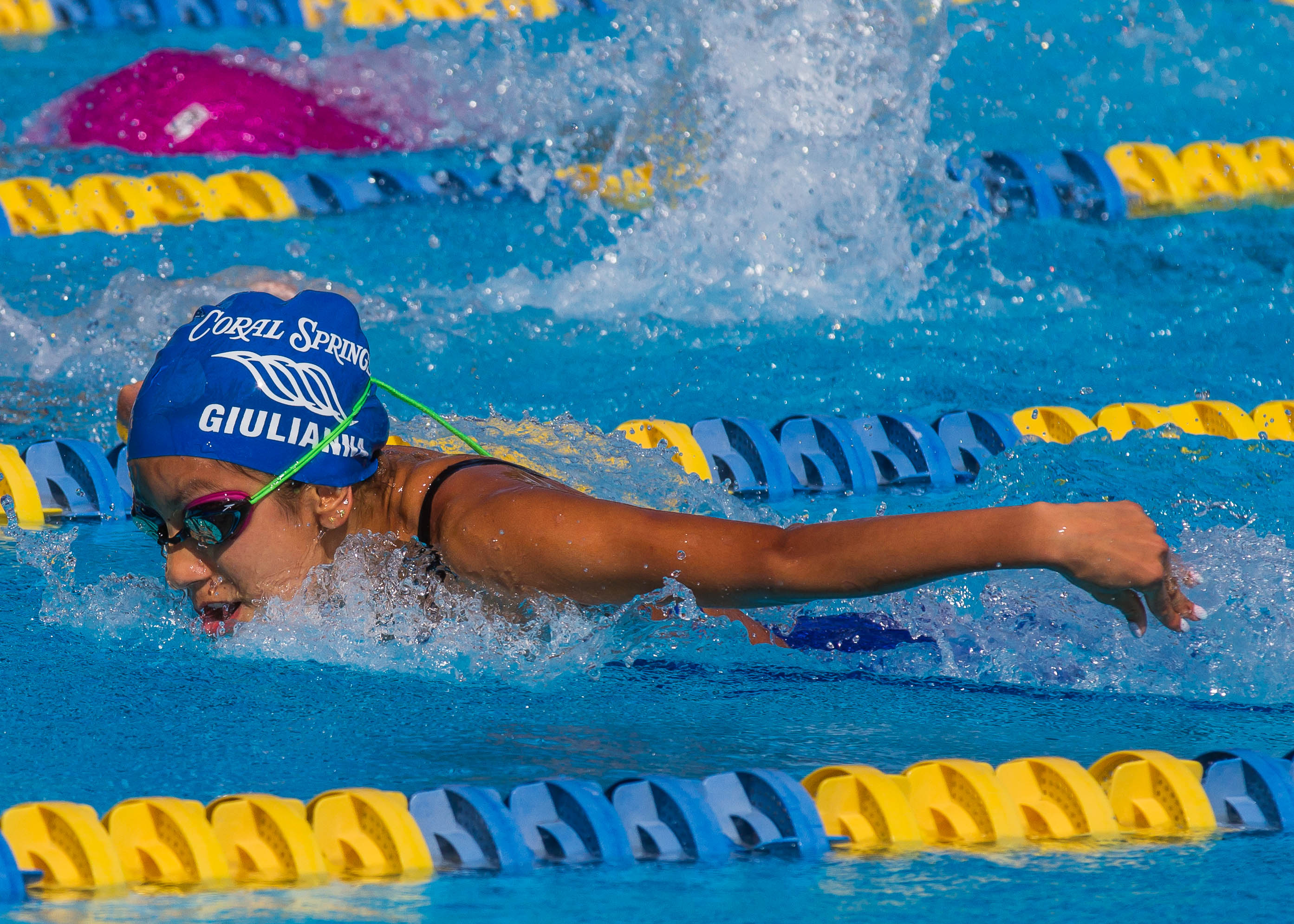 36 teams gathered together March 17-19 at Coral Springs Aquatic Complex to compete in the highly anticipated 2017 Junior Olympics. The weekend's fine weather made it a pleasant and exciting event for CSSC swimmers, families, coaches, volunteers, spectators, and guests.
It was a very successful meet. 22 Florida Gold Coast records broken at the event and our swimmers faced their competition with gusto and grit. Head Coach Bruno Darzi was pleased with our swimmers' performances at the event. He said, "we had some incredible performances at this meet. Our age group swimmers did an outstanding job representing the Coral Springs Swim Club. We had a great number of finalists and top 3 finishers. This new generation is very competitive and excited about racing". He attributed our swimmers' success, in part, to the outstanding training and hard work of CSSC coaches, "Coach Mike has done a tremendous job preparing them for the meet."
Giulianna Garcia dropped 3.68 seconds from her 200 IM and came in 1st place with a new personal record of 2:17.72. Garcia also placed 2nd in 4 different events; including her 50 Fly (27.54), 100 Fly (1:00.96), 200 Fly (2:15.97), and 400 IM (4:48.35). Garcia earned a combined total of 50 points for CSSC.
Micaela Sierra was at the top of her game. She blew her competition away in the Breast Stroke, earning 1st place in both her 50 (31.42) and her 100 (1:08.22). Sierra also placed 2nd in her 200 IM (2:18.44), and 5th in her, earning a combined total of 37 points.
Riley Botting dropped time in every event in which she competed and earned a total of 47 points for CSSC. She placed 1st in her 200 Breast (2:32.36), and 2nd in both her 100 Breast (1:09.74) and 100 IM (1:04.50).
Connor Marks also took the opportunity at the meet to improve times in the majority of events in which he competed. He earned a combined total of 44 points for CSSC.
More stand out performances include Ryan Brander's 4 second time drop in his 100 Breast for an 8th place finish at 1:12.72, Emily Robertson's nearly 5 second drop in her 100 Fly for a 6th place finish at 1:03.98, Sarah Schimansky's 16 seconds drop in her 1650 Free for a 6th place finish at 18:25.36, Mariana Montes' 100 Fly at (1:28.80), and Jason Bonasera's 1650 Free at 19:00.12.
Swimmers who continued to show time improvements include Hailey Wells, Payton Ward, Rhania Suarez, Samantha Schoenborn, Riley McCormick, Olivia Mason, Lydia Lanahan, Brian Gonzalez, and Faith Fowler.
The final results of the Junior Olympics are as follows. South Florida Aquatic Club came in 1st place with an impressive combined team score of 935. Gulliver Swim Club finished in 2nd place with 672 points and East Coast Aquatic Club secured 3rd place with 650 points. Coral Springs Swim Club's Boys and Girls team earned a combined total of 295 points, and in 10th place.
Darzi was more than satisfied with the weekend's events. He concluded, "I could not be more proud of our kids".