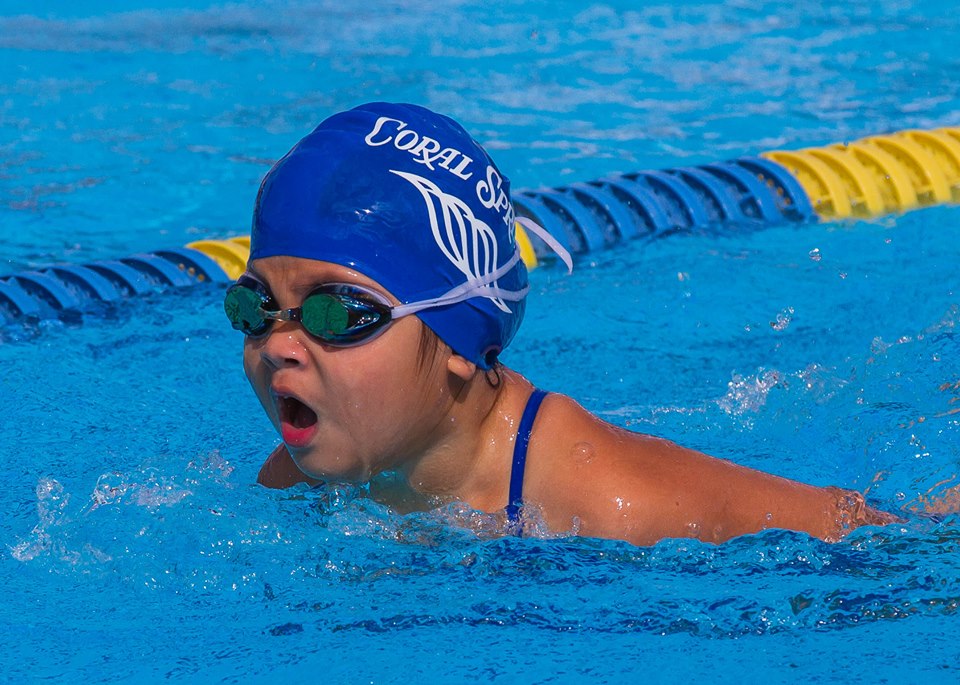 This past weekend, Coral Springs Swim Club hosted the 2017 Coral Springs Open Invitational. Swim teams from all across the state gathered together at our State of the Art facility in order to compete.
Coach Raphael Lima was proud not only to host this event, but also of the way that our swimmers brought their best to the event. He said, "our swimmers, as a whole, had a great performance at this past weekend's meet". He added that every age group that participated in the event really showed tenacity and grit on performance day, "all groups from 8 years old and under, to our high school swimmers, either improved their times or competed at a level that coaches expect for this time in the season".
Coach Jessica Long mirrored the same sentiment held by Coach Raphael. She said, "the majority had all best times for this meet…all [CSSC Swimmers] have shown that they have been training hard in practice and they all rose to the challenges and showed that hard work really does pay off". Especially when they are being asked to challenge themselves and graduate to the next competitive level, "we have our older swimmer getting into their 200 races and it's a challenge for the but a necessary step and they really swam very well in those longer distances".
Megan Schimansky blew her competition away at the meet. She placed 1st in 4 different events, including her 100, and 200 Back (1:00.04 and 2:09.84 respectively), her 200 and 400 IM (2:15.95 and 4:44.11 respectively), and her 500 Free (5:12.42). Schimansky also swam in excellent 50 Back where she came in at 28.29Y and in 2nd place.
Delany Biro enjoyed 4 impressive 1st place victories, she outswam her competition in both her 50 and 100 Fly (27.40 and 1:00.94 respectively) and her 100 and 200 Free (55.98 and 2:02.03 respectively). Biro also made quite the showing in her 200 Fly (2:18.11), in which she placed 2nd, her 50 Free (25.25), in which she placed 3rd, and her challenging 500 Free (5:27.63), in which she placed 5th.
Kalvin Hernandez also performed outstandingly. He placed 1st in his 100 Free (49.52), 2nd in his 100 Fly (54.59), and 3rd in both his 50 and 100 Back with respective times of 26.73 and 58.97. Riley Botting came in 1st in her 200 Breast (2:36.25) and dropped over 2 seconds from her 500 Free (5:35.60) for a 10th place finish.
Jose Pascual earned 3 2nd place victories in the 200 IM (2:02.70) and Breast (2:14.72) and the 100 Back (57.84). Giulianna Garcia finished 2nd in her 200 Breast (2:36.57) and 3rd in three other events, including her 200 IM (2:21.40), 200 Fly (2:22.97), and 400 IM (4:59.86)
Many more CSSC swimmers really rose to the occasion in both placement and time improvements. Dominique Fajardo placed 2nd in both her 50 Fly (27.41Y) and 50 Free (25.00) and 5th in her 100 Free (58.86), Faith Fowler earned 2 4th place finishes, 1 in her 200 Fly (2:30.41) and the other in her 100 Back (1:05.93), and Brian Gonzalez placed 5th in his 200 Fly (2:24.88).
Cody Chin shaved a noteworthy 7.5 seconds off his 200 Fly, finishing the race at 2:18.65 and in 4th place and Briana Dattile shaved 3 seconds off her 200 Breast (2:41.89), finishing her race in 5th, and Kenan Kocoglu shaved 2 seconds off his 50 Breast for a 5th place finish at 30.79.
More impressive swims include Chloe Carignan's 8th place finishes in both her 50 Breast (34:87) and 50 Back (31.37), Marli Dearen shaving over 7 seconds off her 50 Fly (33.14), Cailin Duggins shaving nearly 15 seconds off her 100 Free (2:18.49), and Pedro DaSilva's 3rd place finish in his 100 Free (50.61).
Brandon Jackson swam his best time in every event in which he competed and Kennedy Grisby beat her previous record in the 100 Free by 4.5 seconds (1:28.70) as did Selina Guan in her 50 Breast (40.66).
The Breast stroke proved to be a strength for many CSSC swimmers, including Micaela Sierra, who finished in 1st in her 50 Breast at 1:09.78, David Blanco, who also shaved time from his 50 Breast for a 3rd place finish (30.17Y), Miguel Kocoglu , who shaved over 13 seconds from his previous 100 Breast personal best (1:27.12), Reese Maxwell, who shaved 2 seconds from his previous 100 record at 1:39.96, Lorenzo Prado beat his previous personal best in the 50 by nearly 2 seconds (36.72), and Andrea Zambrano and Gregory Trimble, who both shaved time from their previous 200 Breast records (7.5 and 15 respectively) for final times of 2:43.67 and 2:31.22 and 6th place finishes.
The challenging Fly stroke was no match for Samantha Schoenborn, who shaved over 11 seconds from her previous record in her 50 at 42.27, nor was it for Braelyn Thorpe, who beat her own previous record in the 50 by 7 seconds (51.36).
The Back was also a strongpoint for CSSC Swimmers at the event. Connor Marks placed 5th in his 200 Back (2:10.36) and 6th in his 100 (2:10.36), Caitlin O'Mara outswam her previous record in the 50 by 2 seconds (52.66), and Meaghan Swack shaved over 6 seconds from her 100 (1:47.38).
We also saw improvements in IMs. Fabrizio Parraga shaved 55 seconds from his 200 (2:25.13) and William Olson shaved 10 seconds off his (2:37.77). Katrina White swam her 200 at 3:08.56, while Payton Ward completed hers in 2:41.55.
Coach Raphael notes that not all achievements can be measured by breaking records and beating out competition. Each meet should be seen as an opportunity to show true sportsmanship by overcoming obstacles and putting forth your best effort. He said, "It is very important to mention that dropping times at a meet, does not mean 'stand out', even though, almost our whole team did. 'Stand out' means swim close to a best time, without resting neither tapering and or compete for the first time without getting disqualified in an event." He continues, "it means going to a swim meet being tired from the practices and race like a champion".
That's why we are pleased to include stand outs like Adelia Cira, who swam a 100 Free, Katelyn Lay, who competed in the 200 Free, Maximiliano Cisternas, Lacey Dietz, John Lynch, Ryan Lynch, Andres McKeon, Courtney Hartung, Savannah Kautz, Sophia El Chantiry, and Skylar Croasdale, who each competed in seven separate events, and Logan Jeffery who showcased a mature dedication in each of his 6 separate events.
More consistent and determined swimmers who showcased true sportsmanship at the meet include Emily Robertson, Ashley and Justin Ruf, Sebastian Savino, Gannen Tages, Anika Van Rooyen, Grace Zhu, Cooper Jax and Grayson Yellin, Catherine Voit, and Brian Hamilton.
Coach Jessica thinks that this meet will be an inspiration for upcoming events in 2017. She said, "we are very proud of the maturity and passion that all of our swimmers displayed this past weekend". We are excited to see our swimmers blossom through practice, team-building, and the sense of community that CSSC provides. Coach Raphael noted his take away message from the meet, and what he hopes all participants will have learned through both their participation and speciation, it would be to "race like a champion", no matter how good, tired, or rested you are". We are anxious to see our group of champions compete this year.