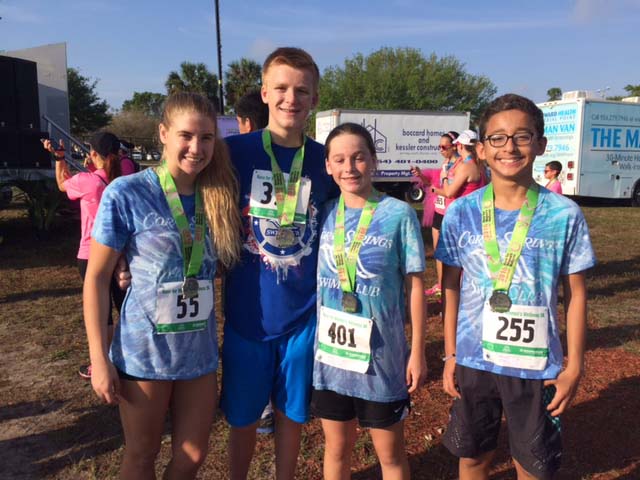 Saturday March 26th was an eventful day for Coral Springs Swim Club families. For the 4th consecutive year, CSSC swimmers, parents, grandparents, and coaches all joined together to support our community by participating in the Race for Women's Wellness. Following the race, the CSSC Annual Team Barbeque, was held at Betti Stradling Park and proved to be a celebration to remember.
The Race for Women's Wellness consisted of a 5K Run/ Walk and Half Marathon. All proceeds from the race were donated to the Lisa Boccard Breast Cancer Fund, which provides free screening mammograms to women who otherwise would not be able to afford them. CSSC makes a huge effort every year to participate and provide support in The Race For Women's Wellness. This year
Four CSSC parents ran the half- marathon, including Mitch Dworet who placed 6th for his age group with a time of 1:58.53.897, Annika Dworet who placed 24th and finished at 2:21:54.00, Alfie Trimble who came in 23rd finishing in 2:27.14.927, and Barbara Brewington who placed 17th in her age group with a finish time of 3:11.21.733.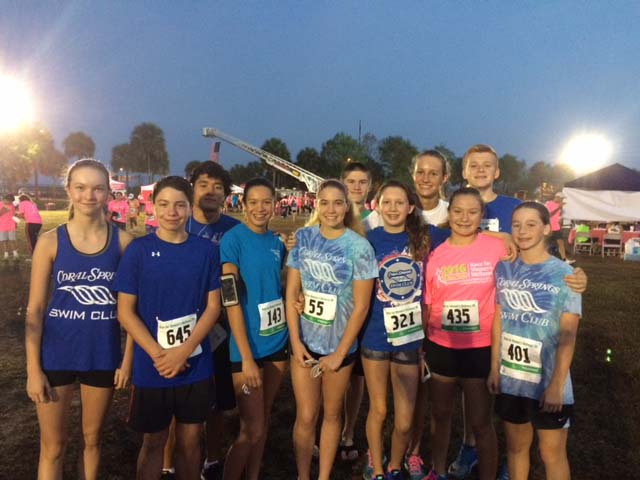 CSSC swimmers proved that their skills extend to dry land as well as in the water. The 5k top finishers include Julie Mason (14) with a 1st place victory at 24:08.667, Tyler Armbruster (9) 2nd place at 26:34.133, Brian Gonzalez (12) and Delaney Biro (14) both with 2nd place finishes in their age group with respective times of 23:34.117 and 24:19.543, Connor Marks (13) with a 3rd place finish at 24:05.767, and Nicholas Dworet (16) also with a 3rd place finish at 21:39.370.
Three CSSC parents, and one grandparent, ran the 5K and placed in the top three for their age group. Linda Candido placed first at 33:43.313, Mark McCormick placed 2nd at 26:17.103, and Wendy Armbruster placed 3rd at 27:30.230. They were joined by 3 CSSC Coaches; Coach Bar, Coach Jessica and Coach Emma all participated in the 5K as well.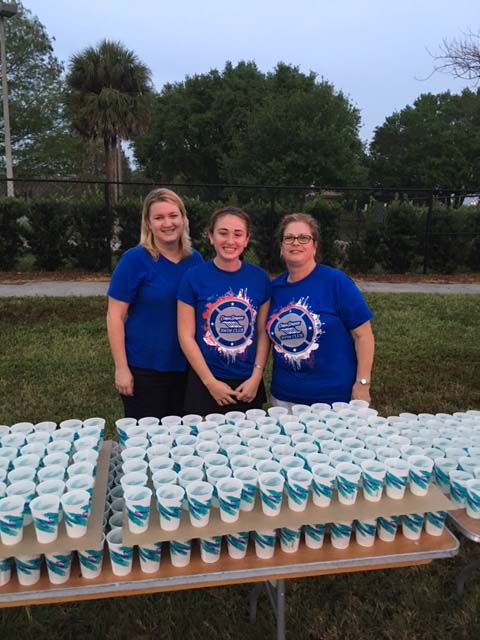 CSSC also supported the race by running the 2nd water station. Danica Schimansky, Carly Brewington, Linda Johnson and Kendra Marks had a good time providing water to runners and cheering on all the CSSC participants.
The annual picnic was held after the race. We had a great turn out at the event. Approximately 120 people enjoyed some tasty barbeque, music and games. There was a bounce house, corn hole, football, and soccer all being enjoyed at the park. A special thanks to the parents Naomi and Chris Candido, Mike and Laura Nagy, Alfie Trimble, Linda Johnson, and Melissa Laplant, who organized, grilled, served, set up and cleaned up at the BBQ. We couldn't have done it without you.
Free Joomla Lightbox Gallery