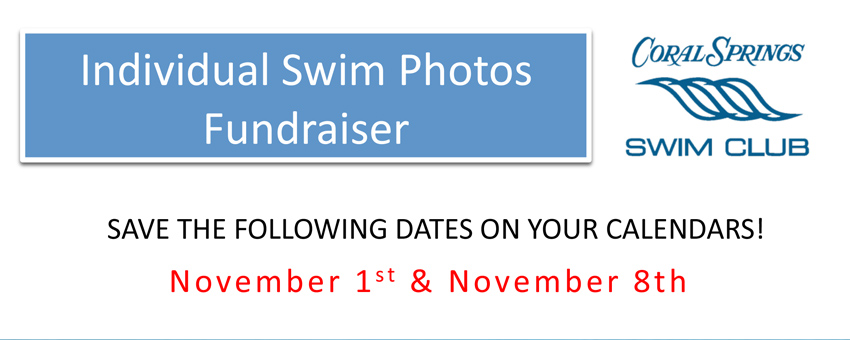 The Coral Springs Swim Club is pleased to provide a unique fundraiser on the above highlighted dates! This presents a great opportunity to receive high quality, individual photos of your swimmers, taken poolside and presented in packages of various sizes, just before the upcoming Holidays.
Each of the above dates will include two sessions at the Aquatic Center long course pool with the first session starting at 10:00am and the second at 1:00pm.
Each Package represents a single swimmer in a poolside pose, meaning packages may not be split. In the case of additional swimmers, extra packages may be purchased at a discount of 10% off the regular package price. This requirement of purchasing additional (discounted) package would also apply if families wanted all of their swimmers in a single pose (in addition to their individual poses).
As an additional convenience an A La Carte menus is also provided. Each item on this menu represents the number of photos provided with each selection. Again, each selection from the A La Carte menu represents a single swimmer or single photo of multiple swimmers and discounts do not apply to A La Carte items.
A new order sheet will be needed for each order submitted. Please submit all orders electronically to Naomi Candido (This email address is being protected from spambots. You need JavaScript enabled to view it.), and then bring the actual order form and payment to your photo session (so it can be attached to your order).

In the event neither of the above dates work for your swimmer, other accommodations can be arranged.