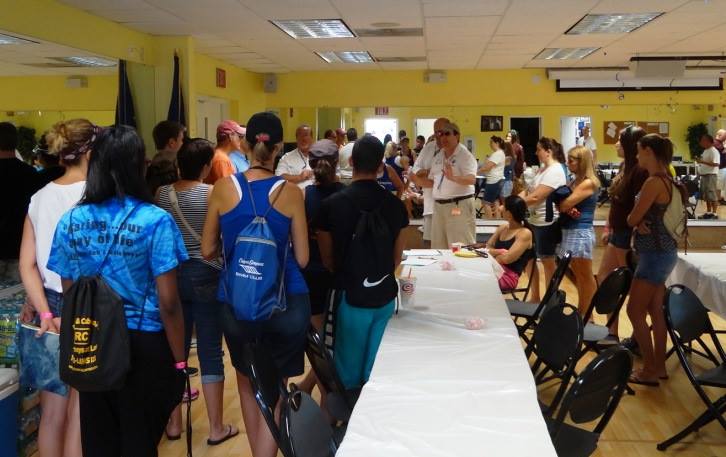 Known for some of the most organized swim meets in the Florida Gold Coast, Coral Springs Swim Club volunteers are the ones who really make meets happen. (Above: swimming officials brief volunteer timers before a meet)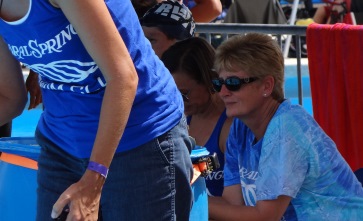 From timers and swimming officials to taking money at the gate, concessions and being on the Swim Club Board, the words of long-time CSSC volunteer swim mom, Mary Lincoln, were never truer.
"This can't happen without volunteers," she said at her final swim meet in July. Lincoln's daughter Emma trained for years with CSSC and now swims for Tulane. "Besides, you get a front row seat; are treated like royalty and it's fun," she said. (Lincoln seen at left)
Like Lincoln, most volunteers at CSSC are parents with children swimming with the Club. Add to that swimmers and their siblings who help out too and students like Laura Petrosky who volunteer to fulfill needed community service hours at school.
"I like the environment here," said the Coral Glades senior. "The people are real nice and everyone is good to me."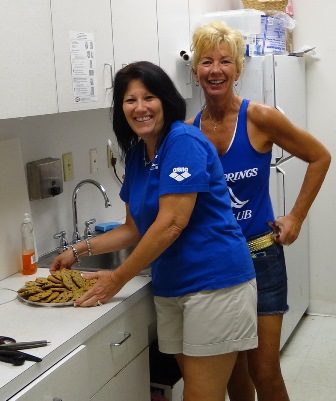 A common thread among volunteers is everyone enjoys it, which is why CSSC rarely has problems - if any - staffing meets, said Volunteer Coordinator, Patty Gomez.
"It's difficult to find volunteers in the s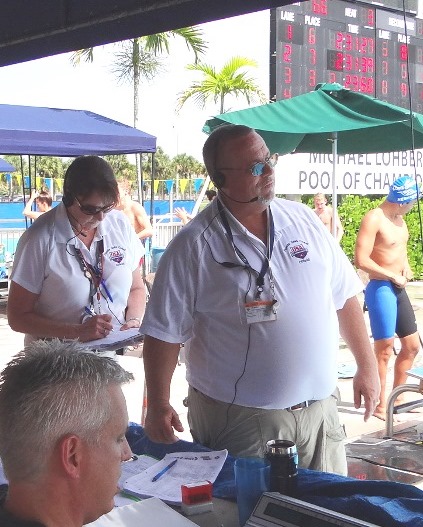 wimming community, but not this one," she said. "I'm proud to say that not one meet in five years has an event been understaffed. Our swim community is very responsive."
Gomez said people volunteer for a number of reasons, but mostly to stay close and support their kids.
"It's important for them and we want to make it good for them," she said.
For others, like CSSC swim mom and USA Swimming Official, Beth Wilkerson, swimming is family culture. In fact, she swam herself in high school. (Wilkerson on left in action with husband Gerry)
"The sport of swimming is so phenomenal," Wilkerson said. "This is my way of getting back to it."
Wilkerson has been volunteering with CSSC for 16 years and sometimes puts in 50 hours a meet. Like others, she doesn't get paid. Having children in the Club, Wilkerson nurtures a strong swimming culture in her family and volunteering as a swimming official fulfills her commitment to the sport.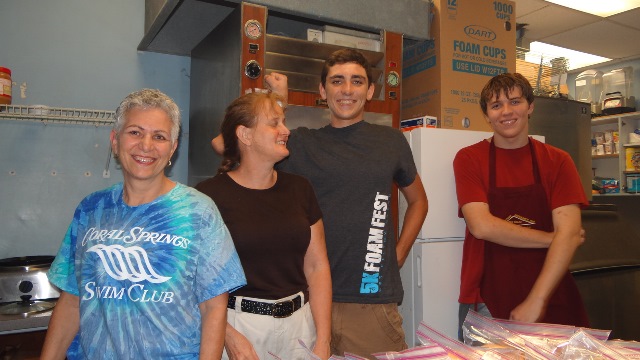 "I like knowing a meet has been well run and that swimmers are getting fair calls," said Wilkerson, who also officials Florida high school meets and high profile events like Junior Nationals.
A family affair too for long-time swim mom, Kelly Biro, she said that just because her daughter is the one swimming "doesn't mean it's not a family sport," she laughed.
While some volunteers work diligently to prepare and serve meals for swimmers, coach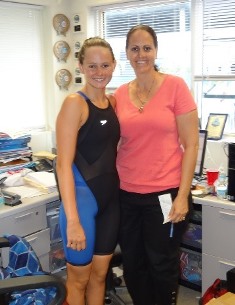 es and officials, others tend to tasks like taking admissions, cooking concessions and plugging in Live Results. (Above: the crew in concessions)
Swim Club President, Danica Schimansky, summed up why she volunteers in five words.
"These kids deserve the best," she said, while entering real time results into the computer - a daunting task. (Schimansky seen at right with daughter Megan)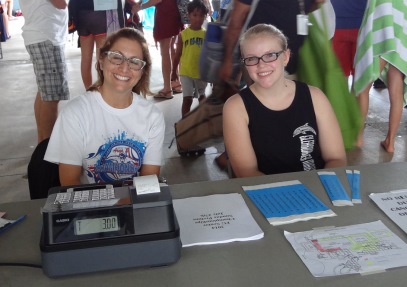 Gate Coordinator for the Club, Rhonda Rosen-Virgin, said in addition to her fiscal responsibilities on the Board she has fun volunteering and supporting her children in the sport. There is a keen sense of camaraderie at CSSC, she said, and because everyone pitches in everything gets done. (Virgin on left at the gate with Laura Petrosky)
Longtime Swim Club volunteers and moms Jackie Desroisiers and Valeri Gauteri, said they do it because if people don't volunteer kids can't swim. (The two seen above with cookies)
"Somebody has to do it. What would we do if nobody volunteered?" Desroisiers asked. "Plus you make friends and have fun with people."
Naturally, there are lots of volunteers not mentioned here and all do great things for the Club. And perks like free admission and heat sheets, awesome food and preferred parking come with the job.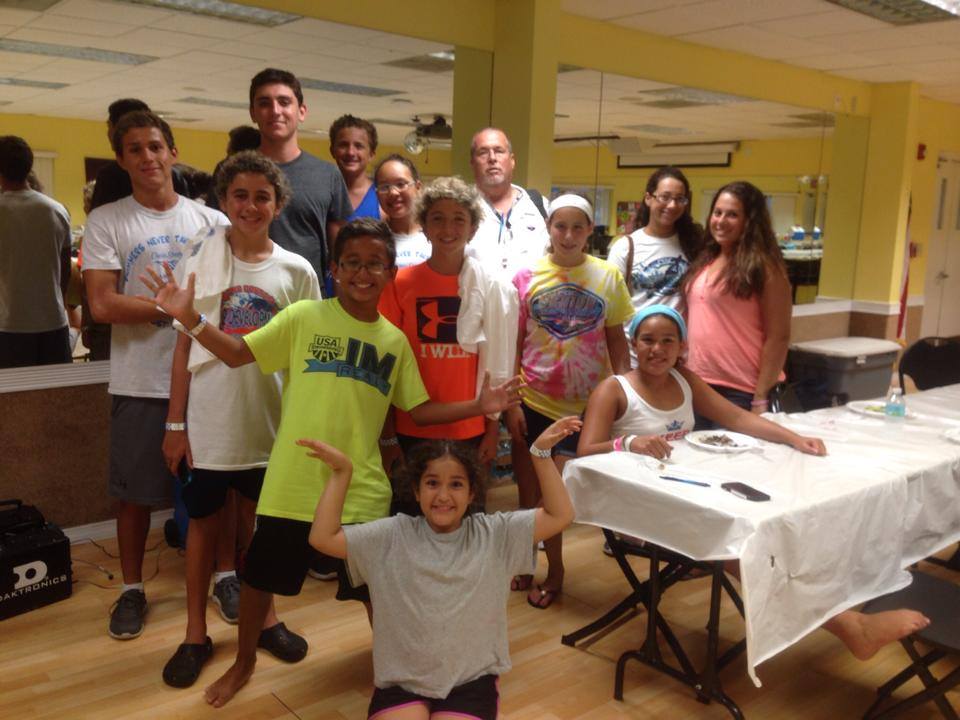 Even parents and swimmers from other swim clubs volunteer to help with CSSC meets because they are impressed with the Club's organization, enthusiasm and commitment to the sport. (Right: volunteer swimmers having fun)
Gomez agreed.
"We know how to run a meet. Simple as that," she said.
Click here to learn more about volunteering with the Coral Springs Swim Club
Read about last year's Volunteer of the Year Dave Brewington
(Below: Kelly Biro and Patty Gomez)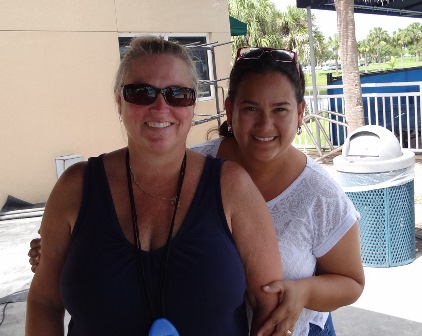 Volunteers are the lifeblood of a swim team. Parents, siblings, and friends are an integral part of the success of a swim team. Except for coaches and lifeguards, every person seen on deck at meets, at the gate, in the concession stand, under the tent, and in the hospitality room is a volunteer.