Rain didn't spoil the fun at finals on the first day of JOs. The meet ran on time and the excitement of relays was contagious. Though the place bubbled with people and activity, swimmers, coaches, officials and volunteers made the whole event run smooth.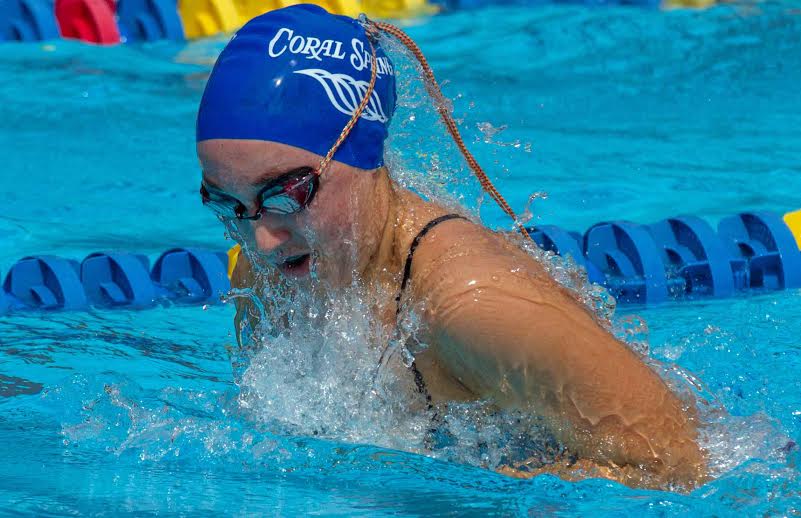 For the host team, the day saw a collection of exciting races. Hannah Virgin won the Girls 13-14 100-yard breaststroke with a best time of 1:05.24, in a tight race against Hailey Jerew who finished in 1:05.40.
Delaney Biro (13) clocked an 8.30 seconds drop in the 500 free. She fished 5th in her age group with 5:12.95. She also finished 9th in the 50 free with 24.86 (best).
Gabby Beltrano, who just turned 13, finished 9th in the 200 back with 2:13.56.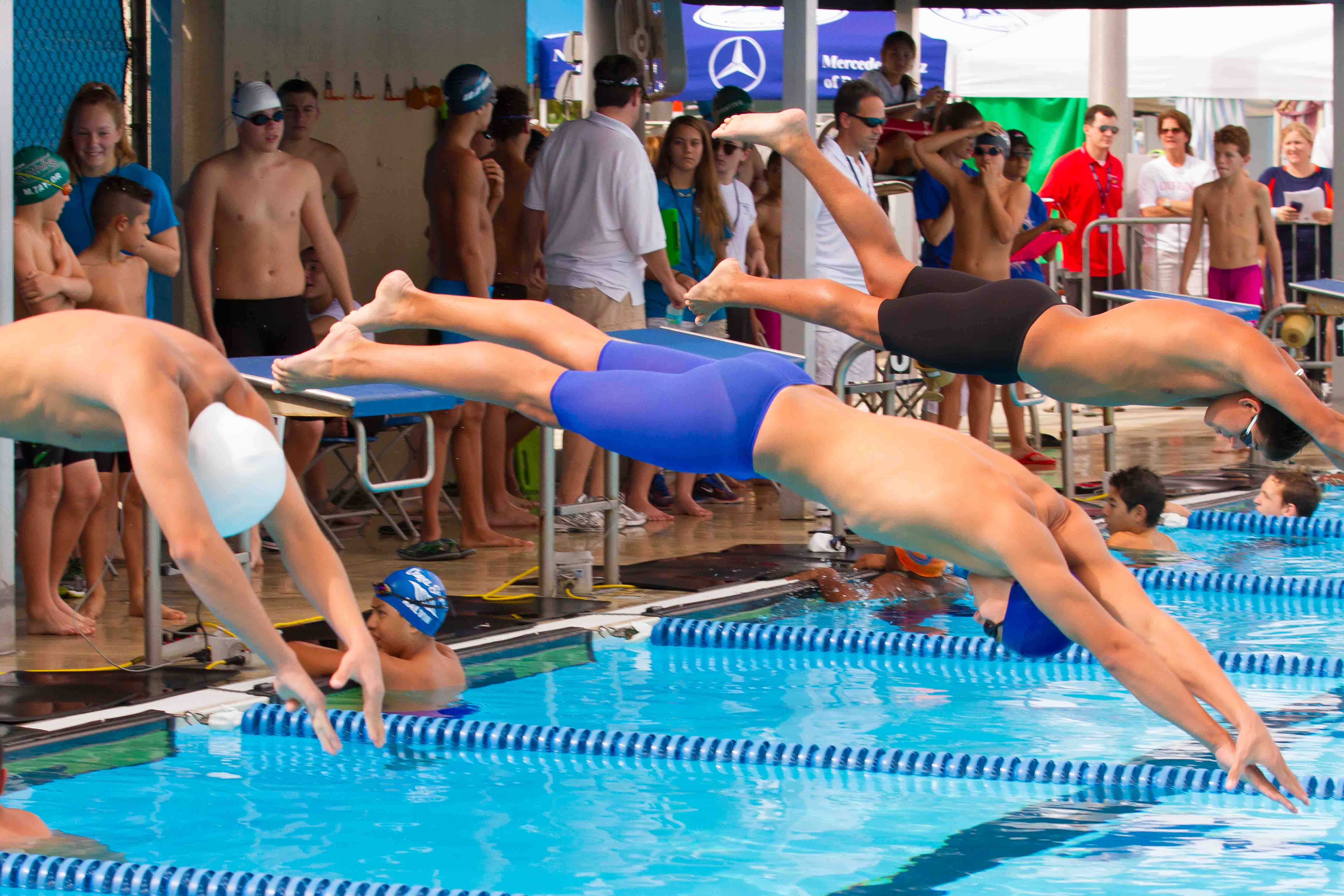 Nico Ferrara (14) won gold tonight in the 50-yard freestyle at Junior Olympics. He won with a time of 21.97, just 0.22 seconds off his best, which he swam this morning in prelims. Both prelims and finals times break his own CSSC record in this category. "I was very excited when I looked up to the board," said Ferrara. "I wanted to break 22 but wasn't sure it would happen." This new time in the 50 free, positions Ferrara as the 16th fastest 14-year old male swimmer in the event in the country.
Ferrara also took bronze in the 100 fly with 54.93. This is the meet Ferrara has been training for and he looks forward to two more days of races.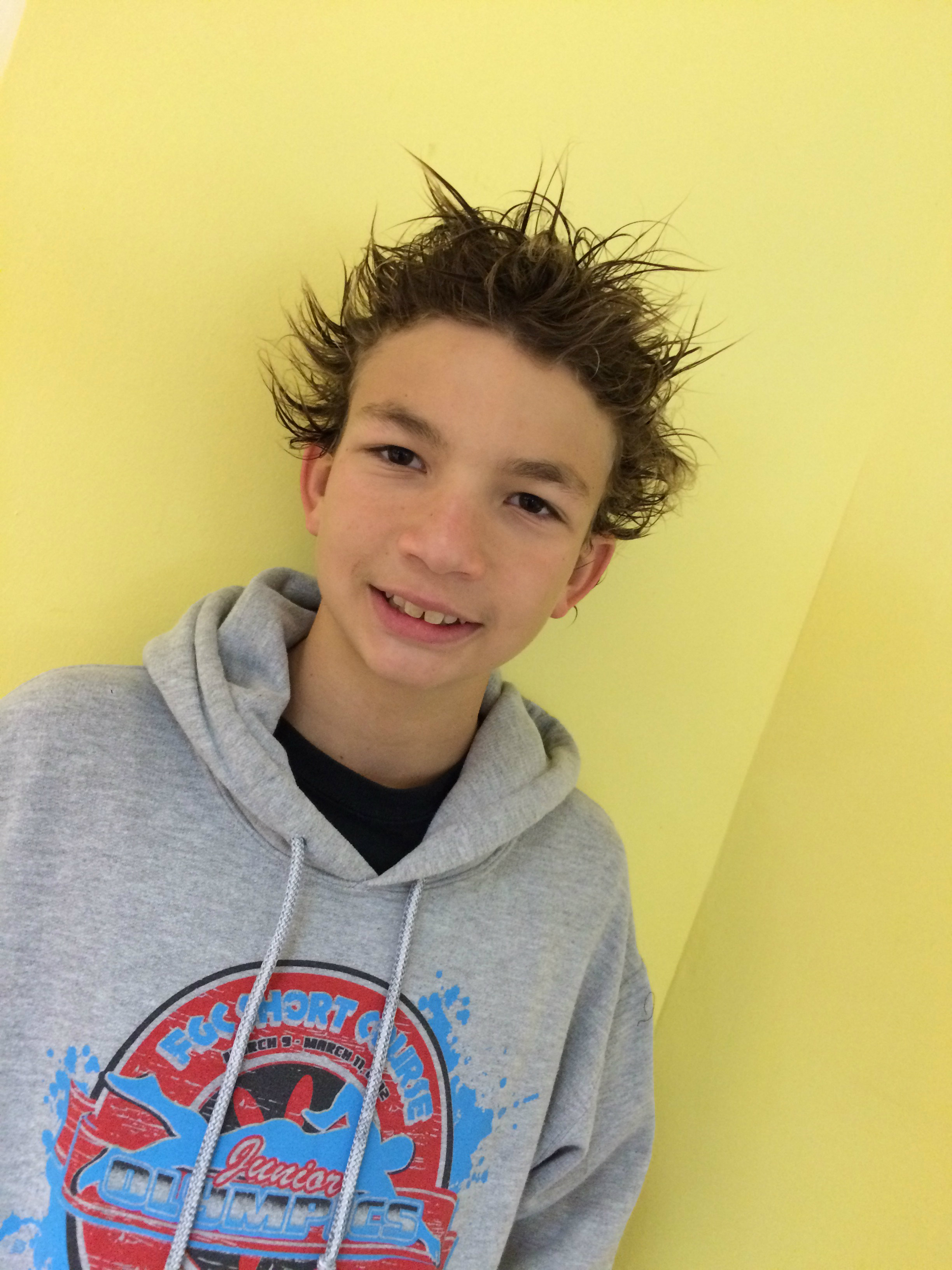 Connor Marks (12) swam a strong 200-yard backstroke, dropping in prelims and finals, he finished 4th overall with a time of 1:17.54. He dropped a total of 10.03 seconds. This fourth place in finals qualifies Marks to be part of the 2015 FGC All-Stars team.
Alex Meyer (12) finished 6th in the 50 free and the 100 IM with times of 25.66 and 1:05.83, respectively. "I made All-Stars!," he shared happily on Friday night.
Every year, top-6 times in JOs are qualified to participate in the FGC All-Star team that, later in the month, races against Florida Swimming. So far, Virgin, Biro, Ferrara, Marks and Meyer have the option to join the fastest team in the region this season.
Relays
In the Girls 13-14 200-yard freestyle relay, CSSC finished 4th with a time of 1:41.12. Delaney Biro led off the charge with a 24.98 split, followed by Gabby Beltrano who swam a 26.01. The third leg went to Rachel Botting with 25.34 and Hannah Virgin anchored with a solid 24.79. Results: 1st Pine Crest: 1:38.56, 2nd North Palm Beach: 1:40.22, 3rd AquaKids Sharks: 1:40.89.
The Boys 13-14 took 5th in their respective 200 free relay race with 1:36.12. Team: 1. Ferrara with 22.08, 2. Kalvin Hernandez with 24.17, 3. Andres McKeon with 24.08 and 4. Gianni Savino with 25.79. Results: 1st Metro Aquatics: 1:31.59, 2nd. St. Andrews: 1:34.43.
The Girls 11-12 400 free relay finished 13th with a time of 4.10.85. Schimansky was first with a 1:04.90, Olivia Mason was second with 1:02.48, Olivia Reposa was the third leg with 1:01.93 and Ana Kasperski took care of the rest with a 1:01.54. Results: 1st SOFLO: 3:45.00, 2nd ECAC: 3:55.31, 3rd Azura: 3:59.26.
The Boys 11-12 400 free relay team made up by 1. Connor Marks (59.12), 2. Jason Allen (1:01.81), 3. Brian Gonzalez (1:00.80) and 4. Alex Meyer (58.54), finished 3rd with a time of 4:00.27. Results: 1st Metro Aquatics: 3:47.55, 2nd SOFLO: 3:53.10.
Records
There were five new FGC records established during the Friday's sessions, two in the Age Group category and three in the Open category. Aitor Fungairino (14) from Metro Aquatics broke the two age group ones. First he took down the 8-year-old record established by Carlos Omana in the 200-yard backstroke. Fungairino swam a 1:51.52 in finals crushing Omana's time by 1.47 seconds. Toward the end of the finals session, Fungairino swam a stellar 500-yard freestyle breaking Julien Pinon's 2013 record (4:35.28) with 4:33.22.
The 10-and-under boys were on fire. Sebastian Lares of Azura broke the FGC OPEN record in the 100-yard butterfly freshly established last year by Josh Zuchowski (1:03.85) with a 1:03.79. Joshua Zuchowski, in turn, decided to break the 100-yard individual medley FGC Open record with a time of 1:03.81, taking down Alberto Gomez's time of 1:05.26.
Finally, Metro Aquatics Boys 13-14 Team broke their own standing FGC Open record in the 800-yard freestyle relay with a time of 7:14.71 by 1.56 seconds (previous record: 7:16.27).
Friday Wrap Up
SOFLO lead the field on Friday with a combined score of 373 points. Metro Aquatic Club of Miami is second with 211, followed by Pine Crest with 197.
Saturday and Sunday Finals will be streamed live by Florida Swim Network. To watch the webcast, click here.
To watch the replay of Friday's Finals: Click HERE.
If You Go
Where: Coral Springs Aquatic Complex
12441 Royal Palm Blvd.
Coral Springs, FL 33063
Parking for coaches, officials and volunteers available in the facility.
Parking for parents and general public will be available across the street.
Meet start: 9:00 a.m.
Finals Warm-up time: 3:30 p.m.
Finals start: 5:00 p.m.
Admission: $ 3.00 per person
Heat Sheets: $ 3.00
Closed deck policy will be in effect. The deck will be partially closed for parents.