The 2015 FGC SCY Junior Olympic Championship opened Friday in Coral Springs. At this meet, qualifying 14-and-under swimmers race for individual and team titles. There are two Junior Olympic Championships (JOs) in the year, one every July (long course, 50-meter pool) and this one on every March (short course, 25-yard pool). This 2014-2015 season, 838 swimmers -from 40 different teams- met the rigorous cuts established by Florida Gold Coast (FGC) for Areas 1, 2 and 3 (Miami-Dade, Broward and West Palm Beach).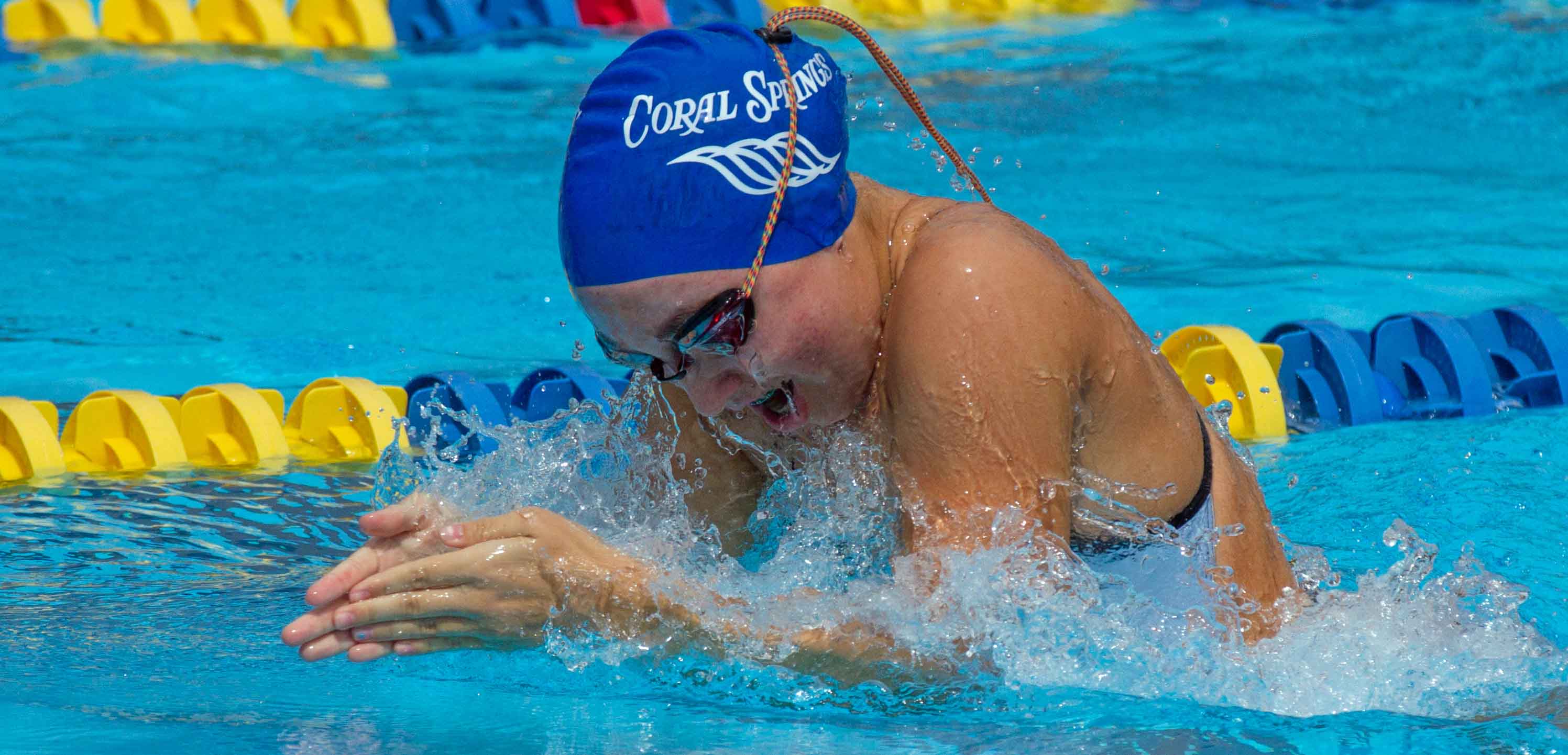 Girls rule the region this season with 462 female athletes registered to swim this weekend versus 376 boys. There are 10 teams bringing more than 35 swimmers to the meet. South Florida Aquatic Club (SOFLO) leads the field with a strong contingent of 69 swimmers, followed by Coral Springs Swim Club (CSSC), Gulliver Swim Club (GRSC) and Metro Aquatics (MACM) with 42 swimmers each. Blue Marlins of Hialeah (BMHG) signed up 41 swimmers and Pine Crest Swimming (PCS), Plantation (PST) and Jupiter Dragons (JDST) are next with 40. Finally, Azura Florida Aquatics (AZFL) and Miami Swimming (MS) close ranks of the top 10 largest teams with 38 and 37 swimmers, attending JOs.
CSSC will be lead into action by Riley Botting (9), Giulianna Garcia (10), Hannah Virgin (14) and Nico Ferrara (14). These swimmers are seeded in top 3 positions in several events. Botting goes into the meet with the second best time in the 100-yard breaststroke with 1:19.32 (AAA) and ranked 3rd in the 50 breast and 100 individual medley with 36.14 (AAAA) and 1:12.86 (AAA), respectively.
García is seeded 2nd in the 100 IM and the 200 free with 1:12.58 (AAA) and 2:20.05 (AAA).
Hannah Virgin, a 4-time gold medal winner at the past Speedo Winter Champs, is seeded 1st in the 100 and 200-yard breaststroke with 1:06.01 and 2:21.98. She is also leading the way with the second best time in the 50 breast with 30.80.
Nico Ferrara (14), a club record holder for Coral Springs, is ranked 1st in the 50-yard butterfly with a fast 24.28. He is also 2nd in the 50 and 100 free with 22.23 and 48.44, in that order.
This year, the strong candidates for the high-point award per age group are:
10-and-unders
Isabella Chambers (10) of PST, seeded 1st in 5 events.
Joshua Zuchowski (10) of East Coast Aquatic Club (ECAC), seeded 1st in 7 events.
11-12
Vanessa Mesa (12) of SOFLO, seeded 1st in 5 events.
Andres Wong (12) of MACM, seeded 1st in 4 events.
13-14
Jessica Nava (14) of PST, seeded 1st in 6 events. Nava, the current FGC record holder in the 100 fly, is close in several other races to establish a new record, specially in the 200 fly where she is only 0.15 seconds away.
Adrian Aguilar (14) of MACM, seeded 1st in 4 races.
To highlight the prestige of the championship, each swimmer is allowed to race in a maximum of 7 races.
The Coral Springs Aquatic Complex will host 3451 races this weekend, starting on Friday, March 6. Warm up for prelim races is scheduled to start promptly at 7:30 a.m. every day. The meet will run in 2 pools, the west pool for girl races and the east pool for boys.
Finals will be streamed live by Florida Swim Network. To watch the webcast, click here.
If You Go
Where: Coral Springs Aquatic Complex
12441 Royal Palm Blvd.
Coral Springs, FL 33063
Parking for coaches, officials and volunteers available in the facility.
Parking for parents and general public will be available across the street.
Meet start: 9:00 a.m.
Finals Warm-up time: 3:30 p.m.
Finals start: 5:00 p.m.
Admission: $ 3.00 per person
Heat Sheets: $ 3.00
Closed deck policy will be in effect: The deck will be partially closed for parents.