Bruno Darzi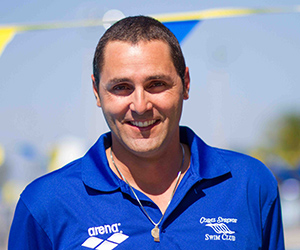 HEAD COACH
AGE: 38
BORN: Rio de Janeiro, Brazil
RESIDES: Coral Springs, FL
ASCA Level 5
EDUCATION BACKGROUND: Graduated from UFRJ, one of the top institutions in Brazil with Bachelor of Science degree in Kinesiology in 2001.
COACHING BACKGROUND: 14-year coaching career, the Olympic-caliber coach has coached several Olympic swimmers including five-time Olympian Dara Torres and three-time Olympians Vlad Polyakov and Arlene Semeco and senior, junior and collegiate swimmers. Darzi has coached on the international scene including the Summer Olympics, Pan American Championships and South American Championships.
CAREER HIGHLIGHTS: A former national-caliber swimmer for Brazil and CSSC…since taking over the head age group position at CSSC in 2004, has had several swimmers produce numerous National Top 10 times, broken Florida Gold Coast and club records…has been chosen as a member of the FGC All-Star coaching staff in 2004, 2005, 2006, 2007 and 2008 and also a five-time member of the Southern Zone Team Championships FGC coaching staff…in his first year of coaching was awarded the "Spirit Award."…ASCA Level 5-certified, highest level attainable.